The Loop
Kevin Kisner's bid for another 59 at Sony Open slides right and he settles for 60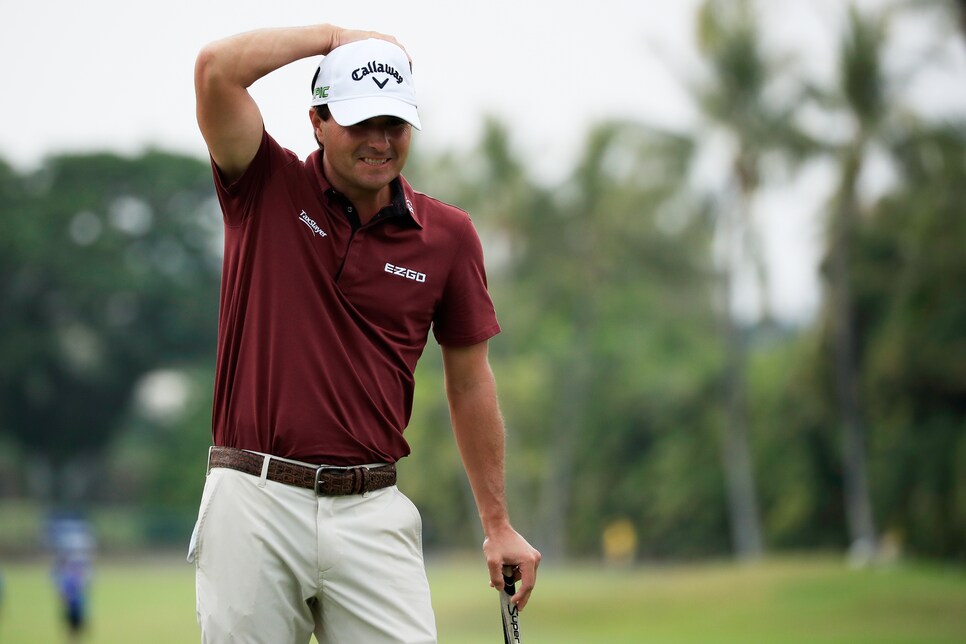 HONOLULU -- For the second time this week at Waialae Country Club someone came to the final hole with a chance to shoot 59.
This time the eagle putt on the par-5 ninth slid just right of the hole and stayed out.
Considering how Kevin Kisner played the first two days, he was more than happy to settle for a 60 in Saturday's third round of the Sony Open in Hawaii.
A day earlier, it took a birdie-par-eagle finish on the same stretch of holes for the 32-year-old just to reach the weekend. After making the cut on the number, he took advantage of prime scoring conditions, making 10 birdies and no bogeys.
Kisner moved into a tie for sixth with the career-best score but is nine back of leader Justin Thomas, who shot 65 to tie for the lowest 54-hole total in PGA Tour history at 188.
Still, Kisner was more than pleased with the turnaround.
"The first day, I hit it great, and I was minus four strokes in putting, which I can't do with my game," he said. "So the second day I putted better as the round went on but I hit it worse. So it's kind of one of those deals that I had to make putts.
"And then today I hit it like the first day and putted great."
Kisner made 12 of 14 putts from inside 10 feet in the third round and added three more from beyond that range, including a 12-footer for birdie on the fifth and another at the par-4 eighth, where he rolled in a downhill 25-footer to give himself a chance going to the last.
One hole later, Kisner's 8-iron from 156 yards in the middle of the fairway settled nine feet below the flag, giving him a good chance to add his name to the list.
A few players, including Jordan Spieth, came out to watch.
"When I first looked up, I said dead center, that's the first thought in my mind to tell you the truth," Kisner said of the putt. "Those greens get a little grainy like I'm used to at home, and the grain was going right, but I still thought it would go left.
"Can't be that upset. I hit a good putt, hit a good shot and then it was fun coming down the stretch. Almost felt like you were in kind of the heat to win. That was fun."