sacré bleu!
Kevin Durant learns a new language in order to embarrass the New York Knicks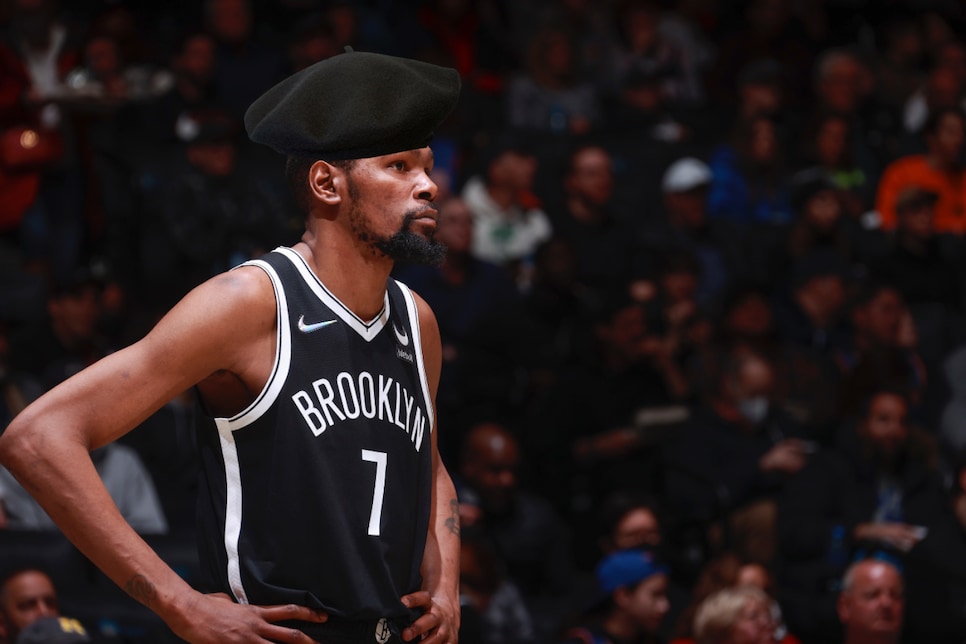 Photo by Nathaniel S. Butler/Beret by Greg Gottfried
Dualingo is all the rage these days. It seems like everyone and their mother (madre, 母亲, Mutter) is getting in on the fad trying to learn a new language and annoy their servers at restaurants across the nation.
It's a good idea, especially during these trying times. We have more free time than ever before. Why not use some of it to better yourself and become more worldly? Kevin Durant, always the enigma, may be on the app as well, using it ingeniously to find better ways to make fun of his opponents after he drops 50-plus points right in their grills.
Evan Fournier hails from Paris, France, and has surely heard his share of expletives and insults in his native language, but we bet he never expected to hear it from Durant on a national stage. Ça doit faire mal.
After the game, KD broke down his insult of "très petit," essentially translating to "too small." At 6'6", that might be the first time Fournier has heard that specific attack, and it really doesn't get worse than being made fun of all the while knowing that you really can't do anything to stop your opponent.
Durant went on to score 53 points for a season-high output and the Nets went on to win the game.
It seems like the Nets superstar may still be harboring bad blood over this back-and-forth between the two, and the league is all the better for it.
More cross-language insults, please. Basketball truly is an international sport.