News
Kevin Chappell positions himself to win first PGA Tour event in his 180th career start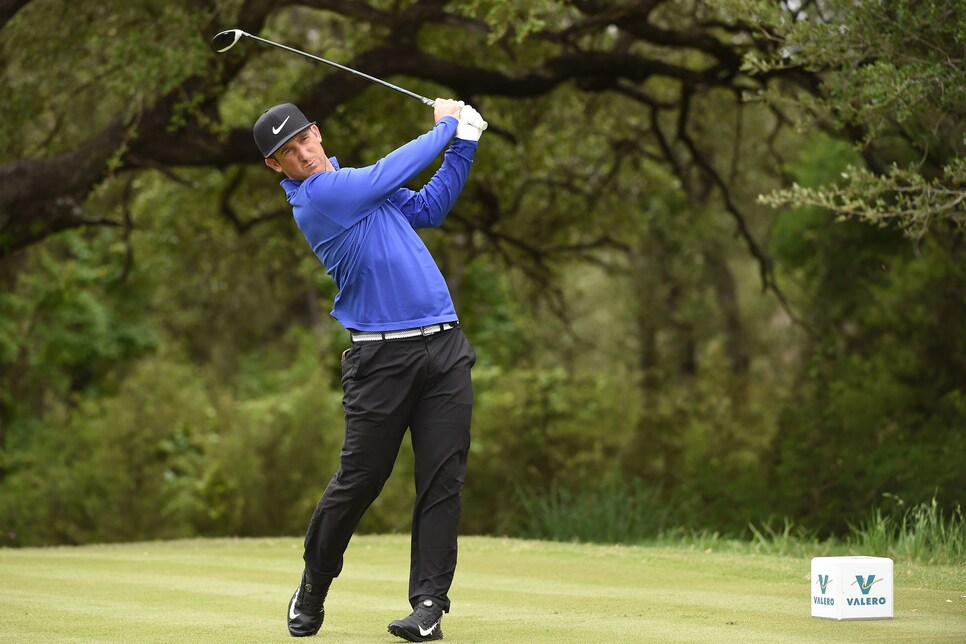 Kevin Chappell has had a generally successful PGA Tour career that has one notable blemish: 179 career starts without a victory. On Sunday, Chappell will have an opportunity to eliminate the void on his resume.
On a difficult day in San Antonio hill country on Saturday, Chappell managed the windy conditions relatively well, posting a one-under par 71 that gives him a one-stroke lead heading into the final round of the Valero Texas Open on the AT&T Oaks Course at TPC San Antonio.
South African Branden Grace, whose relatively low ball flight is advantageous in the wind, shot a two-under par 70 to move into a tie for second with John Huh.
Both Chappell and Grace had been trending in the right direction at the conclusion of the 2015-'16 season, but since have stalled, making the final round an important day for each of them.
Chappell, who is at eight-under par 208, had risen to 27th in the World Ranking last fall, but is now 38th and has had just one top 10 in 12 starts, that being a tie for seventh in the Masters in his last start.
On the front nine on Saturday, Chappell, who began the day tied for third, gave up ground by making three bogeys and a double-bogey and shooting a two-over 38. But he played a bogey-free back nine that included three birdies, the last on the 17th hole to give him the lead.
"I just needed to find a rhythm," Chappell said. "Obviously, the golf course hit me in the chin real hard early. I just couldn't find a rhythm. To make the turn in only two over after some of the places I hit it I was confident that if I could get to 14 tee at two-over par or better that I think I could post a score. Then to birdie 14, 16 and 17 felt sweet. A couple good par saves on 15 and 18."
Grace, meanwhile, had climbed to 10th in the World Ranking last year but is now 21st. He has played 11 PGA Tour events this season without a top 10, though he did tie for 11th at the RBC Heritage last week and overcome a tough day on Saturday.
"That was brutal," Grace said. "It was as close to Augusta in the first two rounds. It was really tough. Was just trying to stay alive, trying to make birdies, and even the pars were tough. Pars out there are good."
Joining Grace at seven-under 209 through 54 holes and in a tie for second is Huh, who has one PGA Tour victory, that coming in his rookie season in 2012.
Ryan Palmer, a native Texan familiar with playing in strong wind, had the best round of the day, a four-under par 68 that jumped him into a tie for third.
"It was a grind," Palmer said. "I had some lucky breaks early. I was in the trees a few times. But I had some good lies and was able to hit some shots out. But I had the putter rolling again today. And I had my low driver stinger today. Hadn't hit it in a long time. Had it working today."