News
Kerr poised to take over top spot in world ranking
PITTSFORD, N.Y. -- It's safe to say Ai Miyazato is telling herself it was fun while it lasted. The Japanese superstar finally reached the No. 1 spot in the Rolex World Ranking after winning the Shoprite LPGA Classic last week, only to see it slipping away a mere six days later. The only way Cristie Kerr won't take over as No. 1 Monday morning is if Miyazato finishes solo second tomorrow. After 54 holes, Miyazato is six strokes behind the three players currently in second place, and there are 19 other players between them.
Of course, there's always the possibility Kerr won't win tomorrow. She may trip on her way to the first tee and break an ankle. She may get struck by lightning or oversleep so badly that she misses her 12:40 tee time. But those are pretty much the only scenarios that could keep her from taking the trophy.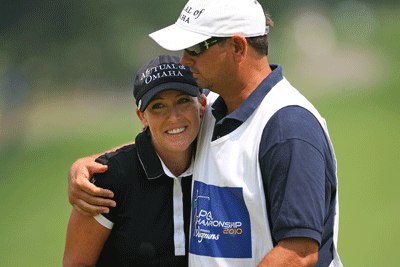 *All kidding aside, Kerr is the first person to acknowledge that while she's pretty much a lock to take over the top spot after this week, it can all change again in a heartbeat. "It's great to be No. 1, but you don't want to be just No. 1 for one week," she said after her finishing Saturday's third round in the pouring rain. "It doesn't work that way. You have to do what Annika's done, you have to do what Lorena's done week after week to prove you are No. 1.  So it will be great to get there, but that's step one. Then you have to prove it over and over again every week."
Indeed, no fewer than six players could be playing ping-pong with the No. 1 spot in the rankings over the remainder of the season, it's such a tight race. To Kerr, it's the Rolex Player of the Year race that's the most important, and that won't be decided for another five months. "I hope at the end of the year I'm sitting in the right position," she said.