News
Kerr loses momentum, lead -- and No. 1 spot in ranking
For so long, it looked like another magical week was underway for leading American LPGA Tour player Cristie Kerr. At one point during Saturday's third round of the Navistar LPGA Classic in Prattville, Ala., she held a five-shot lead over her nearest competitor, and a win almost as clutch as her 12-stroke victory at the LPGA Championship in June seemed a foregone conclusion. Na Yeon Choi, who finished Saturday tied for second, said she was "a bit scared" when she looked at the leaderboard and saw that Kerr was at -20 a mere 50 holes into the tournament.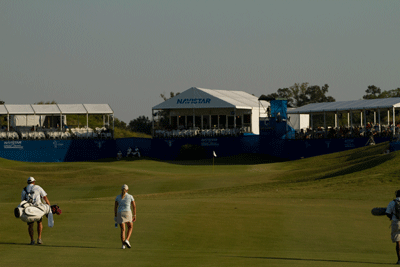 But as great as Kerr performed during those first 50 holes, she stumbled mightily in her final 22. She played Saturday's last four holes in three over par but still held a three-shot lead over Choi and Australian Katherine Hull going into Sunday. All she had to do was hold on to that lead, but it was as if an alien from outer space had abducted the American's body. After hitting only 11 greens, failing to make all but one birdie putt and bogeying the final hole courtesy of an approach pushed well right of the green, Kerr had to watch her third title of the season slip out of her hands. Ironically -- or perhaps tellingly -- if Kerr had won or finished alone in second place, she would have reclaimed the no. 1 spot in the Rolex World Ranking and taken a huge step toward her first Player of the Year title. Instead, she remains in second place, behind Japan's Ai Miyazato.
After her defeat (Hull won at -19, Brittany Lincicome finished second with -18 and Kerr finished T-3 at -17), Kerr didn't invoke the dreaded "choke" label to describe her round, but admitted she had completely lost her mojo on Sunday: "I couldn't get the momentum going," she said. "My reads were off all day. Just kind of a tough day out there for me."
There's always next week.