The Loop
Kenny Perry looks to cash in on "once-in-a-lifetime" opportunity
SAN FRANCISCO -- For Kenny Perry, who sometimes drag races in his spare time, the cliche is apt. Going into Thursday's first round of the Charles Schwab Cup Championship at TPC Harding Park, the 53-year-old Kentuckian is in the driver's seat as far as the season-long Schwab Cup points race is concerned. Thanks in part to his playoff victory Sunday over Bernhard Langer at the AT&T Championship, Perry has a 612-point lead over Langer in the competition for which the winner earns a $1 million annuity. (The runner-up gets $500,000.)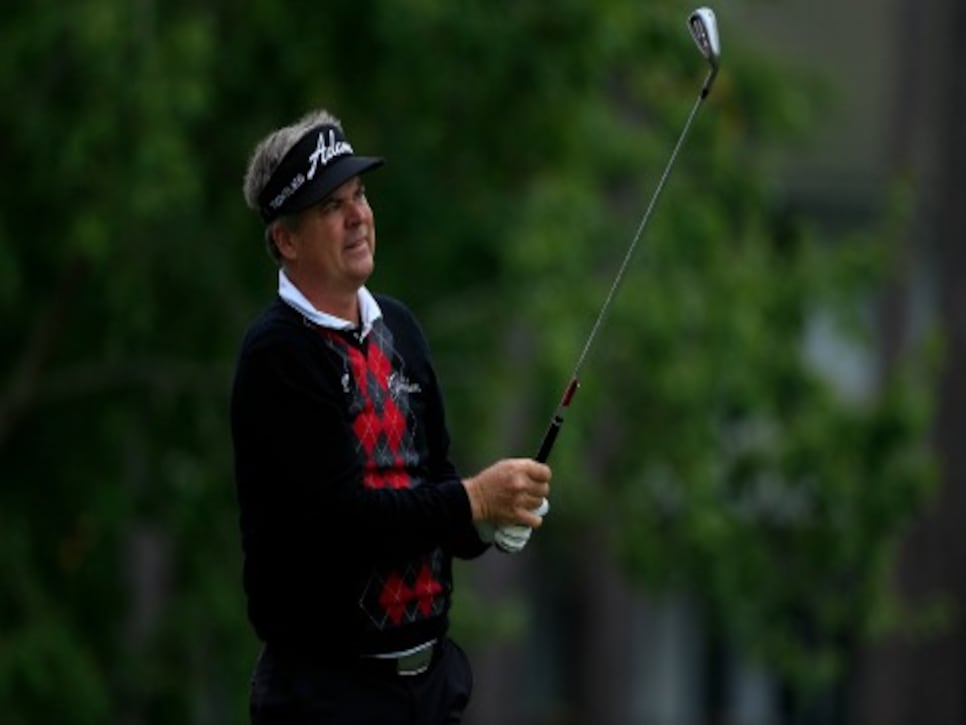 Perry's AT&T triumph was his third victory of the year, one more than Langer and six others (Michael Allen, Russ Cochran, David Frost, Rocco Mediate, Esteban Toledo and Mark Wiebe). His previous two wins, at the Constellation Senior Players and the U.S. Senior Open in back-to-back majors were dominating performances on the heels of a disappointing Sunday at the Senior PGA Championship. Langer's consistently good form (a Champions Tour-leading 17 top 10s in 23 tournaments) has him in position to win his fifth Arnold Palmer Award as leading money winner. He leads Perry by about $106,000 arriving at Harding Park, where the winner receives $440,000. If not for a couple of final-round letdowns, the Schwab scenario could easily be flipped heading into the last event of 2013. "I always analyze what I could better, try to learn from my mistakes, but I don't live there," Langer said. "I don't ponder for months and years what could have been, should have been. That's not what the bible tells us, that's not where I want to be and that's not what a sport psychologist would tell you either. You learn from the past and move forward. There were some events where I didn't play my best or missed a putt or I hit a bad shot. And there were other events where somebody finished with four birdies or just played better than me." Arguably no one has played better this season on the senior tour than Perry in his consecutive major triumphs, during which he shot three 63s and two 64s. But the driver he used so effectively in those victories was broken (head and shaft) during a flight from New York to Seattle and he hasn't found one yet that he hits as far. Perry also has nagging hip, knee and foot pain that has caused him to ride a cart in recent weeks. Carts aren't allowed this week, and Perry will have to walk five rounds (including Wednesday's pro-am). He has lost about 20 pounds.
"I was 240 [pounds], now I'm like 218, so that's helped alleviate some pressure off my feet and knees," Perry said. "I think I'm OK. We'll see."
Related: Swing Sequence: Kenny Perry Harding Park, which hosted the season-ender in 2010 and 2011 before the tournament shifted to Arizona's Desert Mountain Club last year, should be a stout test. The ball doesn't go as far in the cool, Bay Area air, and the rough is penalizing. "Very punishing rough, so you have to keep it in the short grass," Langer said. "The setup is pretty punishing. The greens will be firm and fast.  It's set up like a real major. You're not going to have somebody play mediocre golf and win this championship." Punishing or not, Langer knows he can't afford to be tentative. "I think I'm going to have to be fairly aggressive from the get-go," he said. "You don't win tournaments being cautious. You can't. There's always somebody that's going to play well and putt well."
It will be no surprise if either Langer or Perry is that somebody this week. "My putter woke up last week," Perry said. "I putted beautifully and I was able to win. Hopefully it will carry over into this week and keep the good ball-striking going and keep my thoughts in check and hopefully make this thing happen. This might be a once-in-a-lifetime deal for me. I might never get in this position again, and I need to try to take advantage of it while it's here."