News
Kenny Perry, Kirk Triplett set 36-hole scoring record, tie for the lead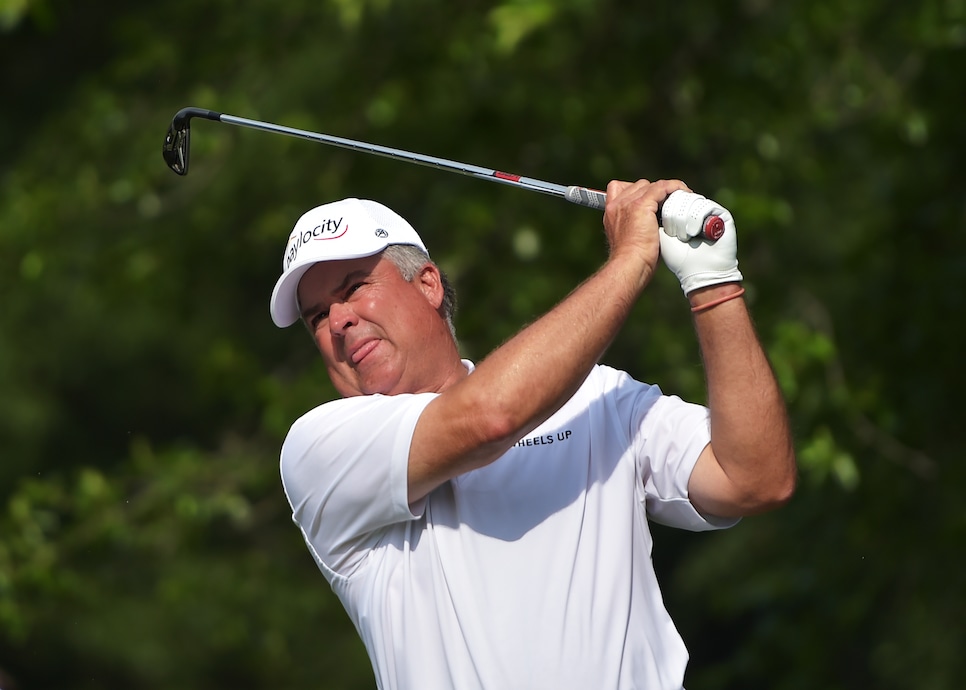 The United States Golf Association's summer of benevolence continued in the second round of the U.S. Senior Open on Friday when Kenny Perry and Kirk Triplett set a 36-hole scoring record.
Perry, 56, who won this championship in 2013, posted a six-under-par 64, the lowest round of the day at Salem Country Club in Peabody, Mass., to complete 36 holes in a record 129 strokes, 11-under par. Perry began his round with consecutive bogeys, but made eight birdies over the following 16 holes.
"I was so excited to want to play this round today," Perry said. " was too amped up. I hooked it right off the first tee. Hit a heel pull on the second. My swing was way too fast and way out of order early. OK, have to go back and just slow down."
"I would say the course is a shot or two more difficult, maybe pushing three shots," Triplett said. "There's room to play. The greens are still receptive. You have some difficult pins, but you have some accessible pins also, and you have a number of short shots. The scoring will be good again.
"I think we just have to wait and see what comes. If there's no moisture that hits this golf course all weekend, USGA courses, when the greens get firm, it's kind of a torture chamber out there. Good shots turn into bogeys, and then the mental challenge of a U.S. Open begins."
It continues a USGA trend that began at the U.S. Open two weeks ago, when Brooks Koepka won with an unusually low score, 16-under-par 272 at Erin Hills.
Triplett, 55, has made only one bogey in 36 holes in pursuit of his sixth victory since turning 50. "I'm very happy with how I played," he said. "I had a few rough spots and some nice saves, a little bit of good fortune, too. Made some key putts. U.S. Open, any tournament, you've got to make the putts."
Doug Garwood is in solo third, two behind, while Bernhard Langer, seeking to win a third-straight senior major championship, shot a five-under 65 to get within three of the lead.
Fred Couples, meanwhile, also shot a five-under 65 and and trails the leaders by four. "I hit it well," he said. "I drove it well. I think I was in most of the fairways, and I had a little roll where I made a putt and I made another one. And then just tried not to make bogeys."