Ken Green's 1989 Masters Diary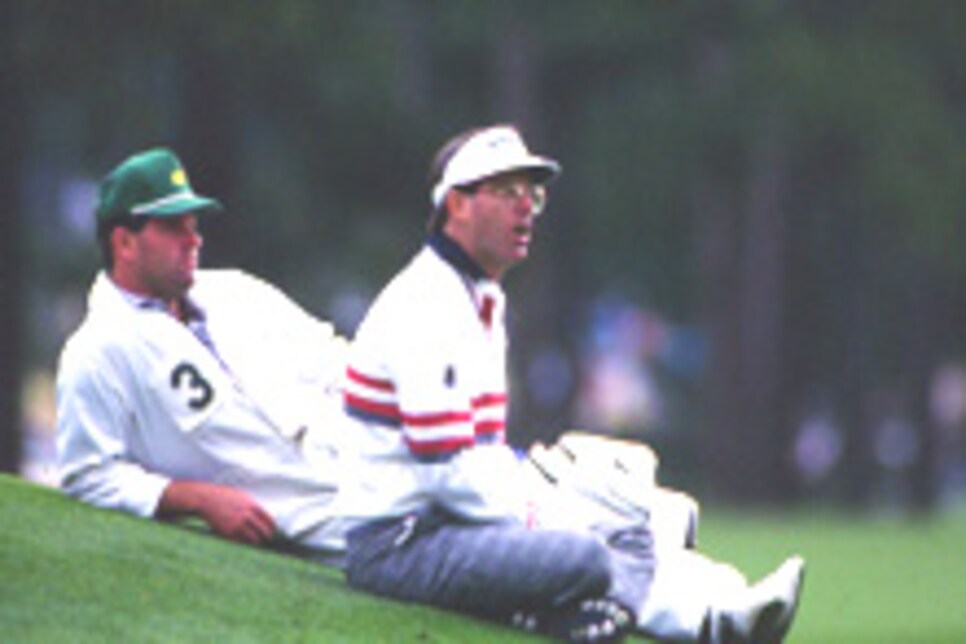 Green finished tied for 11th in '89.
This article originally appeared in the April 1990 issue of Golf Digest.
Editor's note: First you take golf's strongest bastion of conservatism, the Augusta National Golf Club. Add a liberal helping of the PGA Tour's resident iconoclast, Ken Green. Blend thoroughly, let stand for one week. Yield: A volatile concoction that makes for a lively 1989 Masters Tournament.
Last April, Ken Green agreed to convey his thoughts on the Masters following each day's play. His unexpurgated journal, which follows, tells you as much about the man as about the Masters.
The Masters starts tomorrow and I'm praying my luck will change. I've lost one tournament this week already, something my friends and I call the Nip Open. I've rented two houses north of Augusta for myself and a dozen close friends and relatives, and to kill time we set up a little golf course around the yards. Playing in two-man teams, we nipped little wedge shots to various "holes" such as the mailbox, barbecue, chicken coop, mailpost and a drain. My partner and I got into a three-hole playoff and lost. I hit a hell of a shot on one hole, though. My ball was lodged against the tire of one of our rental cars and I had to stand on the hood to play it. I hit the target -- the barbecue -- from 20 yards away. The fans went wild.
I sure hope I play better in the Masters than I did in the Nip Open, but my main goal is to relax and have fun. The houses cost $3,500 for the week, but it's well worth it. It's such a great week for my friends. Unfortunately, my wife, Ellen, and the kids aren't here because Brad, who is 5, had to take some tests at school.
My practice rounds have been good. I've played them with Mark Calcavecchia and we've had our usual bets going. We play a basic $20 nassau with automatic one-down presses. Then there're the side bets. If you hit 12 out of 14 fairways off the tee, you win $50. Same thing if you hit 15 greens or more in regulation. Finally, we go to the back of every green after we hole out and take one putt at the hole. If you drain it, you win $100. "Calc" beat me for $80 on the nassau, but I made a drain-o on him and came out $20 ahead. On the year, though, he's just drilled me. He's got about $500 of my money.
The Par-3 Tournament was held this afternoon and that was a lot of fun, too. It's the best part of the week. Calc and I had a match-of-cards bet with Paul Azinger and Ray Floyd, and we beat them.
Like I said, my main goal this week is to have fun. I haven't played very much this year and part of my problem is that I've been uptight. I know I'll play better if I relax, which is always easy when I have my Connecticut buddies with me. On Monday, we had our annual "Grand Prix" car race. The way it works is, we get our rental cars and meet at a designated "office" where we "punch in," or register. Then we drive like hell to see who can get home first. There are no rules. I took the early lead but the other guys were threatening, so I floored it. We had to be going 90 miles per hour as we got near home, and we ran a red light or two to get there. One of the entrants, my friend Eric, blew a belt off his car. Nobody was worried about the cops, because no cop could have started his engine and caught us before we got home. I won. It was nip and tuck coming down the home-stretch, but I was the victor.
After we got home we watched the NCAA Championship basketball game between Michigan and Seton Hall. It inspired us, so we went outside for a little three-on-three. I'm not much of a player. We played until about 3 a.m., when the neighbors threatened to call the police.
I've been on good behavior since Monday, though. I can't go out and have a few beers like I did when I was younger, because I end up just getting blown out of my mind. So I watch TV, play cards or play the Pac-Man machine here in the house.
I got up pretty late today, but I'm a night owl anyway, and I love to sleep in. I skipped breakfast this morning, like I always do, then went downtown and got a haircut. Augusta National has a barbershop, but I didn't want to get one there. I don't want a haircut like Hord Hardin's. They give a genuine barber's shave there, too, but after some of the things I've said about the club and the tournament, I'm not so sure I'd trust one of their guys with a straight razor.
I opened this, my third Masters, with a couple of what we pros call "double crosses," meaning you set up to hit the ball one way, then put on a swing move that makes it do just the opposite. It wasn't pretty. I shot 74, two over par, and had to scramble all day. I played with Bill Glasson, who's not ultra-talkative but is a nice guy to play with.
I wasn't nervous at all. As a kid, I always assumed that playing in the Masters would be about as close to heaven as you could get without actually dying, but all that changed when I played here for the first time in 1986.
What I found was, the ideas, attitudes and philosophies of the Augusta National people don't always coincide with mine. Take the way they set the course up. It's a great layout, no doubt about it, but you can't shoot at a lot of the pins, which I don't like. And they wait until the last minute to trick up the greens. They are very undulating, which doesn't go along well with how fast they make them. When you only have to touch the ball to get it rolling 25 feet, putting turns into potluck.
As for the Augusta members here, they are relatively friendly, but at the same time they are very standoffish. They really have to make an effort just to say hello. The atmosphere is stuffy. You sense that they think they're in a different league from everybody else. They are totally caught up in the allure of the private club, so they make up all these strict rules, such as making us pay for Cokes in the locker room. I don't mind paying, but it's inconvenient because I don't always have a pocketful of change. You learn to deal with this stuff. My feeling is, when these people go to visit God, He isn't going to have their rules. The same people the Augusta National people are stepping on are going to be right there with them.
My game is in the dead end of the world right now. I'm absolutely slashing it and I'll be lucky to make the cut. My instructor, Peter Kostis, is down here to give me some help. I know the things he's telling me are right, but it's taking a while for it to sink in.
Before the round, Calcavecchia and I were standing on the practice green when who should walk up but Byron Nelson. We'd never met and he looked me in the eye with a kind of quizzical expression on his face, then walked past me and congratulated Calc on how well he's been playing. He didn't have a clue to who I was.
Now we're getting somewhere. I shot 69, the low round of the day, and am only two shots behind the leader, Lee Trevino. The wind was howling and I only hit 10 greens, but I chipped and putted real well. I made all of my five- and six-footers. Putting means everything out here. My playing partner, lan Woosnam, hit the ball as well as I and he shot 76. Ian had a serious case of the lip-outs. He lipped out four or five putts that were just nasty. I don't know if it was the kind of day he was having or what, but he sure didn't talk much. I like being paired with guys you can talk with.
I got booed today. On the second hole, a par 5, I hit my second shot into a greenside bunker and then hit a pathetic sand shot. Pitiful. So I took my club and banged it against the bag. I tossed it, actually, giving it a reverse flip. The crowd was quiet and then went "ooh, ooh," like they really disapproved. Which was fine with me. I was just letting off a little steam, something they didn't understand and didn't want to.
The press was waiting for me when I came off 18. I don't mind the newspaper and TV people, but they sure ask a lot of dumb, obvious questions. Sometimes I wonder what they're thinking. I think, with the exception of hockey, I could step into any sport and conduct interviews better than a lot of these guys. I don't think the people doing TV now talk naturally.
I'm in good position to contend now, but it's still a wait-and-see proposition. It could go either way. Things may all come together and they may not.
Knowing I'd have a bunch of people with me this week, I asked the Masters people for some passes. They were generous enough, giving me nine. But somehow I lost four of them and replacements were impossible to get. So we snuck in. There were eight of us in two cars and I was able to get the cars through the main gate. At that point, the guys jumped out and dissolved into the crowd. It was no problem, because there are lots of people and if you see a Pinkerton guard, you just walk the other way. But two of my brothers-in-law, Rob and Chris, got caught hanging around the driving range. We swore revenge for tomorrow.
Today offered some typical examples of why the Masters isn't run right. Playing with Mike Reid, I started off well and was even par through seven holes. Then, as we stood on the eighth fairway, they suspended play due to lightning. Fine. I don't fool with lightning. But they told us to hold our positions until further notice. They didn't want us to come off the course and seek shelter; they wanted us to stand there and risk getting zapped. After waiting for half an hour, it started to sprinkle and they finally told us we could come in. I guess they figure rain is a bigger health hazard than lightning.
The fiasco didn't end there. After about an hour inside the clubhouse, they sent us back out. They knew another weather front was moving in, but they sent us out anyway. It was ridiculous, because by the time we came off No. 13 it was raining so hard and it was so dark that you couldn't see the ball after you hit it. There was standing water on the greens. I asked an official what they intended to do, and he didn't know.
The problem is, they have so many people trying to call the shots at Augusta that their minds become paralyzed. And when they finally suspended play, not everybody stopped at the same time because they don't have a siren on the course. At least they could have driven some police cars up near the course and turned on the sirens.
They ended up stopping play for the day as I was standing in the middle of the 14th fairway. I had fallen out of my groove and bogeyed nine, 10 and 11, so I was kind of hot. A van came to pick us up. Eight of us -- Lee Trevino, Nick Faldo, Mike Reid, myself and our caddies -- piled in. The van then ran out of gas. We couldn't believe it. The van was brand new, had only 18 miles on it, and it R.O.G.'d on us. We had to wait 20 minutes for them to send another van out to get us. It was a classic.
So, after a day of pure unadulterated disorganization at its best, I'm still in the hunt. But I have to finish well when the third round resumes at 9 a.m. tomorrow.
Nick Faldo won the tournament today, beating Scott Hoch on the second playoff hole. Now, I am not a very religious person, but I do believe that when God has you penciled in to win, you'll win no matter what. You can choke like a dog and play like a dog, but somehow He will find a way for one guy to get good breaks and for the other guys to get bad breaks. Faldo didn't appear to have much of a chance to win after the 15th hole. He then made kind of a fluke putt on 16 and proceeded to drain a no-brainer on 17. Then Hoch missed a dinky two-foot putt that would have won the playoff. I'm telling you, when God has you zipped in, you're zipped in.
I wasn't zipped in to win today, although things started out pretty well. I saw Calc on the putting green and he was laughing because when he drove in the guard at the gate demanded to see his and his friends' badges. "I'm sorry" the guard told him, "but l have to check because of the Ken Green Rule."
Resuming the third round from the fairway on 14, I pulled my approach shot badly and thought, oh, no. Then the crowd started clapping and it turned out the ball rolled to a stop five feet from the hole. Augusta can be goofy sometimes. My ball mark was 60 feet away. I made the putt, followed with a birdie on 15, then parred in. Things were looking up. My score of 73 left me tied for fourth, three shots behind Ben Crenshaw, going into the final round.
I went back home, took a short nap, then we played another Nip Open. No, make that the Sable Open. We renamed the tournament because the Mercury Sable that blew a belt in the Grand Prix became the main hole. It was hurting anyway, so we opened the trunk and the windows and played to it from four different spots. You had to make the ball stay inside the car.
Come to think of it, the best shot I hit all week long came in the Sable Open. I hit a low screamer with my wedge from 45 yards away, and it shot right through the window and rattled around awhile before popping out the other side. It was an awesome shot.
Everyone wanted to be there for the final round, so 12 of us piled into two rental cars and headed for the course. Again, we were short of passes and I knew it would be harder to sneak in because of the Ken Green Rule. So I gave the guard, a guy about 70 years old, the old "How ya doin' " trick. Just waved and flew past him. What was he going to do, chase after us? We never got caught.
I figured I'd need about a 65 to win, and I started off lousy, three-putting the first hole for bogey. By the fifth hole, I knew I didn't have it. I never was in it and shot a 73 to finish tied for 11th, which will get me back next year. I didn't feel too bad, because I knew my game could go either way.
My playing partner today was Seve Ballesteros, and a funny thing happened between us on the 10th hole, a long, downhill par 4. Seve had shot 31 on the front nine and looked like he might run away with it, but he snapped his drive on 10 into a muddy area to the left of the fairway. I was 60 yards away and noticed he was taking a lot of time to play his shot, so I went over to see what was going on. It turned out he wanted relief due to "unusual crowd damage" and was waiting for a ruling. His ball was sitting fine, but it was in a little rut and he couldn't take a clean swipe at it.
"Watch this," I said to my caddie, Joe LaCava. "They're going to give him a free drop, but I am not going to let it happen." Sure enough, a rules official showed up and appeared to OK the drop, but he said he needed to call in another rules official for a second opinion. "I think you better," I said. "That's not right. I want another ruling here. This isn't going to fly." So as we waited for another official to arrive, Seve said something like, "You can go hit your shot if you want. I promise you I won't drop my ball."
I came this close to coming back at him. He was wrong. Earlier, on the second hole, my second shot stopped in a muddy area that was a lot worse than what Seve had. And the rules guy there refused to give me a drop. That's fine, but remember, my name is Ken Green. If the guy involved is Seve Ballesteros, Greg Norman or Ben Crenshaw, he's going to be given relief. You can make book on it.
Anyway, the second official, Michael Bonallack, secretary of the Royal and Ancient, came up and didn't even hesitate. He flat refused to give him relief and told Seve to play the shot. Later, I heard the television guys, most notably Tom Weiskopf, noted that I had a responsibility to protect the field in this kind of situation.
I'm shocked at how people are absorbed by Ballesteros. People are never what they seem to be on the course. Call it a scam or good public relations or whatever, but they're cheering for someone they don't even know. He didn't say three words to me all day, and when he did, it was in reference to his own shots. I didn't enjoy it.
It's been a good week, but I'm tired. I'm going to take next week off, then play at Greensboro.
Editor's note: Green won the 1989 Kmart Greater Greenshoro Open.