The Loop
Ken Venturi, 82, dies 11 days after Hall of Fame induction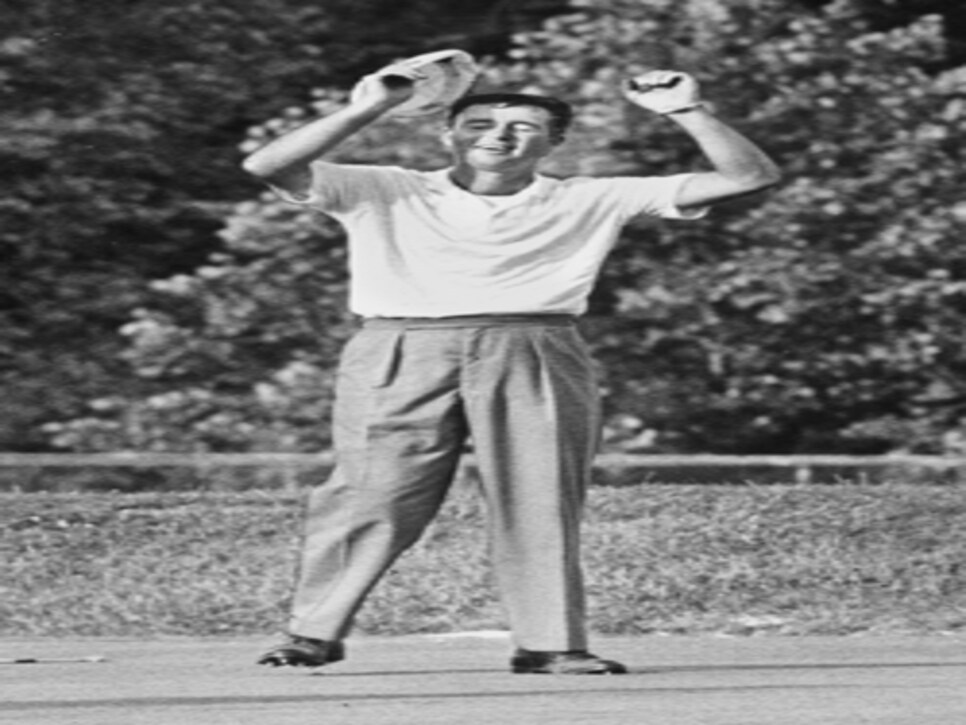 "Fate," his friend and colleague Jack Whitaker once told him by way of encouragement, "has a way of bending the twig and fashioning a man to his better instincts."
Fate cast Venturi with "an incurable" stutter that had him seek the isolation of golf and he became a U.S. Open champion. Fate robbed him of the dexterity in his hands and he became the longest-running lead analyst in television sports history.
"The full body of work, spanning everything involved in golf, there's nobody in that Hall of Fame that's done what he's done," his friend and long-time pupil John Cook said. "Maybe some have better records, more tournament wins, but the whole thing? None. He transformed television. He's been the biggest philanthropist in golf history of the things he's involved in that people don't even know about. Lifetime achievement? That barely covers it."
Venturi, 82, died on Friday, little more than a week after his induction in absentia into the World Golf Hall of Fame. He had been hospitalized following surgery for infections in his back.
When he was elected to the Hall of Fame last fall, he summed it up this way: "The greatest reward in life is to be remembered."
Venturi will be remembered on a variety of fronts. When he was 13, "the doctor told my mother that I would never be able to speak as long as I lived, because I was an incurable stammerer.  And I went out and found the loneliest sport I could find and took up golf."
At 24, he took a four-stroke lead into the final round of the Masters in a bid to become the first amateur to win at Augusta National. "For three dazzling days Venturi was within reach of a prize no amateur in the history of the Masters has ever been able to seize," the legendary writer Herbert Warren Wind wrote in Sports Illustrated. "But the Masters is a drama in four acts, not three, and on the fourth day it was exit Ken Venturi and enter Jackie Burke." Venturi finished second, still the best performance by an amateur in the history of the Masters.
Venturi would turn pro and win 14 PGA Tour events, including the U.S. Open at Congressional Country Club in 1964, when against doctor's orders he played the second 18 of a 36-hole day with temperatures upwards of 100 degrees and humidity in the 90s.
"When I came in off the 18th hole in the morning, I laid down next to my locker and Doctor Everett said, 'I recommend you don't go out, because it could be fatal,'" Venturi said last year. He defied the doctor's advice, shot 70 and won his only major championship.
Carpal tunnel syndrome in both hands ended his career in 1967 and the following year, CBS Sports Producer Frank Chirkinian offered the "incurable stammerer" a job as an analyst on its golf telecasts. He would hold the job until his retirement in 2002.
Underscoring his accomplishments on the course and in the broadcast booth was the quiet philanthropy to which Cook alluded.
"Kenny was emphatic about not getting publicity for it, but his life was dedicated to philanthropy," CBS' Jim Nantz, Venturi's broadcast partner for 17 years, said recently. "He had so many different charities he was involved with, and it was under the radar. He was building a home for abused women and children in Florida. Every offseason he traveled to Ireland to throw something for the mentally-challenged kids there. He was a huge figure in bringing golf to blind people.
"He moved mountains, and people didn't know that about him. I remember there was a piece of machinery at Loma Linda (Calif.) Hospital that was one of the forerunners to really being able to treat some forms of cancer. They had that piece of equipment in large part because of money that Kenny had raised through various charitable events throughout Southern California and the Palm Springs area. That machine by the way ended up being the machine that would reach Paul Azinger when he had cancer in his shoulder."
He was only following instructions. "I was taught by Byron Nelson and I asked him one time, 'how could I ever repay you for all you've done for me?'" Venturi said. "He said, 'Ken, be good to the game and give back.'"
[Photo: The Washington Post]