Viral Video
51-year-old Ken Griffey Jr. (!) outdrove one of the longest players in golf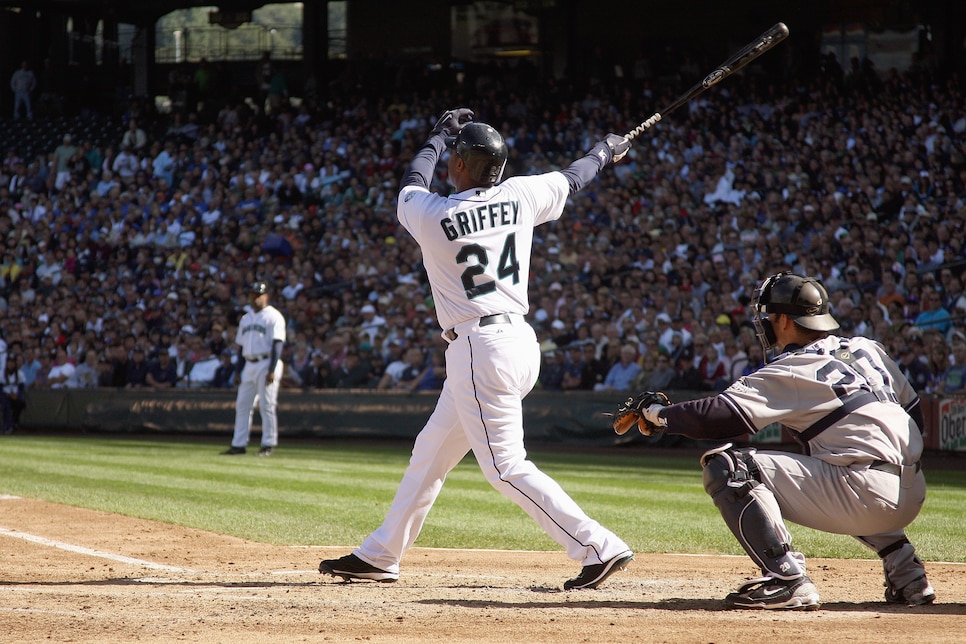 He may be 51 years old. But the Kid has still got it.
"The Kid" being Ken Griffey Jr., and if seeing that Junior is 51 just made the room spin, feel free to lie down beside us. Time, she waits for no man. Yet we come not to remind you that we all have one foot in the grave, but with good tidings. Good tidings brought by the Korn Ferry Tour, which released this clip of Grif outdriving soon-to-be PGA Tour player Taylor Pendrith.
Now, the video is admittedly a tad suspect. That sweet, smooth swing of Junior's—the swing that was not so much a swing as it was poetry in motion—looks a heck of a lot different from a tee box than a batter's box, and doesn't appear to be one that produces bombs. If Junior's age isn't jarring, the grey hair and tight-fitting clothes will do a number on your childhood. It's also unclear if Griffey and Pendrith were playing from the same set of tees.
But we do have two hints, and they're significant. The first is Griffey's reaction. This is a guy, after all, who never broke character on the field, so to see him act like one of those guys from "Dude Perfect" shows something's up. Perhaps more importantly, there's the look of Pendrith (one of the longest players in professional golf) who is clearly not amused by what is happening … you know, the exact look of a man who has been outdriven by a golfer 20 years his elder.
Rarely does the Korn Ferry Tour evoke poetry, yet what Griffey—on pace to be the greatest player of all-time before injuries and team mismanagement robbed him off that glory—pulled off reminds one of Tennyson:
Tho' much is taken, much abides; and though
We are not now that strength which in old days
Moved earth and heaven; that which we are, we are;
One equal temper of heroic hearts,
Made weak by time and fate, but strong in will
To strive, to seek, to find, and not to yield.
Now if you'll excuse us, we're off to fight Father Time by firing up "Major League Baseball Featuring Ken Griffey Jr." on Nintendo 64.