The Loop
Ken Green's comeback about more than golf
LOUISVILLE, Ky. -- Ken Green knows he could be in for a couple of long days at the Senior PGA Championship. "I'm thrilled to be here," Green said Wednesday at Valhalla GC, "[but] I didn't realize this course was as long as it is, and obviously with the rain, it's going to be a little tough. It's a little more hilly than I thought, so it's definitely going to be interesting."
Nothing about Green's life has been easy since June 2009, when his recreational vehicle blew a tire and crashed down an embankment in Mississippi. Green's girlfriend, Jeanne Hodgin, and his brother, Bill, were killed in the accident, along with Green's German shepherd, Nip. Green was seriously injured, and had to have his lower right leg amputated.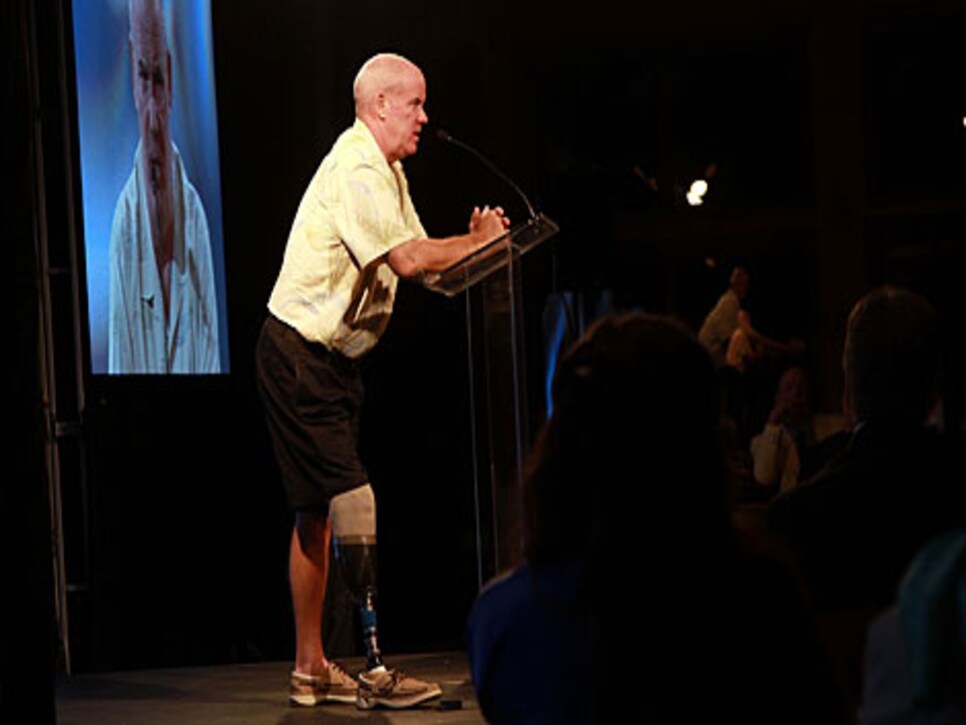 Coming back to competitive golf has been difficult for Green. The 52-year-old has been battling incessant pain in his leg, which affects a tiny percentage of amputees. "We're still struggling," he said. "The nerves just don't seem to want to settle down. I call it like being Tasered almost -- it's a constant lower level of Taser, and then it gets to where I basically act like I am Tasered. It's been quite a journey. I really thought I would be a lot better. Unfortunately, we're just going to have to wait it out and be patient, which as most of you know, I'm not known for."
Green got a spot in this week's field because because he is a former U.S. Ryder Cup team member (1989). He has played in only three Champions Tour events since his accident and is disappointed more tournaments haven't offered him sponsor exemptions. According to Green, he has been turned down by six tournaments. "Dick's Sporting Goods [where he played in 2010] is the only one that has told me that if I want to play, that I'll have the spot," he said.
Green wants to play for selfish and altruistic reasons. "I want to play one good tournament," and what I mean by that is if I were to finish in the top 20 in a Champions Tour event, I could walk away and smile and just be ecstatic," Green said. "There's just something that's telling me to do that. And the other reason is to try to do whatever I can for anybody who may be feeling down."
With golf having become a way for soldiers who lost limbs in war to regain their lives back home, Green knows he can be a visible beacon for what's possible. "All those kids who have lost their limbs from the war, they're young," Green said. "I just think that it's got to give them a boost. ... I have not met one service-member amputee who does not play golf now. They use golf as [part] of their therapy to get them reinvolved."
Most amputees don't suffer the nerve pain that Green has been dealing with. He was astounded to hear from one amputee who hits 500 balls a day. "I'm like, 'Are you kidding me?'" Green said. "Five-hundred balls? I didn't do that when I had real feet, for Christ sakes."
Green has been told that he is among "two percent of amputees [who] end up having [pain] as bad as I have it." He believes his problem could have stemmed from post-accident infections. One solution would be to remove more of his right leg, but that would make it more difficult to play golf and would not guarantee a lessening of the pain.
"Part of me still wants to play golf," said Green, a five-time PGA Tour winner, "and I don't know how good I can get if they have to go farther up my leg."
Despite the pain -- which he says the power lines that cross Valhalla seem to make worse; "something on this course is setting my leg off" -- Green hasn't lost his sense of humor. His cap is sporting a logo of a dog with an alligator in its mouth. In 2003 Green jumped into a Florida canal to rescue Nip from a hungry gator. "Nip's Haven" is a foundation Green is starting in Nip's memory to help older dogs.
"The dog has the gator this time," Green said. "It's weird. [In the canal] I could have died, Nip could have died. Then six years later we have this accident and the poor guy goes then. Nobody wants older dogs, and they get put down. My hope is to have a sanctuary and take those dogs, and they'll stay with me and live out their lives."
Whatever state Green's game is in these days, his heart is in the right place.
(Photo: David Cannon/Getty Images)