News
Kelly Tilghman leaving Golf Channel with no regrets and a rich legacy
ORLANDO – She began her career at Golf Channel in the library and will leave having written a book on breaking barriers and fulfilling potential.
Kelly Tilghman, the first female broadcaster to anchor PGA Tour coverage, will sign off Sunday from the 24-hour network after the final round of the Arnold Palmer Invitational at Bay Hill Club. After serving as the emcee of the trophy presentation at Bay Hill Club & Lodge, Tilghman will join longtime colleague Rich Lerner Sunday night in the broadcast booth near Bay Hill's driving range, and share a few reminiscences before departing what has been the ideal job for the one-time aspiring pro golfer.
"Have the words come to me yet? No. It's just a last chance to spend time with my TV family," said Tilghman, 48, who chose the Arnold Palmer Invitational as her walk-off event after 22 years because of her relationship with the golfing legend and its proximity to Golf Channel headquarters and her home.
"It's no secret that I have been pulling back my schedule the last few years, just to get a little more taste of freedom and be home with my family more and enjoy my life a little more away from the camera," Tilghman added, fighting back tears at one point. "This is something that Golf Channel and I have been working on for quite a while. The relationship is healthy and good, and we wanted to make sure it remained that way through the process."
Married and mother of a six-year-old daughter, Ryan, Tilghman is leaving at a time when her on-air presence has been dwindling noticeably. And while family is her paramount focus, she is too young to retire and admitted that, "I would never say I would try to make a door open. I just want to enjoy this time until another one does.
"I said it before, it would be a surprise if I never did television again. It's just like golf. It's what I do," Tilghman added. "I can only hope Mike [McCarley, Golf Channel president] and Molly [Solomon, executive producer] call on me down the road to contribute in some way. I could only hope an opportunity comes knocking elsewhere, and I have a chance to answer another door."
Tilghman, who grew up on a golf course in North Myrtle Beach, S.C., owned by her parents (now defunct Gator Hole Golf Course) had no idea this door existed, and it was only a sliver of an opening through which she squeezed when Golf Channel, co-founded by Palmer, launched in 1995.
After playing golf at Duke University and competing on professional tours in Europe, Asia and Australia, Tilghman landed an internship at WPTV in West Palm Beach, Fla., and learned of the fledgling golf network by accident. During a charity event at PGA Golf Club in Port St. Lucie, Fla., she met Scott Van Pelt, the SportsCenter anchor, who at the time was an intern at Golf Channel.
"I asked him what he did for a living," Tilghman recalled. "He said he worked at this television station called the Golf Channel. I said, 'Excuse me? There's a TV station that covers golf?' Hello. Sign me up. It was serendipitous to say the least."
Like Van Pelt, Tilghman eventually got her shot in front of the camera and made the most of the opportunity. Her early assignments included studio programming such as Academy Live and the Grey Goose 19th Hole. Later came co-anchor duties for Golf Central as well as hosting pre-game and post-game shows on site from major championship venues. Tilghman also was used as an on-course reporter for tournament coverage, where she could utilize her extensive background in the game.
Then Tilghman made history. Golf Channel acquired the rights to early-round PGA Tour telecasts in 2007, and Tilghman was chosen to be the play-by-play anchor paired in the 18th hole tower with Sir Nick Faldo. However, that dream role turned into a nightmare just a year later when an off-the cuff remark nearly led to her dismissal.
During the second round of the 2008 Mercedes-Benz Championship at Kapalua Resort in Maui (now the Sentry Tournament of Champions), Tilghman and Faldo were discussing how young players should take on the challenge of beating world No. 1 Tiger Woods, and Faldo suggested that, "maybe they should just gang up [on him] for a while."
"Lynch him in a back alley," Tilghman replied.
The outcry to what was deemed a racially insensitive remark was swift and harsh. There were calls for her dismissal from the Rev. Al Sharpton and others. Tilghman apologized directly to Woods, and his agent issued a statement saying it was a non-issue. To squelch the criticism, Golf Channel suspended her for two weeks but otherwise stood by her.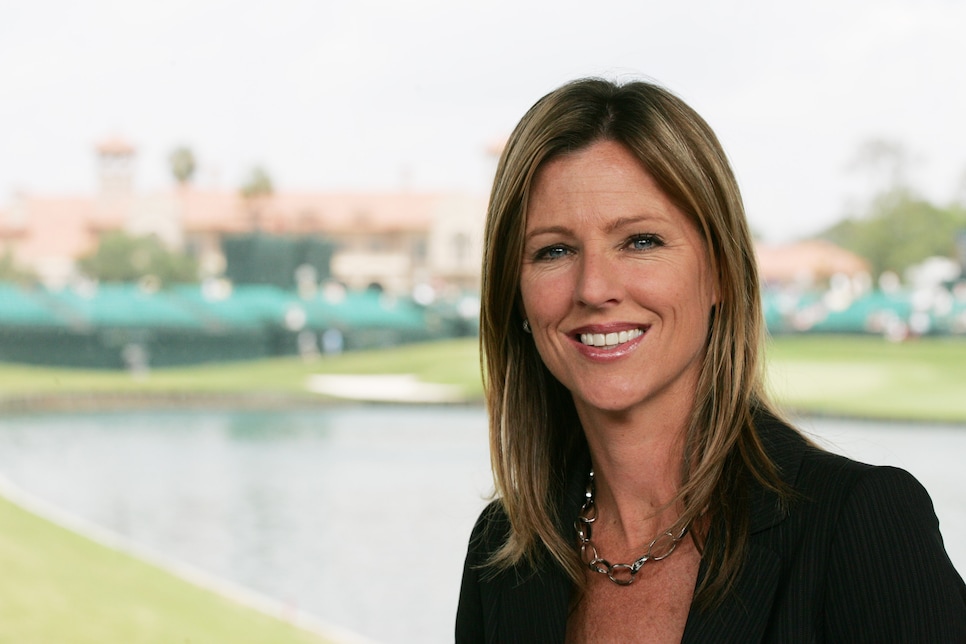 Tilghman went on to remain a mainstay for the network, and later saw her horizons expand outside of golf to Olympic coverage for NBC Sports. Her popularity with viewers never waned.
"I have sort of grown up with her and grown closer to her over the last 20 years at Golf Channel, and I have seen her become, on a technical level, one of the finest broadcasters in the business," Lerner said. "Her instincts for news and a story are so solid. More than that, I can't think of anyone who is more fun to be around. She's my professional soul sister. We came through it together.
"What I think the viewers always understood with Kelly," Lerner added, "was how much passion she has for golf, how much love she has for the game, that she loved the game the way they did, and that's why she connected with them. Whether they were a 2-handicap or a 22-handicap, they got that from Kelly."
"[This is] a hard pill to swallow," colleague Lauren Thompson wrote of Tilghman's departure on Twitter Friday night. "… You set the tone for all of us. We admire you. We celebrate you. We will never forget you. I love you, lady! Thank you for your service to the game."
Tilghman's near-term plans are simple: devote her energies to raising her daughter – and maybe play more golf. "Part of the master plan is to spend as much time with Ryan as possible in this developmental window. This is an important time to have your parents around," said Tilghman, who proudly shares that Ryan can "knock it in from the lip of the cup. She will be my inspiration and motivation for playing more golf and spending more time on the course."
As for any career aspirations, they can wait. For a while, at least.
"At this juncture, I want to appreciate what I've been able to do, and I want to take a beat and exhale. And gather my thoughts," Tilghman said. "I'm so proud of this place, because no one gave it much of a chance – kind of like me. But it gave us all opportunities to succeed, and why would you want to be anywhere else?
"I've had such a beautiful run at this place," she added. "We've done so many cool things. I tried to be the best broadcaster I could be. I feel satisfied with everything we've done."