News
Keegan Bradley missing majors 'awful,' seeks to remedy it in next two weeks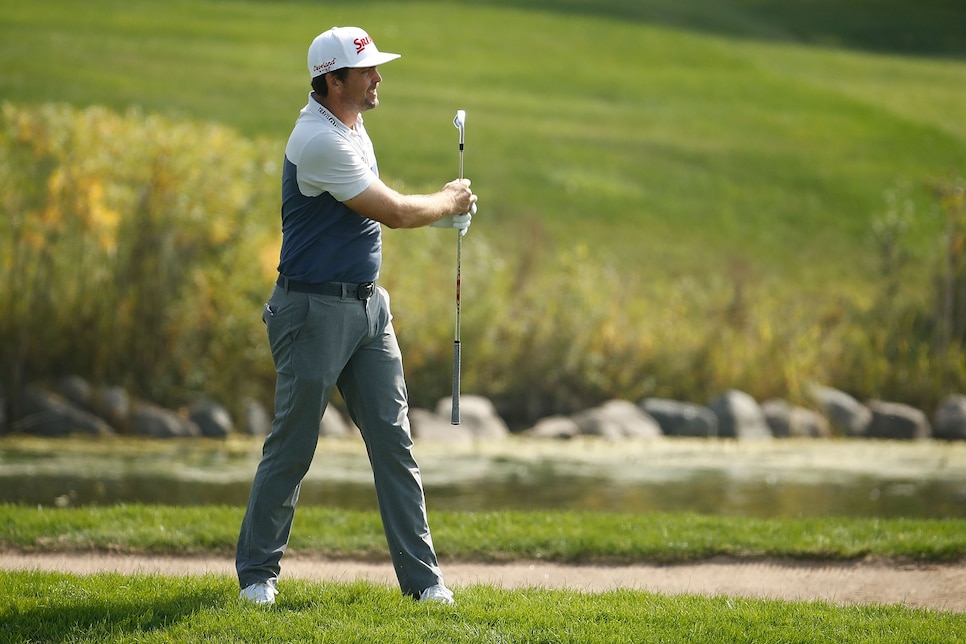 LAKE FOREST, Ill. – When you win a major in your first attempt and then spend the next five years eligible for all four of them, it's not easy to have to sit one out. In fact, scurvy sounds more enjoyable.
But don't take our word for it.
Keegan Bradley captured the 2011 PGA Championship at Atlanta Athletic Club and then enjoyed the itinerant perks that accompanied the early breakthrough, namely five-year exemptions into the Masters, U.S. Open and British Open, plus the lifetime pass into the PGA.
Those exemptions ran out in 2016, and Bradley felt like the nerdy kid who wasn't picked when choosing sides for sandlot baseball. He also missed out on qualifying for this year's U.S. Presidents Cup team, the third year in a row he'll sit out either the Presidents Cup or Ryder Cup.
"The Masters this year, not being there was really weird. That was awful," Bradley said Thursday at Conway Farms GC. "I normally would go early and practice and play a little bit. That was always super fun for me. Like, I wasn't allowed, couldn't go. So, that was tough. Watching the Ryder Cup, I was excited for them but that was tough to watch as well.
"It stinks. It's no fun. No fun watching majors at home, no fun watching Ryder Cups and Presidents Cups at home," Bradley admitted Thursday at Conway Farms GC. "You start feeling bad for yourself. You've got to put more effort in, work harder and practice harder and play more, and hopefully it will pay off."
After an opening six-under 65 in the BMW Championship, the payoff came a little closer into view. If he can finish eighth or better at Conway Farms, Bradley will earn enough points to finish in the top 30 in the FedEx Cup standings and earn a trip to the season-ending Tour Championship at East Lake GC in Atlanta next week.
In addition to playing for juicy slices of the season's bonus pie, the 30 qualifiers earn, among other perks, berths into the year's first three majors – precisely the ones Bradley is not exempt into.
Entering the week 48th in the standings, Bradley knew he needed to make something happen this week, and when he birdied his first three holes, that got him rolling in a round that featured seven birdies against one bogey. But he has to keep the birdies flowing, something he has struggled with in a season in which he has just five top-10 finishes. But at least he doesn't need to win, something missing from his resume since the 2012 WGC-Bridgestone Invitational.
"It's a big goal on my list to make it to the Tour Championship so it's kind of on my mind a lot when I'm out there," the Vermont native, 31, said. "I mean we have so much to play for every week, but especially in these FedExCup Playoffs. All of a sudden you have a really good week, you could legitimately have a chance of winning the FedExCup. So, making the Tour Championship is awesome but, geez, you can really jump up the leaderboard."
Ranked 95th in the world, he could use a jump. Or simply a jolt. It hasn't been easy the last few seasons as Bradley has been in the midst of swing changes while simultaneously weening himself off the belly putter he had used since he turned professional after the anchoring ban in the Rules of Golf went into effect in 2016.
"Yeah, it was tougher than I thought, but I was going through stuff with my game as well where I was working on that so I couldn't focus on one thing long enough," Bradley explained. "So, you know, feeling now where I'm there, I'm not working on anything, I'm just trying to work on going up there and shooting low numbers and win tournaments.
"If it's not this year, hopefully it will be next year. But I feel a lot more like the person I was out on the course now than ever."
His renewed excitement in his game has him in "a playing mode." Golfers have to strike while they're hot.
In Bradley's case, he wants to compete early in the next season that begins in October before his wife Jillian gives birth to the couple's first child, a boy, in mid-November.
"I love playing golf," said Bradley, the nephew of another golf lover, Hall of Famer Pat Bradley. "Obviously there's mental fatigue, physical fatigue. But I want to be out here playing. I put in so much work at home the last thing I want to do is hit more balls on the range or spend more time on the putting green. I just want to be out here.
"A lot of cool stuff can happen if you do well out here," he added. "So, I'm in a playing mode. It's hard for me to take one week off. I'm going to hopefully not take next week off, that's the first start."
That would definitely not stink.