Instruction
1 Tip to Improve Everything This Summer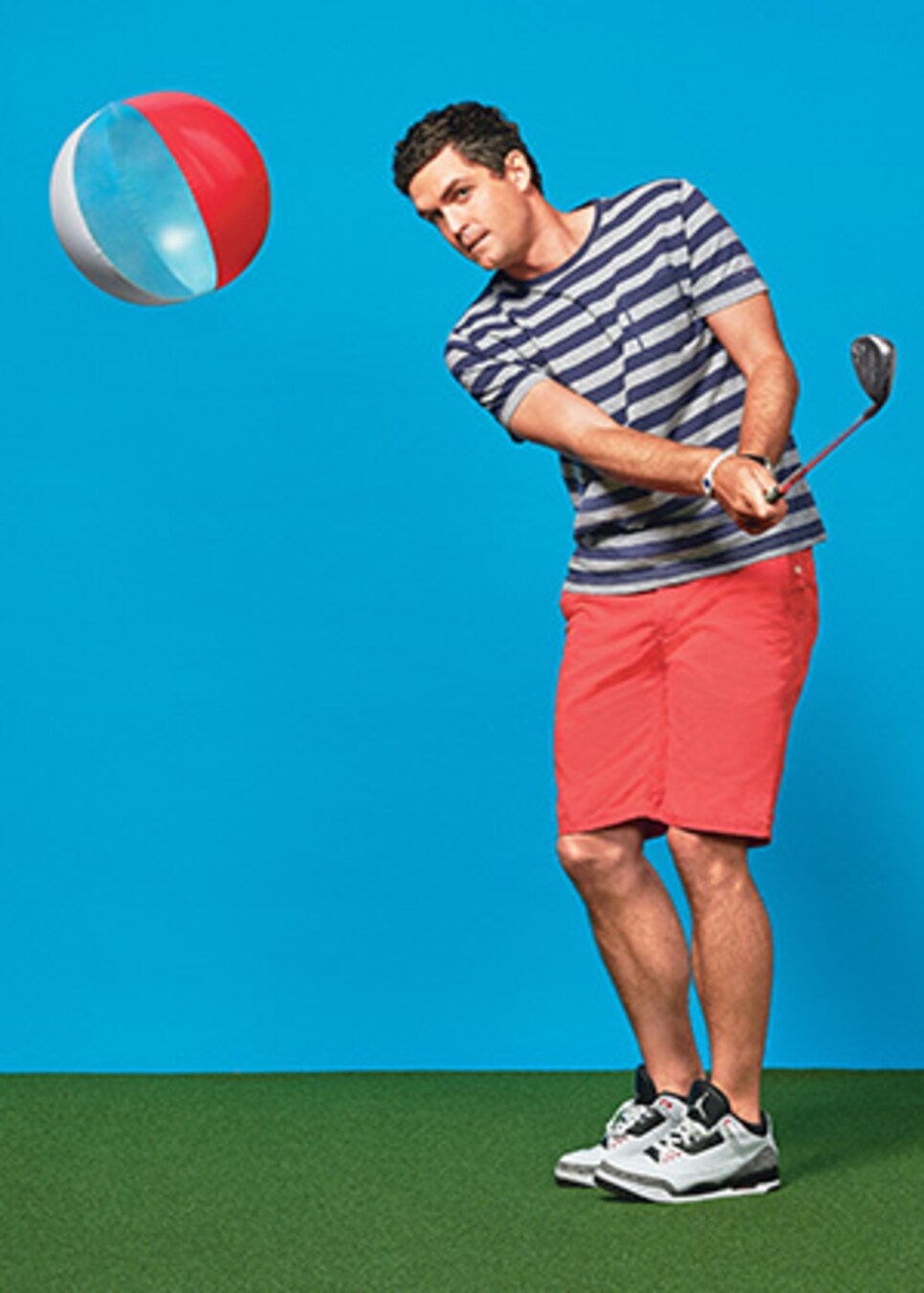 TOMMY HILFIGER T-shirt, $49, shorts, $69.
AUDEMARS PIGUET watch, $45,600.
AIR JORDAN sneakers, $170.
I've always played my best golf in the summer. I won the 2011 PGA Championship in August, and my other two tour wins were in August and late May. Could be from growing up in Vermont. After shaking off the rust in spring and getting my body used to playing again, I always felt the pressure of about a 10-week window to shoot some low rounds and prove to myself I was getting better. Now that I play the tour and live in Jupiter, Fla., my life is perpetual summer. Still, there's a part of me that expects to hit that mid-season form my buddies and I used to talk about.
When it's deep into the season and you're not playing well, it's frustrating. This is when it's time to revisit some basics. To me, the basics are driving and chipping. If you can do those two things well, you'll be hard to beat. It's rare to mess up a short iron from a fairway that badly. And if you can chip the ball to a foot, your putter doesn't matter.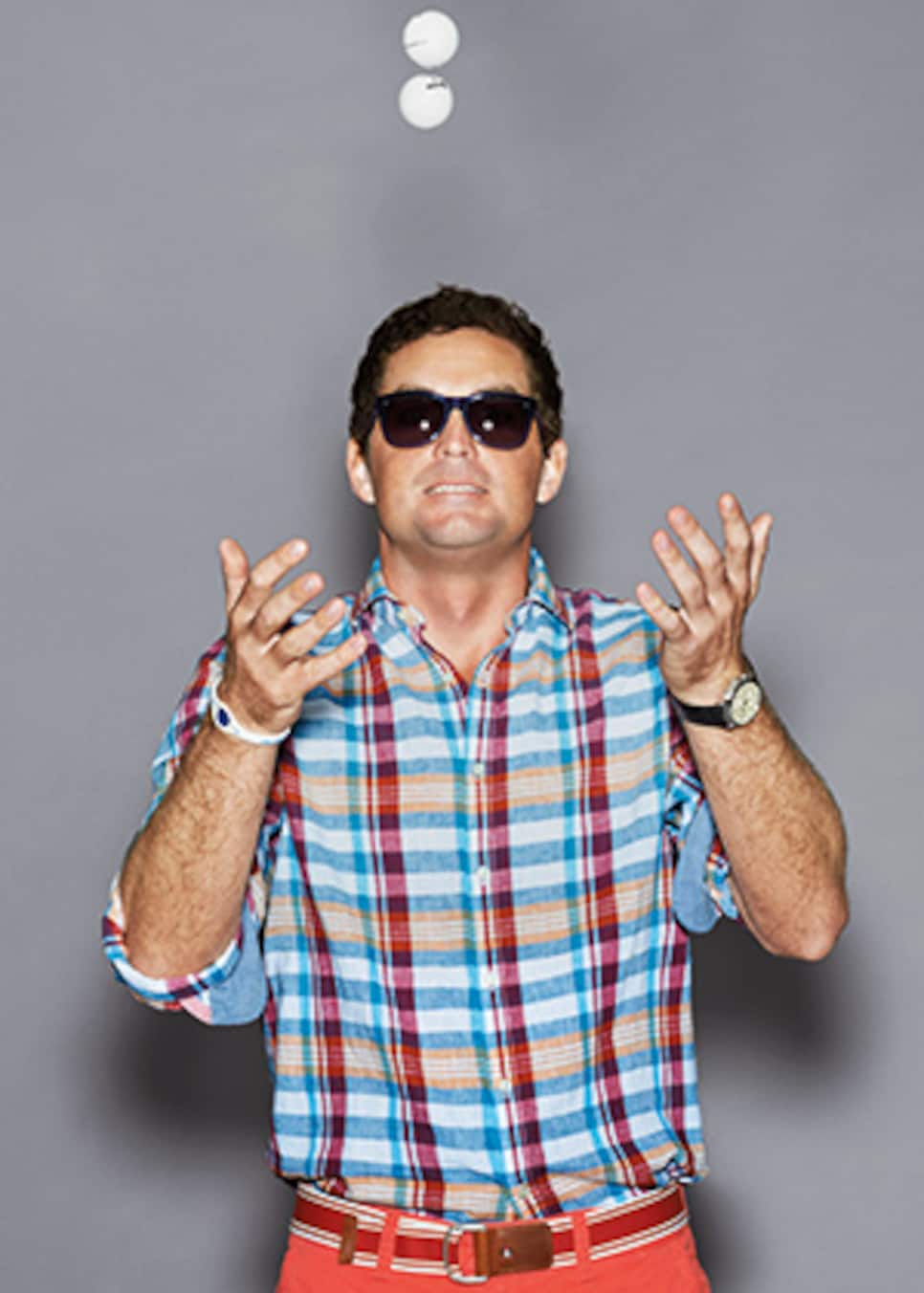 belt, $49, sunglasses, $145.
AUDEMARS PIGUET watch, $45,600.
The beauty is, while you're working on chipping you're also working on driving. This is because the bottoms of both swings — the area around impact — are identical. From the moment the clubhead is two feet from the ball until two feet after impact, the technique of a good chip is the same as a ripped tee shot. The clubface isn't flipping or doing anything funny. It's staying square to the path of the swing and striking the ball as solidly as a bat hits a baseball. A good feel is the back of the left hand staying pointed at the target through the strike. Except for flops and a few other specialty shots, that's how every swing with every club should feel at the bottom. It's why I start my practice sessions with simple bump-and-runs. I'll take an 8-iron and make a swing that's as short as a putting stroke and just watch how the ball rockets off the clubface for a yard or so. My teacher, Chuck Cook,
calls it a "square pinch" because the face stays square and pinches the ball off the turf. If I'm struggling, Chuck will say, "Hey, Keegan, give me a square pinch." This means stop whatever I'm doing and hit a chip to remember what solid contact feels like.
After you master the square pinch, try some longer chips. Work your way up to a 40-yard pitch, or what Chuck calls a "high sweep." Go through the bag until you're hitting driver. Same as with the short chip, the way to get maximum speed on a drive is to present the dead middle of the clubface to the ball. When you achieve that, you realize that a full swing is one simple motion that feels like a chip, only with some wrist hinge and body turn. I'm a feel player, but paying strict, technical attention to chipping has given the right amount of structure to my swing.
The other half of the scoring equation is, of course, mental. I owe my ticket off the mini-tours to Jim McLean, who taught me to approach golf like my other favorite summertime activities. I love throwing the football and shooting baskets. Rickie Fowler, Brendan Steele and some other guys and I will get full-on softball and volleyball games going. When I throw a softball, there's no time to think about the motion of my arm. I just look at the first baseman's glove and react. So when you're staring at flags from the fairway this summer, just pretend you're playing catch in the back yard. Or maybe even at the beach.
Hair and grooming: Karen Cleary