The Loop
Kaymer, Kuchar play well in Woods' absence
PONTE VEDRA BEACH, Fla. -- What started as Thursday's featured group at the Players Championship ended up being merely a twosome with Tiger Woods withdrawing after nine holes. It didn't seem to affect his playing partners, Martin Kaymer and Matt Kuchar.
Kaymer, who was ranked No. 1 in the world golf rankings earlier in the season, opened with a 67, while Kuchar, currently ranked No. 10, was close behind with a 69, despite the fact the two played in front of a sizably smaller gallery on the back nine.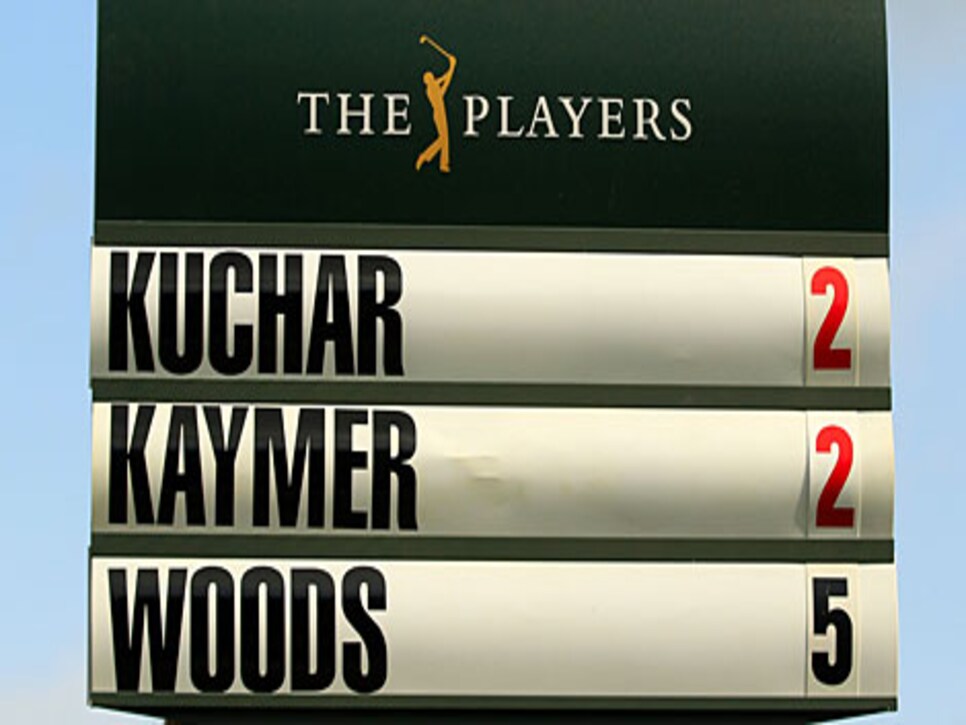 "Well, 50 percent, I think they were leaving, but it was still fun," Kaymer said. "Once you get to 16, 17, there were plenty of people, but it was definitely a difference."
Kamer and Kuchar will play as a twosome again when they tee off at 1:08 p.m. in Friday's second round.
Kuchar said he could tell Woods was in pain from the second hole, but that the 14-time major champion never mentioned his injury before bidding his fellow players goodbye on the walk to the 10th tee.
"He just said, 'Have a good back nine. Play well,'" Kuchar said. "Other than that, he never mentioned any pain, any discomfort. Didn't say a word about it."
Woods' final hole, No. 9, symbolized how the day went. After tapping in for bogey and an opening 42, he got out of the way while both Kaymer and Kuchar knocked in short birdie putts for a pair of 33s.
Kaymer was surprised to see Woods stop playing, despite noting his deliberate gait.
"Yeah, he was walking really slowly. He was walking behind us. But I didn't know that it was because of pain or -- I just thought that he walks a little slower than me," said Kaymer, who has only been paired with Woods one other time. "I didn't know really know in how much pain he was. I don't know what he told you guys after the round, but for us, I was focusing on my game. I was not really paying too much attention."
That was apparent as Kaymer birdied two of the next three holes after Woods left on his way to a back-nine 34. That's not to say the reigning PGA Championship winner was happy to see Tiger leave. While Woods has talked frequently about needing more "reps" on the course with his new swing in the past year, Kaymer was hoping to get more practice of a different sort.
"It would have been nice to play with Tiger another 27 holes," the 26-year-old said. "With Tiger there are more cameras, more media people inside the ropes, so it would be nice for me, as well, to get used to those things more often."
Follow on Twitter: [@AlexMyers3
](http://twitter.com/AlexMyers3)
(Photo: Streeter Lecka/Getty Images)