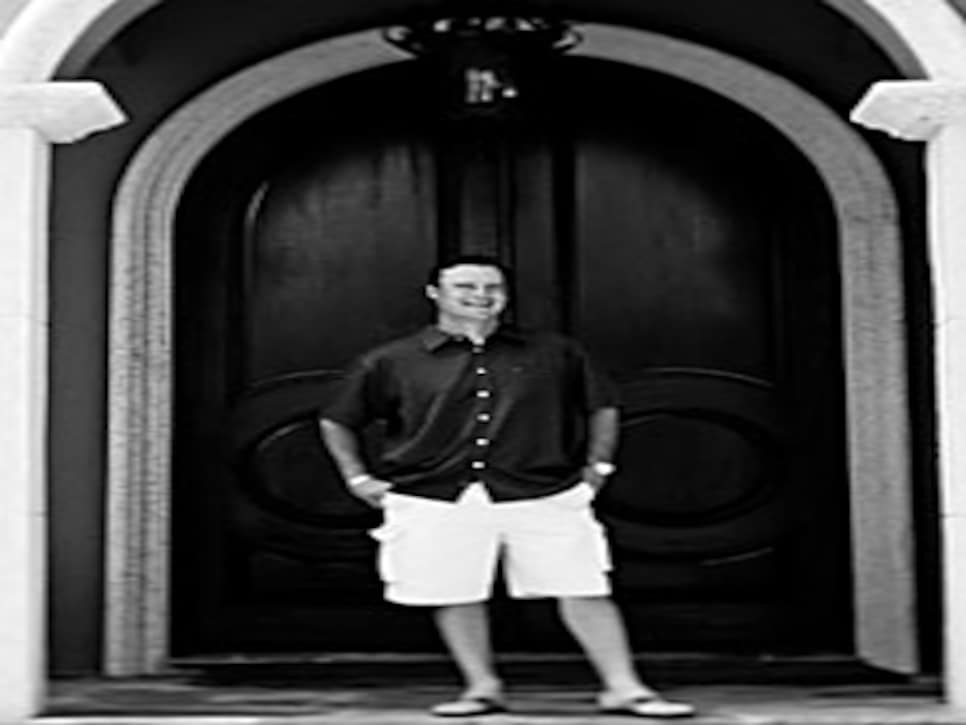 Chris DiMarco, A Family Man And A Pro Golfer
In many ways Chris DiMarco epitomizes the modern PGA Tour player.
He has a beautiful house (complete with 17 TVs, seven refrigerators and two Golden Tee video games). He has a fancy Mercedes, a loving wife, three beautiful children and more than $12 million in career earnings. He may not be on the tour's A-list with Woods, Els, Mickelson and Singh, but he's closer than you think. DiMarco, a three-time winner on the PGA Tour, is ranked 21st in the world and has been battling for a spot on the U.S. Ryder Cup team all summer after making the Presidents Cup team in 2003.
Yet, despite his lifestyle and status, DiMarco insists he's still an everyman who knows what it's like to be sweating a mortgage payment. A former All-American at the University of Florida, DiMarco grinded his way around the world from South Africa to Canada before finally becoming a regular on the PGA Tour in 1998. And he can thank Skip Kendall for showing him the unusual claw putting grip that turned his career around. DiMarco, who turns 36 in August, is on pace to make at least $2 million in tour earnings for the fourth consecutive year, but he'll be the first to tell you that the latest generation of tour players don't know how good they have it.
During a series of interviews over five months that began in Los Angeles and ended in New York, not far from his native Long Island, DiMarco had a lot to say about life on tour, from perks at tournaments to near-fisticuffs with a heckler to what Phil Mickelson said to him on the final hole of this year's Masters. DiMarco even told us who will replace Tim Finchem as the next PGA Tour commissioner.
It would seem that winning majors and playing for history is the goal of every golfer, but DiMarco says that life has become so good on tour he's satisfied with making cuts, sprinkling in top-10 finishes and occasionally winning. Hey, at least he's honest.
Golf Digest: That was quite a read you gave Mickelson before his winning putt on the 72nd green at Augusta this year, which he now approvingly calls "being DiMarco'd." Did Phil at least send you a thank-you note?
DiMarco: It was fate. I tried to hit my bunker shot hard and use the slope to let it roll back to the hole. Instead, it stayed up there, right on Phil's putting line. All he said to me was, "Show me the way." Now, as I approach the putt, it's the first time I'm really nervous all day—if I don't put a good putt on it, he's screwed. But I hit a pure putt. I played it a foot outside the hole, and it just missed. I asked him later if he played a little more break, and he said, "I played another two balls out after watching yours." I just think it was his time.
Have the two of you talked since that day?
Oh, yeah. In New Orleans a few weeks later we went to dinner with some good friends of mine and our wives. There were like 20 of us. We joked around. My buddies were all over him. They were like, "Hey, Phil, glad Chris could show you the way." That kind of stuff. That's what Phil and I have in common—we both like to dig a little and razz each other.
Did you and Phil have any other conversations that day at Augusta?
On the eighth tee I was four over for the day, and he was two over. He walked up to me and said, "I don't care what happens. I don't care who wins. But let's have someone from this group win." He played five under from there on in. You've gotta take your hat off to him.
The Masters must have been bittersweet for you. You started the final round tied for the lead and shot 76 to tie for sixth.
It's funny, I can tell from the first three holes on Sunday of every tournament I've won and every tournament I could have won whether I'm going to win. At the Masters, you could see things weren't right. I expected people to come up to me and say, "What happened?" Instead, it was, "Great playing. What a great Masters. Way to go." Nobody said I choked. Looking back, maybe I was too hard on myself. I didn't get emotional. I didn't cry. It's golf. There are three reasons I didn't cry—my three children. That quickly put the day into perspective.
You've had some other memorable experiences at Augusta. In your first year there, 2001, you led after the first and second rounds.
I got into the locker room for the first time, and I'm just in awe of the place. I take my shoes off and put them on the bench. And as soon as I did it, one of the attendants came up to me and said, "Now, here at Augusta, we do not put our shoes on the bench." I said, "Okaaay. I better write that one down."
Are there other awkward moments for newcomers on tour?
I had a through-line incident with Matt Kuchar and R.W. Eaks when Matt was an amateur. Matt kept walking on the through-line [the line that a comeback putt would take if the first one rolls past the hole]. Not necessarily on mine, but on R.W.'s line. And R.W. wasn't playing well, so he was getting irritated. So I went up to Matt, and he was very appreciative. He really wasn't sure what the through-line was. Matt was great about it.
The one thing I've learned: Try to be as courteous as you can. Some guys are real sensitive out here. You just try to stay out of their way.
Did winning for the first time in 2000 change the way players treated you?
First, when you get out here, you're in a club—you're a PGA Tour member. Then, when you win, you join an elite club, and you're a little more accepted because you've proved yourself. I never understood that until afterward. Then, when you've won more than once, you've really made it.
How are you treated differently?
People start talking to you who didn't previously. You've become accepted more. You start getting paired with bigger names. Like being paired with Tiger Woods and Tom Lehman. You don't get that grouping unless you've won.
What's the most fun you've had as a pro?
The Canadian tour in '92. You had me, Guy Boros, Steve Stricker, Michael Bradley, Grant Waite, Pat Bates, two, three other guys who are playing on the PGA Tour now. On Sunday nights, after the tournament, we'd go drinking and have a great time. Nobody had kids. Then on Monday we'd travel to the next event. On Tuesday we'd play the pro-am and go out and have a good time and drink again. Wednesday, Thursday, Friday, Saturday, we'd play golf. But then on Sunday night it was back to the bar. It was the same for 16 straight weeks. You worked all the way across Canada, from west to east. Nobody was up there to get rich. Everyone was there to get on the PGA Tour, so everybody was in the same boat. No corporate jets. Everyone was driving. That was a cool tour to play.
Who are the top-five party people on tour?
I miss Carl Paulson. He used to be able to go with me. Um ... Lumpy [Tim Herron] can go. Scott McCarron. It's never on a Thursday, Friday or Saturday night. You're talking about a Monday or Sunday night.
Some of the younger players don't seem to be having as much fun. Why is that?
I don't think they get it. You see a lot more guys today like drones. Golf, golf, golf, golf. They've got swing coaches, fitness trainers, psychologists. They don't have any fun. The best line I heard came from Scott Hoch when Ty Tryon got his card. Scott said, "Ty's not going to be able to experience some of the best nights that he can't remember."
You mentioned Pat Bates, an ex-teammate at the University of Florida. He's the guy with bleached 1980s rock-star hair.
I told him I'd give a thousand bucks to cut it, but he wouldn't do it.
Who else was on that team at Florida?
I had Dudley Hart with me, and we tried to help each other. Jeff Barlow, a guy who's been on tour, was there, too.
I hated to study. If I knew then what I know now, I'd get A's. I didn't read too many books in college. I didn't know how to comprehend books real well. I'd be reading a paragraph, and I'd be thinking about how many putts I had that day.
How close did you come to earning a degree?
I had about 20 hours left. I was taking a sociology course, and the teacher told me that me choosing to play tournaments was like his other students choosing to sleep in. And every time I had an absence, whether it was excused by the university or not, I lost a letter grade. So I was done. I missed 15 days of school. I said, "You know what, if this is how it is, I don't want to be here." I was playing well enough to turn pro, so I went right to tour school that year.
You almost made it right out of the box.
Dudley and I got to the finals. We were the only two players from our class to get there. He made it. I almost did.
Dudley's one of the tour's hotheads. Is that a fair reputation?
Absolutely. Even back in college, we had the Dudley Hart creed. Before every practice session, Buddy [Alexander, the golf coach] had this thing he made Dudley recite—I don't remember the words; "I will not throw a club," something like that—and then he made him throw a club as far as he could. Then Dudley had to go get it, come back, recite the creed again, and throw the club again. Three times he had to do it before he could practice.
I was the same way. I remember Buddy charted how many times after we'd made a bogey and thrown a fit that we made another bogey. Both Dudley and I went, "Wow!" Dudley's biggest problem is that he knows how good he is. He's such a perfectionist that even if the ball goes in he gets mad because it went in on the left side.
You've said that having confrontations with fans is one of the worst things you can do, yet you've had a few moments where you couldn't hold back. What happened at New Orleans in 1999?
I was playing miserably, and Steve Flesch and Mike Weir were out there. Steve was leading at one point, and somebody yelled from the stands, "Come on lefties, beat those righties!" I was getting beat by 15 shots, and I was miserable, so I went over and said, "You know, that was uncalled for." On the next hole, I missed a short putt, and he said, "Great putt! Nice putt!" And I went over there and said, "You have two options: You can leave right now, or I can put you in the ground right here." I told the guy to meet me in the parking lot after the tournament.
He went up to a rules official and complained about me. And I went nuts. I said, "You know what? You just go ahead and meet me in the parking lot after." After I'd signed my card, I walked outside. The cops had to escort me away. I told them, "You should be escorting him, because I can promise you he's in a lot more danger than I am." I don't know if they were expecting him to be there, but he wasn't there.
I called the tour the next day and told them what happened, and there was a little blurb in the paper. That was five years ago, and it certainly wasn't a mature thing on my part. I was playing terribly. I was looking for a reason, and I learned my lesson. And I didn't get fined by the tour.
There was another incident in Phoenix.
One year a guy yelled out, "Noonan!" while I was putting. So I pointed him out and told them to get the guy out of there. But this year it was so pro-Mickelson. I made five birdies in a row, and I get on the 15th hole on Sunday and have this 10-footer. As soon as I hit the putt, I hear, "Miss it! Don't go in!" I made it. And I'm thinking, You know what, this is just stupid. These idiots. I felt like I deserved a little more respect, being a past champion there. And, just a little more respect in general. On No. 16, the hole has gotten out of control. It's not everyone. It's 200 inebriated guys.
Fans getting on players is a sore subject for you, but no one has had it worse than Colin Montgomerie.
I thought he had a great opportunity about seven or eight years ago when he was just getting drilled, when that whole "Mrs. Doubtfire" thing came up. I thought it would have been hysterical for him to dress up like that just to let the American people see he could laugh about it. Obviously he didn't like the nickname. But it's just like that nickname you got in high school—if someone gave you a nickname you didn't like and you made a stink about it, then the name stuck. Once people see they can get to you, they'll try and try again.
This year the U.S. Golf Association allowed tournament committees to disqualify a player for a serious breach of etiquette like throwing a club.
The USGA said that? You know what? If I miss a putt that costs me 75 grand, I'm going to be p----- off. The bottom line, we're playing for a lot of money out here. Are there ever days when some of these guys at the USGA get a little p----- off with their job? Everybody has a frustrating day. I try not to get mad or use any profanity out there. I know people are watching, and I know what I look like when I get mad. I look like an idiot. But you know, there are a lot of times where emotion comes into play.
Were there other times when your emotions got the best of you?
One time at New Orleans I was right up there by the lead, trying to win the golf tournament, and I hit my third shot with a sand wedge 20 feet right of the hole. I yelled, "[Expletive], Chris." I thought I mumbled it under my breath, but the camera was right on me, and I got a letter the next week. I called up the tour and said, "What's this?" They said, "Well, you know, you're in the Bible Belt way down there, and we got some letters." I said, "Do you want us to be a bunch of robots out there, or do you want people to see that we actually care?" They said, "Well, you've been squeaky clean, so we'll let it go." But emotion is part of it. They need to realize that.
Have you ever been fined by the tour?
Nope. In nine years, too. That's pretty good.
Who on tour is the most plugged in, the guy who knows all the stories?
You mean, who's the gossip guy? Not gossip, but the guy in the know is [Jeff] Sluman. ... Sluman ... Sluman. Or [Billy] Andrade. If I need to know something, I'll just go to one of them and say, "Have you heard ... " They always say, "Yeah." Not that they're looking for it. They just seem to know.
How often do you attend the tour's players meeting?
I try to go to them all. The PGA Tour is so political now. That's the main thing. We are so politically correct now that it really doesn't matter what the players think. I know that at our meeting in Jacksonville, there were a lot of things that were going to be brought up, but Tim Finchem [commissioner] wouldn't even let us have an open forum. He kind of closed it and said, "That's it, boys." And there were a lot of us going, "Whoa, wait." And he's like, "Nope."
If Finchem resigned tomorrow, who would replace him?
Rick George. Champions Tour guy. Rick George revolutionized how to be a tournament director. I can tell you that my first six or seven years on tour, I knew maybe one or two tournament directors. But he was involved in [PGA Tour] events that I'd say 80 percent of the name players go to. That's unheard of. And I know, because of the things he did, that most of the tournament directors now make themselves available to us. They make sure they're known because of what Rick did. I think they're grooming him to be the next Tim when Tim steps down. You'll see Rick George.
Let's stay with tour policy. Does pre-tournament gambling need to be reined in?
Why does it need to be reined in? We're playing for $5 million a week. If we want to play for a couple hundred bucks, what's the big deal? I don't think it ever gets past that. If I get out in a practice round, you put a couple hundred bucks of your own money on the line, and you're going to try. I'll have 10, 12, 15 different bets going. I know if I go out and shoot 65, I'll have a chance to win a few bucks, and that motivates me. It keeps my head in the game.
What's the most you've ever won or lost?
Something like $500 or $700. I've never played in a group where somebody has played for more than that. Jesper and I have had some big games against each other.
You didn't always have big money.
It was only six years ago that there wasn't much of a kitty—we had $15,000 starting in 1998. I was playing for mortgage payments, and that's a hard thing to do.
We didn't know what it was like to have money. It wasn't until recently that things got really good. Back then, we overextended. We bought a new house, we had car payments, house furnishings, new baby. It all added up. I had some money coming in, but if I hadn't kept my card that year it would have been difficult to stay in that house. That was back in the time when I made $260,000 for the year, and it took $230,000 to stay out here. That sounds like a lot, but with expenses, it goes real fast.
I tell you what, that was the hardest year of my life. I was going back on tour putting with the claw grip for the first time, and I finished 111th on the money list. It was like, whew! Because if I go out and play terrible, I wouldn't be sitting here right now.
Who on tour is financially savvy?
Joe Ogilvie is extremely intelligent. He's really good about playing the stock market and investing. Grant Waite, he's good at that, too. There are a bunch of guys who really know how to manage their money. I don't think there's anybody who relies solely on PGA Tour money.
But money is ruining the competitive spirit of players, isn't it?
Well, frankly, I don't think you'll see as many guys in the next 10 or 15 years play well into their 40s, because they just don't need to. Look at Joey Sindelar. He's from the old school. When he won a while back, one of the things he said stopped me cold. He's been out here for 20 years, and he said, "Now my kids' college is paid for." I was like, "Wow." This guy should have millions and millions of dollars, but you know what, he was just keeping his card every year, and it just wasn't going that far. Now, since the money has been real great, he hasn't had those top-30 years. But the win he had couldn't have happened to a nicer guy. When he won, I was almost more happy than if I had won the tournament.
What's the largest appearance fee you've received?
I don't know, $35,000? A pro-am somewhere. Sun City was a guarantee. Last place was $75,000 or something. Tiger's tournament, if you finished last you got $150,000. But again, you work your butt off to get to that point. By playing well all year, you earn that right.
Do you do corporate outings?
I do, but I also tell my manager that we're playing for a lot of money, I'm doing well out here, I don't need it. There have been plenty of times when my manager will call and say, "The Korean tour is offering a lot of money for you to come and play there for two weeks." I don't want to go to Korea for two weeks. You play a long enough schedule as it is, and you don't want to be away from your family for that long. And by the time you get taxed and by the time my management group gets some, is it really worth going?
How much money are we talking about to go over there and play?
Maybe $100,000 to $150,000. But by the time my management group gets 20 [percent] and the government gets 50, I'm down to 40 grand for two weeks. It's not worth being away from my family for that.
At this point in your career, is your motivation money or majors?
I'm content with not being the best player in the world. I'm content if I finish top 30 on the money list every year. I'm still very competitive, but am I willing to take time away from my family and do what it takes to do that? No. I've got an 8-year-old, 6-year-old and newborn who need me.
So you're not playing for history as much as you're playing for a steady paycheck?
To be where Vijay is and these other guys, you have to be very, very selfish, and you have to give up a lot. At this point, I'm content just where I'm at. If it ended tomorrow, I'd say I did pretty well out here.
Tell us about your house in Orlando.
My wife and her sister have done a phenomenal job with the house. We started it in 2000 and just kept adding and adding. I think it's just over 6,500 feet. I have a room where I have a pool table and a couple of Golden Tee machines. I've got three TVs in that room. We've got two on the back porch. There's a bar with a tap on it. Newcastle beer only.
You also have a thing for refrigerators.
We have, one, two, three ... we have like seven. A wine fridge. On my back porch I've got a fridge. In the game room I've got a fridge. We've got one upstairs for the kids. You're talking little fridges, mostly.
Your life sounds pretty nice.
I certainly like nice things, and I like to spend money, but my goal is to be financially set for the rest of my life at a certain age. Go out and have fun with it and be home to coach my kids and stuff like that. Ryder Cup is still a big goal for me. But I want to be there as my kids grow up, as my little one says her first words, makes her first smile.
Where did you and your wife, Amy, meet?
She cheered for my seventh-grade football team. That's where we met. Our first date was Feb. 15, 1986. We went to the prom together. She went to Florida, too, and we got married in 1991.
She was your caddie for a while.
Yeah, back in the day. I would say to her, "Do you think it's a 4-iron or 5-iron?" And she'd say, "I don't know." And if I was acting up, she'd say, "Stop being a baby." She was right to the point. If anyone can tell you how to be, it's your spouse. It's a team effort. I owe her a bunch.
What about the groupies on tour?
The bottom line is, if you're looking for it, it's there. My frame of mind is that I respect my wife too much to do that to her. It would also take away from my golf. Obviously my whole effort wouldn't be on golf. If you think about it, you've got 144 guys here this week. It's a small group. If anyone sees you out, you're done. I couldn't imagine being single out on tour. Trying to be a great player like Tiger, Vijay, whatever, and instead you're out on a Friday night trying to pick up stuff. These guys aren't doing it. They're working out until midnight, not drinking. There's no way I could do it. I'm a room-service guy. This week, it will be at least three nights' room service.
The Vegas tournament has to be tough with all the temptations to gamble.
If I'm betting $100 a hand on blackjack, that's a lot for me, because I enjoy my money too much. But when I go to the Vegas tournament, I take three or four grand with me, and I'm probably going to give it to them. That's just the way it is. A lot of times we're comped for our rooms, so you look at it that way. It's just fun.
The perks are pretty good at some of the tour events.
We're so weird. If you give us a little trinket, we get fired up. When you go to Sony, you always get a camera. At the Ford Championship, they sent us a model of the GT350; that was pretty cool. Every night at the Mercedes Championships there's a gift for you and your wife. Tommy Bahama shirts, pajamas, shoes, purses. At New Orleans they close down an oyster house and the city aquarium for us. At Wachovia last year everyone got to drive a Mercedes during tournament week.
You've got all this, but there was a time in your career when you thought about hanging it up. What happened?
In 1995 I made a club change. And I wasn't a really good putter back then—mostly on short putts. It wasn't easy. I didn't keep my card and missed in the second stage at tour school. I had nowhere to play. The next year I was playing mini-tour events, and I ran into Skip Kendall, who showed me the claw putting grip. [DiMarco uses a normal left-hand grip but uses the right hand as if he were gripping a long putter.] I went from shooting 74s and 73s to immediately shooting 65s again. It was a rebirth.
You were disappointed when you didn't make the Ryder Cup team in 2002. Curtis Strange could have made you a captain's pick, but he didn't. How upset were you?
The bottom line is, I had a chance to play myself onto that team but didn't. Curtis had a tough decision. He called me and told me that I wasn't picked. I was 13th in the points standings. [The top 10 automatically qualify, and the captain gets two additional picks.] I was shocked at first. Then a little irritated. So I waited about five minutes and then called him back and said, "I feel like I'm enough of a competitor that I need to know why I wasn't picked." He said, "You know, Chris, it wasn't anything personal. I went with Scott Verplank, and I couldn't go with two [Ryder Cup] rookies. There was no way I could go with two rookies. So I went with Paul Azinger."
Now you appear to be in your prime. How old do you feel?
I certainly don't feel like I'm 36 this year. In this day and age everything has changed. My mom is 66 and my dad is going to be 66, but they don't seem like they're 50 yet. I'm constantly on the go, but I feel a lot younger than I am. I bet a lot of people do.
Are you at all concerned that raising your kids in a lavish lifestyle might leave them spoiled?
Oh, yeah. And they are. It's funny, we walked on a plane one time, and it was $600 a ticket for coach and $1,700 for first class, so I bought the coach tickets. We walk through first class, and my son was stunned, like, We're supposed to be up there, right?
My kids will have a lot of opportunities. You just hope that you raise them right. I had great values and morals instilled in me thanks to my mom and dad, and when I wanted something as a kid, I learned you have to go out and get it.
I've worked my way into this life. You know what? I worked at it.
Did you know Chris DiMarco...
Played on the same University of Florida team with future PGA Tour members Dudley Hart and Pat Bates. ... Career-low round is a 61 at the 2001 Invensys Classic in Las Vegas. ... Largest paycheck is $720,000 for winning the 2002 Phoenix Open. ... Ranked third on tour in putting average (1.723) in 2003 using his claw putting grip.