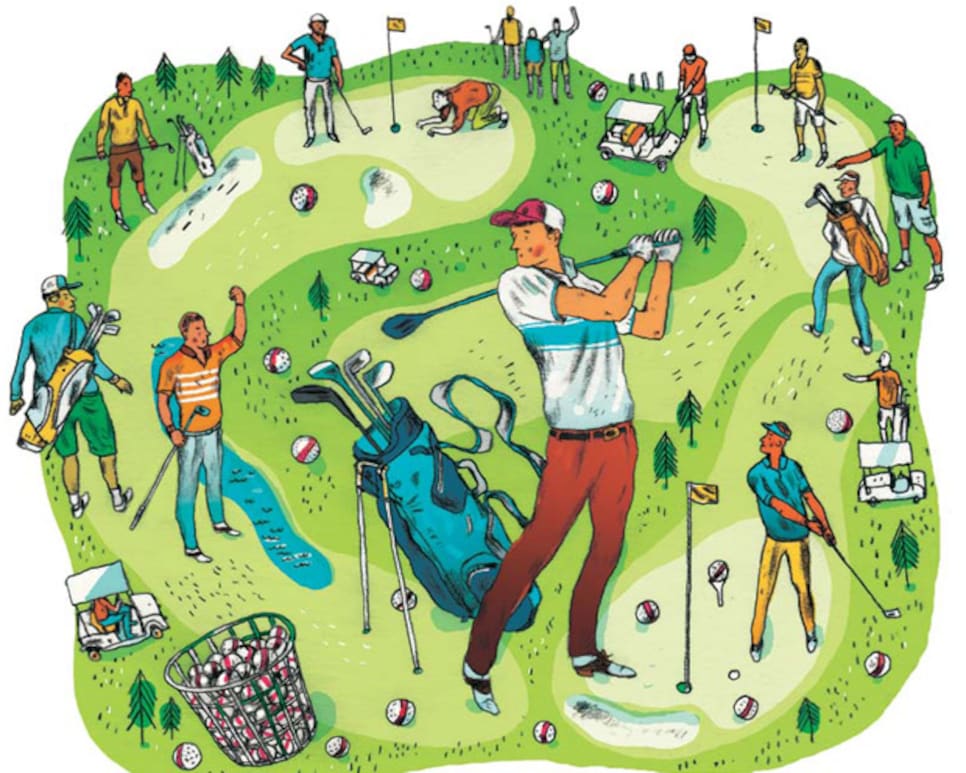 Before a match-play competition, you're allowed to practice on the course you're about to play. But if you made practice strokes before a stroke-play event, you'd be disqualified.
During a round, it's OK to practice on or near the green where you just completed play, on any practice putting green, or on the teeing ground of the next hole. But you can't practice in a hazard or delay play.
If, before teeing off on any hole, you make a practice swing and accidentally move your ball -- including knocking it off the tee -- you can replace it without penalty.
You may keep a conforming, weighted training club in your bag to stay loose during a round, but it counts against your maximum of 14 clubs.
If you're playing in a four-ball stroke-play event, you cannot practice between holes until you and your partner have holed out or picked up. In singles match play or individual stroke play, you can practice as soon as you've holed out. You don't necessarily have to wait for your opponent or fellow-competitor(s) to hole out to practice. But it's considered good etiquette to do so.
You may not chip or putt in the middle of the fairway while waiting to play your next full-swing shot.
Do not hit practice balls back onto the driving range during the play of a hole. You can "flick" them back, but only for the purpose of tidying the hole -- not as practice.
If you make a practice swing on the green during the play of a hole, and you accidentally move the ball with your putter, take a penalty stroke and replace the ball.
It's OK to touch grass, weeds, etc., in a hazard while making a practice swing provided you don't ground your club or improve your lie, stance, area of intended swing or line of play.
Q. I had a good round going through 15 holes, but I couldn't finish because of lightning. I was hoping I could post this score. Please tell me I don't have to throw this round out.
A. Actually, any time you play 13 or more holes, you're required to post an 18-hole score. If you were only able to complete seven to 12 holes, you're required to post your round as a nine-hole score. (If you played more than nine, but less than 13, just eliminate those scores on the back.) So how is it that you score the holes you didn't actually play? The handicap system requires you to take a par plus any handicap stroke(s) you would have received. In the case of your 15-hole round, if you were getting a handicap stroke on any of the final three holes, you would put down a bogey for those holes and a par for the other(s).
By DEAN KNUTH, Golf Digest Contributing Editor. Knuth, the former senior director of the USGA handicap department, invented today's Course Rating and Slope system.