Rules
Aspiring PGA Tour pro DQ'd at Bay Hill for signing incorrect scorecard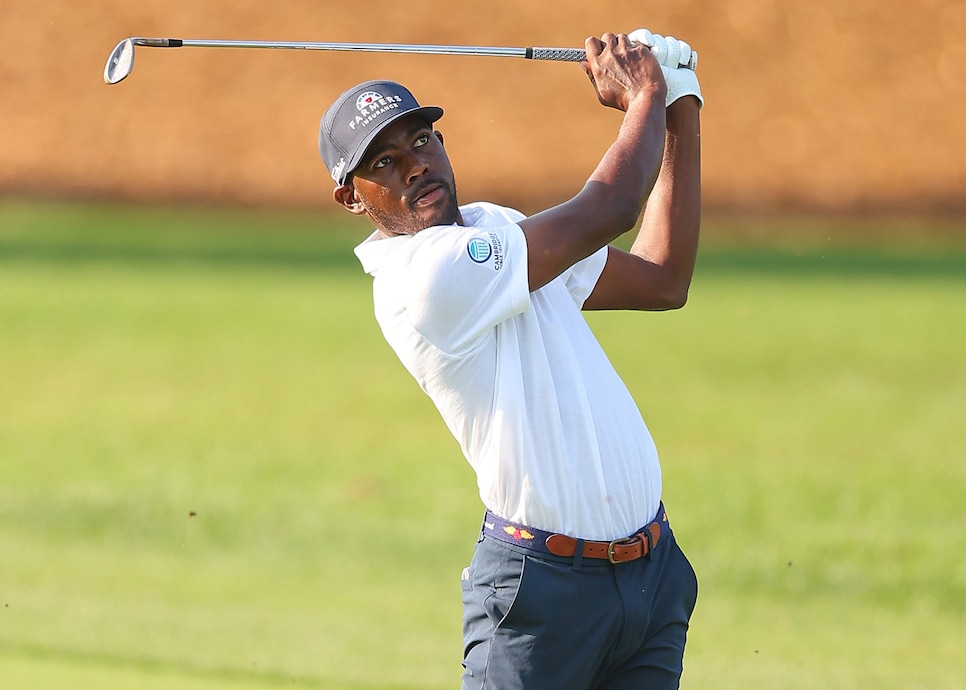 Kamaiu Johnson plays an approach shot on the first hole during the second round of the Arnold Palmer Invitational.
Michael Reaves
Kamaiu Johnson wasn't going to be playing the weekend at the Arnold Palmer Invitational. His second-round 77 at Bay Hill in Orlando, combined with an opening 75, left him six shots off the two-over cutline. But his finish on Friday at the PGA Tour event—in which the 29-year-old was playing on a sponsor's exemption thanks to his multiple wins on the APGA Tour—took a bizarre twist when he was eventually disqualified for signing an incorrect scorecard.
According to a report on Friday night from Ryan French, who chronicles the play of aspiring tour pros on his popular Monday Q info Twitter handle, Johnson put down a double-bogey 6 on his scorecard on the par-4 ninth hole. However, the walking scorer and rules official both had Johnson down for a triple-bogey 7.
Playing with Johnson were Nick Hardy and Kyle Westmoreland. Hardy told French that Johnson was putting for par from the fringe on the hole, but then Hardy headed off to the 10th tee to help speed up play; the group was put on the clock earlier in the round. Hardy said he didn't see Johnson finish up the hole. Similarly, Westmoreland had left for the 10th tee before seeing Johnson finish.
According to ShotLink, Johnson missed the par putt from 22½ feet, and then missed putts of three and four feet for bogey and double bogey. He eventually made a 20-inch putt for his 7.

The threesome continued on to the back nine at Bay Hill and completed their rounds (Hardy also missed the cut while Westmoreland played his way into the weekend). It was in the scoring area that the question of Johnson's score surfaced.
French reported that the tour told Hardy an hour after the end of the round that it reviewed video from cameras around the green and confirmed Johnson made a 7. Because he had signed for a score lower than he had made on the hole, he was disqualified under Rule 3.3b.
After French reported the incident on Twitter, Johnson responded with the following post on his own Twitter handle: