News
Justin Thomas' time as World No. 1 could be short-lived if Jordan Spieth has anything to do with it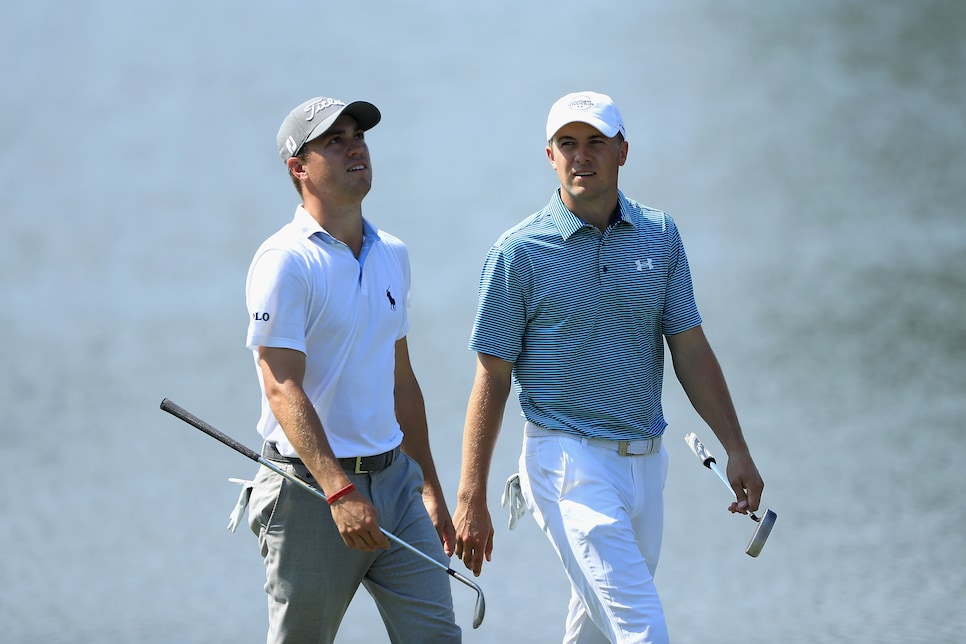 After a getting a few unsuccessful cracks at overtaking Dustin Johnson for World No. 1, Justin Thomas finally earned the spot this past week at the Players Championship, playing the weekend in 10 under to finish T-11. The title alone is a big deal for the reigning PGA Champion, but he made his next goal clear in a statement after hearing the news.
"I'm very proud to have gotten there, but it means more to me how long I can hold it," Thomas said. "Have to continue to work hard with how well so many guys are playing."
Thomas has a tough act to follow in Johnson, who held the ranking for 64 weeks, a total only three players have held the ranking longer than since the inception of the Official World Golf Ranking in 1986. The first of course being Tiger Woods, who held it for a record 281 weeks between 2005 and 2010, and also held it for 264 weeks between 1999 and 2004. The other two, Nick Faldo and Greg Norman, held the spot for 81 and 96 weeks, respectively.
Unfortunately for Thomas, his first run as No. 1 could last as little as two weeks, and there's nothing he can do but sit back and watch during a two-week break before his next start at the Memorial Tournament. According to OWGR guru Nosferatu (Twitter handle @VC606), Thomas' good buddy Jordan Spieth could snatch up the ranking, but he needs two strong performances at the AT&T Byron Nelson and the Fort Worth Invitational to do so:
For any other player, this is a highly unlikely scenario to even ponder, but with Spieth, it's certainly in the realm of possibility. The Dallas native is understandably a heavy favorite this week at his home course, Trinity Forest Golf Club, which will be hosting the event for the first time, a welcome sight for Spieth, who has finished no higher than T-18 in his previous six starts in the event. A week later, Spieth will head to Colonial, a place where the three-time major champion has had nothing but success, winning the tournament in 2016 and tying for second in both 2017 and 2015.
If you recall, this time last year was when Spieth kicked it into another gear following that T-2 finish at Colonial, later winning back-to-back at the Travelers Championship and the Open Championship and finishing T-7 or better in all four FedEx Cup Playoff events. In other words, Thomas shouldn't get too comfortable.
If Spieth does pull off the improbable, Thomas' two-week reign will be just as long as Spieth's first time at No. 1, which lasted only two weeks in late August of 2015. So he's got that going for him.