The Loop
Justin Thomas -- rooming with Jordan Spieth, Rickie Fowler and others -- feeling at home in first British Open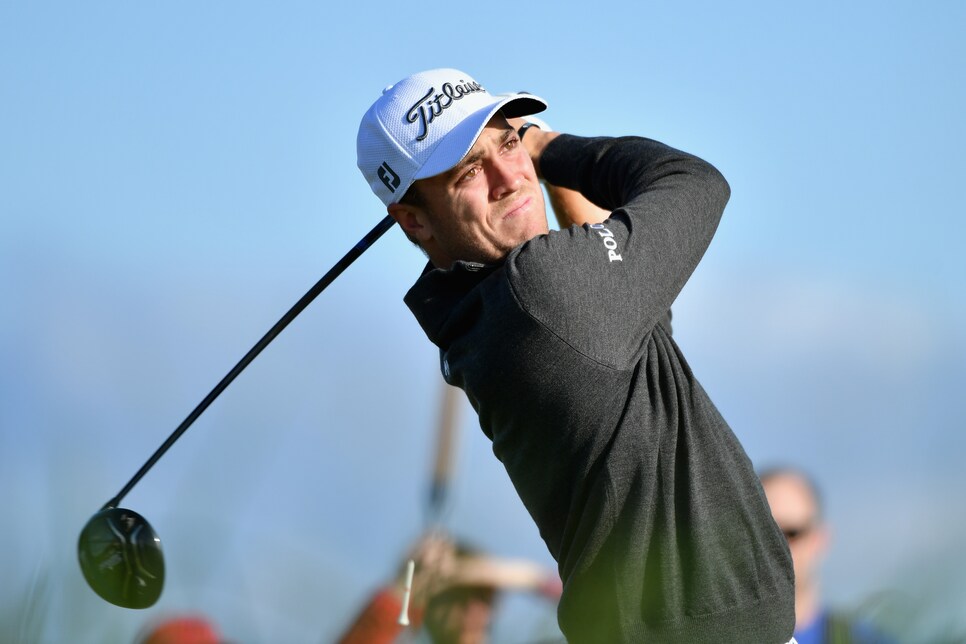 TROON, Scotland -- Justin Thomas couldn't have made his first Open experience more American.
In the house Thomas is renting with Jordan Spieth, Rickie Fowler, Jason Dufner, Jimmy Walker and Zach Johnson, "Tommy Boy" and "The Other Guys" were two movies on TV at night. Brisket tacos, chicken quesadillas, steak and chicken were cooked by the in-house chef.
How'd the group of U.S. golfers spend their last night before the Open started? Tossing a football and playing catch in the back yard of their place near Royal Troon.
This isn't Jupiter, Fla., but it might as well be this week for this group.
"It was great. We were like little kids again," Thomas said after his opening-round 67 on Thursday at Royal Troon.
The comfort of bunking with buddies and the convenience of eating American food seemed to have helped Thomas, as he turned in a four-under 67 on Thursday.
Thomas made birdie on his first four holes, but the bunker shot he hit at the 11th might have been his most impressive feat of the day. Thomas had dropped a shot at the 10th hole and was in trouble on No. 11 but pulled out a highlight-reel sand shot to save par.
Thomas ended the day at four under after hitting it to four feet at the 18th to finish with a bird. It was a clutch rebound after a double bogey at the 15th, one of the toughest holes at Royal Troon.
"I think the main thing is patience and kind of sticking to my game plan," Thomas said after the round.
Entering the tournament with safe American meals and a relaxed vibe with a group of friends has to have been equally as clutch as his golf.
"Just typical Americans, we want to stick with what we know and don't try anything," Thomas added. "I think [our chef] has saved us all, for sure."
Despite the delicious American grub the group has consumed, the food-and-beverage highlight of the week has probably been the boys drinking out of the claret jug.
With the reigning Open champion in the house, Thomas and the gang had a chance to touch the cup before the week starts.
"Yeah, [the drink] tasted a lot better out of there for some reason," Thomas said. "I was very tentative to because I'm very superstitious, but I heard Zach had done it beforehand and Phil had and many guys had before, so I was like, 'All right, fair game. I guess I'll do it, too.' "
It's early, but Thomas already has an idea of what an Open would taste like.