News
Justin Thomas' PGA win another milestone in a new golden era
Whether this crop of twentysomething pros is better than earlier incarnations is open to debate. But put it this way: the gap is closing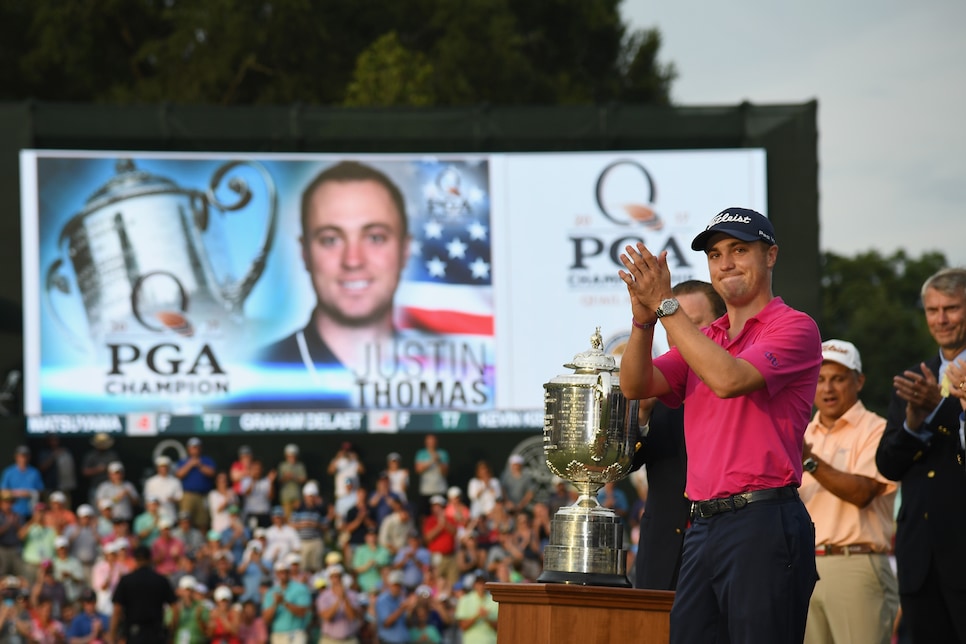 CHARLOTTE – I've been slow to warm up to the idea that today's best young players are collectively better than those of the past. But I'm getting there.
The hesitancy is built on the suspicion that the insistent "we've never seen kids like these" drumbeat is strongly motivated by golf's desperation to capture more millennials. I also don't necessarily buy the notion that basic evolution automatically insures that athletes in all sports will simply keep getting better.
In golf, it's arguable that advances in technology – which facilitates a power game more conducive to young bodies and which can be effective while lacking old-school nuance - have actually eroded skills and technique. And that the exponential jump in prize and endorsement money could be dulling motivation.
For all the talk about the specialness of current crop of youngsters, the fact is that players – individually and collectively - being world beaters in their twenties is nothing new. Gary Player won four majors before he turned 30, Jack Nicklaus won six, and Tiger Woods won 10. And in the 1970s, a group led by Tom Watson, Johnny Miller, Lanny Wadkins, Jerry Pate and Seve Ballesteros together won 12 majors in their twenties. Indeed, in the first half of the last century, primes were reached earlier out of economic necessity.
With 24-year-old Justin Thomas's victory at the PGA Championship, today's crop of twentysomethings, led by Rory McIlroy's four and Jordan Spieth's three, now have 10 majors between them. But because it will be awhile before most of them turn 30, the group might be primed to rack up some unprecedented numbers.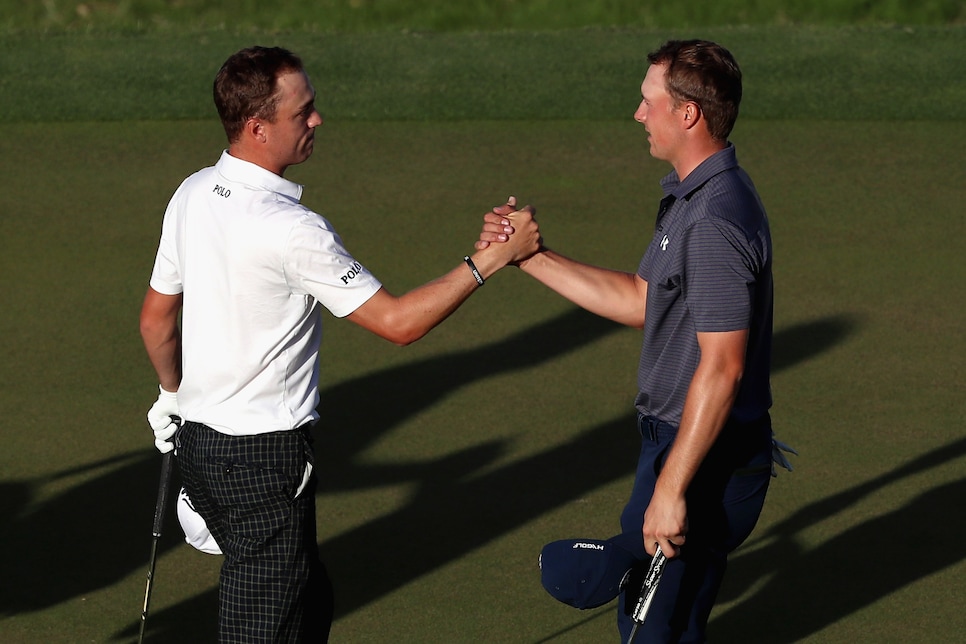 While McIlroy (28) and Jason Day (29) are a bit stalled, Spieth (24) is back on a historic track with his victory at Royal Birkdale. Thomas, with four victories this year (as well as a 59 at the Sony and the only nine-under-par 63 in U.S. Open history), now has the edge on Player of the Year honors. Meanwhile, Brooks Koepka (27) won the U.S. Open, Hideki Matsuyama (25) is No. 2 in the world, and Jon Rahm (22) is a rising force who will get better as he learns to rein in his emotions.
Meanwhile, the poster boy for the glamour, poise and likability of the new Young Guns, Rickie Fowler (28), keeps quietly plying his trade. At Quail Hollow he demonstrated more controlled ball-striking and a veteran's calm demeanor, bouncing back from a dispiriting finish on Saturday to close with a 67 and earn his seventh top five in a major. Fowler's challenge is to find the delicate balance between maintaining the aggression that ignites his prodigious talent and avoiding the mistakes that too often put double bogeys on his card.
Professional golfers are reaching the intersection of physical ability and emotional maturity that identifies the playing prime sooner than their predecessors.
Thomas appeared to be in the seemingly early stages of a similar search. Nine major starts prior to the PGA had resulted in only one top 10, a T-9 at Erin Hills, where he closed with 75 after his 63 left him a shot off the 54-hole lead.
Few doubted that the 150-pound Thomas possessed something special physically, especially an ability to wield his driver with a near-optimum combination of high launch and low spin that many considered model technique for modern power golf. But in the biggest moments on the hardest courses, he had not yet displayed the nuance and grit to, as Jack Nicklaus says, "do it when it has to be done."
But at Quail Hollow, Thomas suddenly grew up, and especially in the final round. He was fortunate when his birdie putt on the 10th hole dropped after hanging on the lip for a full 10 seconds, and when his chip shot from across the green on the 13th found the hole for another birdie.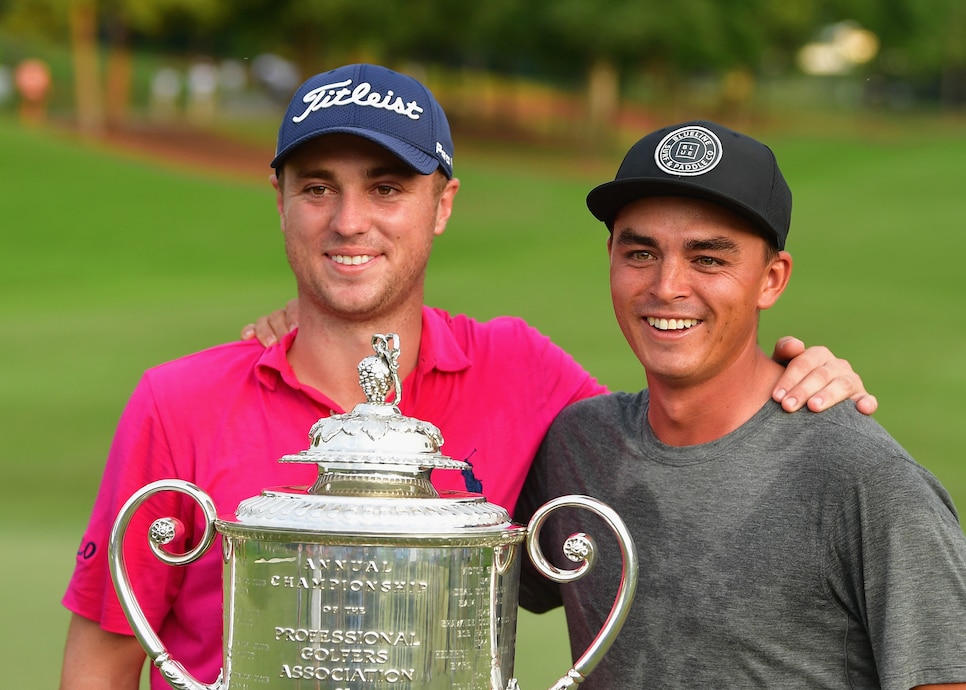 Stuart Franklin/Getty Images
But then, with the championship abruptly in his hands, Thomas understandably wavered. Poor irons on 14th and 15th kept him from capitalizing on Quail Hollow's best opportunities for birdies, and then, at the beginning of the ominous Green Mile on the par-4 16th, another missed iron approach rolled into the front of a greenside bunker. Having to cover an awkward 30 yards to a back pin, Thomas improvised an exceptional sand shot to 10 feet, and then made the biggest putt of his life. The resultant lift produced his pure 7-iron tee shot over water on the frightening par-3 17th, setting up another clutch putt or the birdie that gave him a safe three-stroke lead for the dangerous home hole.
Afterward, Thomas seemed most proud of how he grinded out a 69 on Saturday when his swing was off ("probably won me the tournament," he said), and how he avoided a single three-putt for four rounds on Quail Hollow's super-slick and often baffling greens.
The performance drew praise from Nicklaus, who over the last two years has occasionally counseled Thomas. "I thought his patience was fantastic," the Golden Bear wrote on Instagram. "He managed his game well. I knew he had the ability and the talent, and all he had to do was get the discipline, and believe that he could get it done. He certainly had the discipline this week."
Given what Thomas and other players in their early twenties are doing, it could very well be that professional golfers are reaching the intersection of physical ability and emotional maturity that identifies the playing prime sooner than their predecessors. Conventional wisdom used to maintain the sweet spot was usually reached in the early-to-mid thirties (world No. 1 Dustin Johnson is 33). But earlier entry into professional golf, better instruction, and higher motivation to be part of an increasingly lucrative sport means golfers are reaching professional proficiency faster.
Still, it's hard to say that today's twenties somethings are definitely better than those of the past. Johnny Miller, who frequently braves "our era was better" territory, thinks that golf used to require a deeper dive into craft, which lengthened the learning curve.
"There are more good players now, and with all the advances, it's a good time to be a pro golfer," Miller said in January after Thomas shot his 59 in Hawaii. "But I don't think I'm living in the past to say it used to be harder to be good."
Perhaps Miller is right. But today's Young Guns are still better than I thought.