PGA Championship
Justin Thomas' sleep stats help explain his winning week in PGA Championship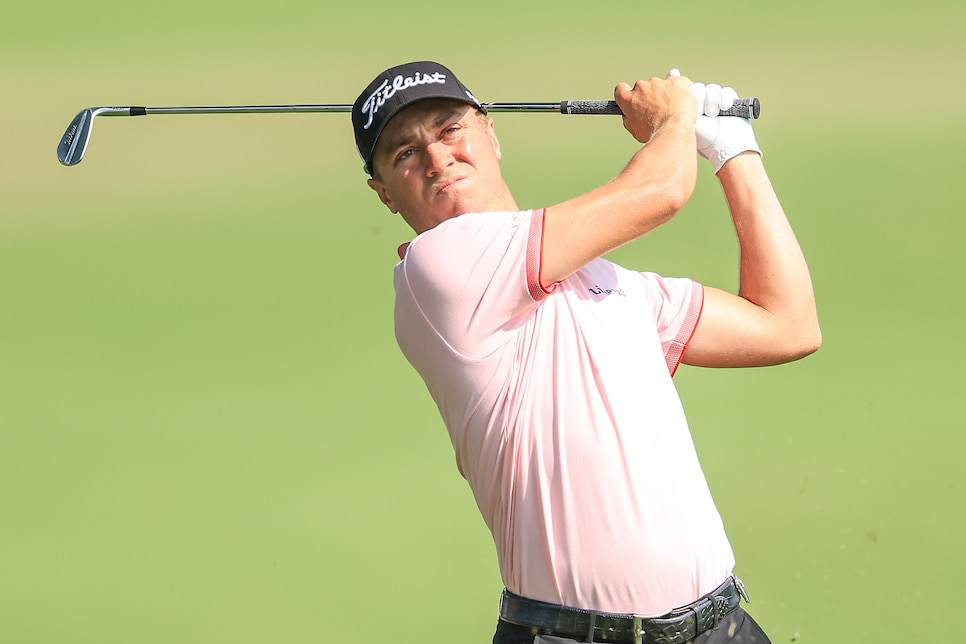 There are a lot of intriguing facts about Justin Thomas' landmark victory in the PGA Championship at Southern Hills. No one has come from seven strokes back of the lead to win a major on Sunday since Paul Lawrie at the 1999 Open Championship. Plus, as the champion joked on Sunday, he was probably the first player to hit a dead shank during the final round of a major and go on to win.
But perhaps the most important stat of them all came to fruition off of the golf course. According to Thomas' Whoop strap—a digital performance and recovery tracking band—the now-two-time PGA Championship winner recorded a 100-percent sleep score the night before his victory. Thomas not only played like a major champion on Sunday, he slept like one.
Whoop reported that Thomas spent nine hours and 50 minutes in bed on Saturday night, one hour and 24 minutes more than his 30-day average. He got two and a half hours of REM sleep, and one hour and 50 minutes of "slow wave" sleep, or 13 minutes more than his 30-day average. Slow wave sleep refers to your deepest sleep stage: Your body is in its most restful state, allowing it to physically restore itself.
The company shared an Instagram graphic of Thomas' recovery statistics the week of the PGA Championship, and the chart shows how valuable a good night's sleep is to the 15-time PGA Tour winner. Early in the week, allergies were impacting Thomas' ability to recover, so he proactively shifted his practice schedule to prioritize sleep right before competitive play began. Thomas' Friday, Saturday, and Sunday sleep scores then all hit "green," indicating that his body properly recovered from the prior day's physical activity, according to Whoop's algorithm.
In a comment on the same Instagram post the day following his historic win, Thomas jokingly wrote, "44% recovery this morning … I'll take it!"
Some may find Thomas' Whoop data unsurprising, but his impressive numbers show just how vital efficient rest is to peak performance. Thomas rallied late in his Sunday round, making four birdies in his final 10 holes, while other players at the top of the leaderboard crumbled. His energy persisted through the three-hole aggregate playoff against Will Zalatoris: Thomas' ability to execute clutch shots withstand a long week in grueling conditions. His sleep and recovery data makes his striking feat seem slightly more explicable.