The Loop
Justin Thomas meets Tom Brady, Michelle Wie disses the LPGA's dress code, and a new rule that affects golf fans everywhere
Welcome to another edition of The Grind, where we're thankful to have shared another fun year with you all. We experienced a Snoop Dogg Masters concert and sidestepped an overzealous fan at the Open. We made it through a travel disaster and survived a soda crisis (RIP original Coke Zero). And readers put up with me talking about winning a third green jacket on my annual golf trip and making my first hole-in-one. Sort of.
OK, so that definitely doesn't count as an ace, but let's be honest, it's the closest I'll ever get. Anyway, as you can probably guess by this wrap-up intro, this is the last regular installment of the Grind in 2017. Christmas is coming up and for a second straight year, I waited way too long to take some vacation days so I'll be mostly sitting around my freezing house stuffing myself with Costco chocolate chip cookies. Come to think of it, I'll probably be bored enough to do another Grind. In any event, let's take one possible last rundown of what's going on in golf this week. And if this is goodbye until 2018, I hope you and yours have a happy holidays. But if you happen to make a hole-in-one these next couple weeks, please keep it to yourself.
Steve Stricker: Whenever I think about whether Tiger Woods can have success with a limited schedule, I think of his putting buddy. Stricker doesn't have Tiger's bad back or baggage (Unless he's living the most secretive double life ever), but at 50, he's still able to roll out of bed and compete whenever he wants like this past week when he teamed up with Sean O'Hair (Congrats to him as well) to win the QBE Shootout. The Strick Show. Still getting it done.
New TV call-in rules: Honestly, I've never had much of a problem with viewers calling in possible rules infractions. I mean, these people were totally narcs in high school, but whatever floats your boat, right? That being said, the new rules should cut down on messy situations like the Lexi Thompson one by having a set official for video replay issues and not penalizing players for signing incorrect scorecards after the fact. This is good news for everyone except the people who love calling in possible rules infractions from their couch. Get a new hobby, guys.
This caddie's outfits: Introducing Tapiwa Jingamatoro, who isn't only the best-dressed caddie in golf history, but he might be the most stylish man to ever walk on a golf course:
Nicely done, Tapiwa. And apparently, you could teach a certain Masters champ a thing or two about style. . .
Jordan Spieth's ill-fitted green jacket: The 2015 Masters champ revealed to the AP's Doug Ferguson that he has yet to get his green jacket tailored and that it's huge on him. "I never trusted anybody, never wanted anyone to go do it. I didn't give them my size originally. I wore the one off the green that day, and I never gave it back to them to tailor or anything." C'mon, Jordan. We're sure someone at Augusta National would be happy to take care of that for you.
Going into the pro caddie profession: It was a rough year for player-caddie breakups – I'm still not over the Phil-Bones split – but a recent trend doesn't seem to bode well for professional bagmen. Mickelson replaced Bones with his own brother and Tim Mickelson will stay on the bag next year. And now Rory McIlroy is keeping buddy Harry Diamond for 2018 after dumping veteran looper J.P. Fitzgerald over the summer. If tour pros continue to pick familiarity over experience, other established caddies could be in trouble.
Airport injuries: Being at an airport is bad enough, but getting injured at one? Talk about a nightmare. That's what happened to Louis Oosthuizen, though, keeping the South African out of the Joburg Open. Oosthuizen says he couldn't grip a golf club after hurting his fingers by getting them stuck between a couple of bag trolleys.
On a side note, I'd love Americans to adopt "Trolleys" as the official word for bag carts and push carts. Let's make this happen.
There's not much golf on the calendar this week, but Brandt Snedeker and Justin Rose are flying across the globe to play in the Indonesia Masters. Sneds is playing to try to get back into the Top 50 of the Official World Golf Ranking, and Rose, well, let's just say we're pretty sure he got more than that flight covered for his appearance.
Random tournament fact: Thailand's Poom Saksansin is the event's defending champ. And any time you get a chance to mention Poom Saksansin, you take it.
RANDOM PROP BETS OF THE WEEK
-- Poom Saksansin will win the 2018 Masters: 1 MILLION-to-1 odds (Not really, but something like that.)
-- Justin Rose will win the 2017 Indonesia Masters: 5-to-2 odds (Actual odds. Yeah, he's the favorite.)
-- Neither will suffer season-ending injuries at an airport: LOCK
Check out this nice tribute Rickie Fowler gave to Dr. Reyes, a man who sadly lost his battle with pancreatic cancer, but not before he got to spend a day with Fowler.
Keenan Allen is one of the best wide receivers in the NFL. He also has some PGA Tour-level pop.
How'd you like to have Keenan as a scramble partner?
VIRAL VIDEO OF THE WEEK (TRICK SHOT DIVISION)
Had the pleasure of meeting these lovely ladies in our office earlier this year and they just keep impressing with their creativity. Kudos as well for creating a seasonal trick:
David Howell humorously summed up his year on the European Tour:
INSTAGRAM/RANDOM DAGGER OF THE WEEK
Michelle Wie is still not happy about that stricter LPGA dress code. . .
THIS WEEK IN JUSTIN THOMAS MAKING US FEEL BAD FREAKING US OUT WITH HIS WORKOUTS
The reigning PGA Tour Player of the Year looks like he isn't resting on his laurels ahead of 2018:
THIS WEEK IN JUSTIN THOMAS LIVING THE LIFE
JT got to put his pythons to work by hugging Tom Brady during the Monday Night Football game between the New England Patriots and the Miami Dolphins: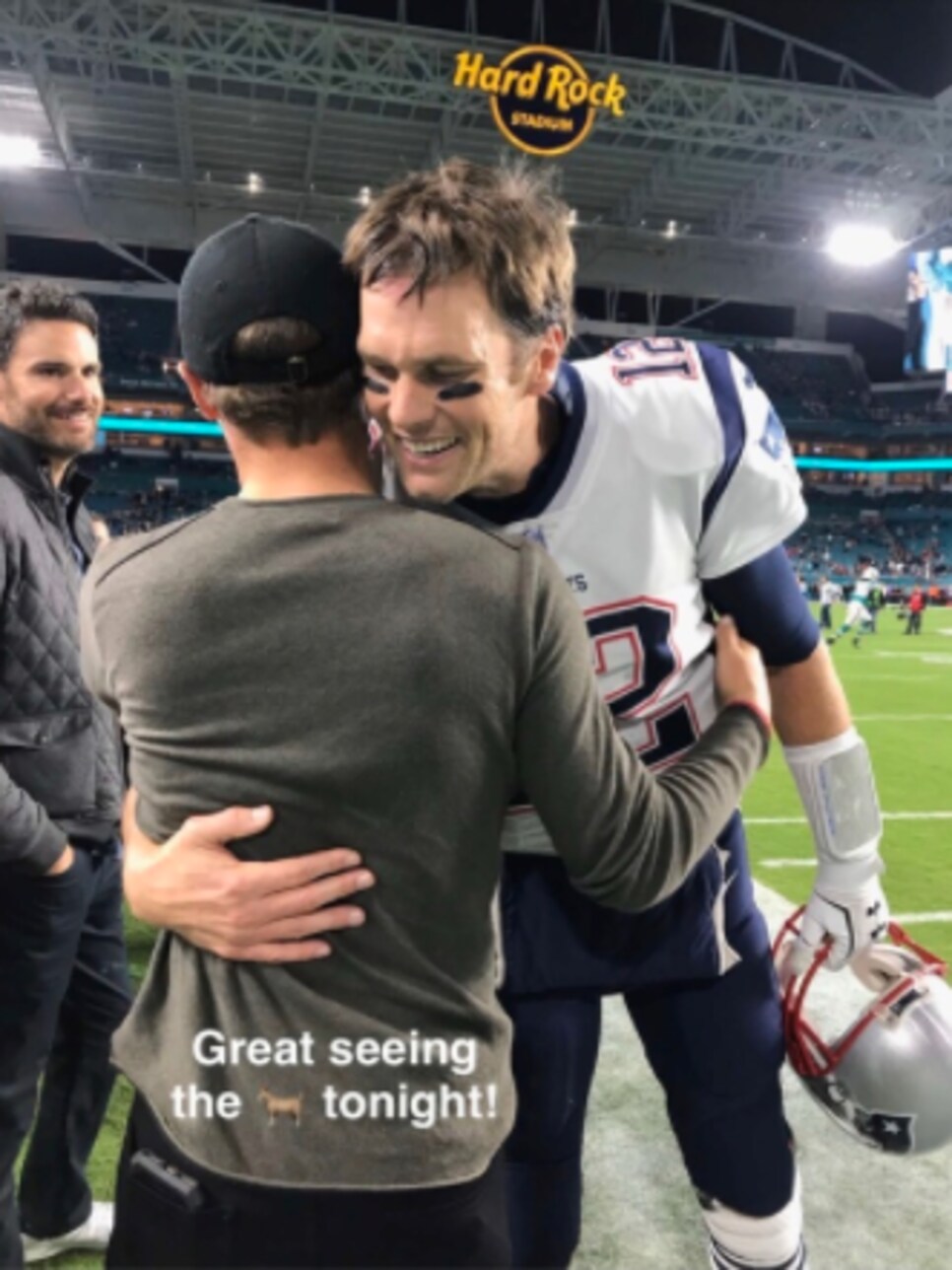 Impressive. Although, Brady might ban Thomas from all future games following the Patriots' inexplicable loss to the Dolphins.
THIS WEEK IN NATALIE GULBIS JENA SIMS POSTING BIKINI PICS
Even as a cold front moves into our neck of the woods, it's nice to know it's always warm somewhere. . .
THIS WEEK IN DUSTIN JOHNSON-PAULINA GRETZKY RAFA CABRERA BELLO-SOFIA LUNDSTEDT PUBLIC DISPLAYS OF AFFECTION
A belated congrats to this couple getting married:
And well done finding a slow time in the golf season to do it.
Congrats to Lee McCoy for earning medalist honors at Q School, which means he'll have full exemption on the Web.com Tour next year. Good to see the former All-American at Georgia is over last year's car accident. . . . John Daly Jr. won the IJGA Invitational at Harbour Town Golf Links in Hilton Head over the weekend with a birdie on the first playoff hole. Good to see Little John is over that loss to Ian Poulter's son this summer. . . . Greg Norman said Tiger Woods don't have "a whole lot" of time on his side when it comes to his latest comeback. Thanks, Greg, for that uplifting thought. . . . And finally, check out this house in Stamford, Conn, that was featured on the Great Christmas Light Fight last year: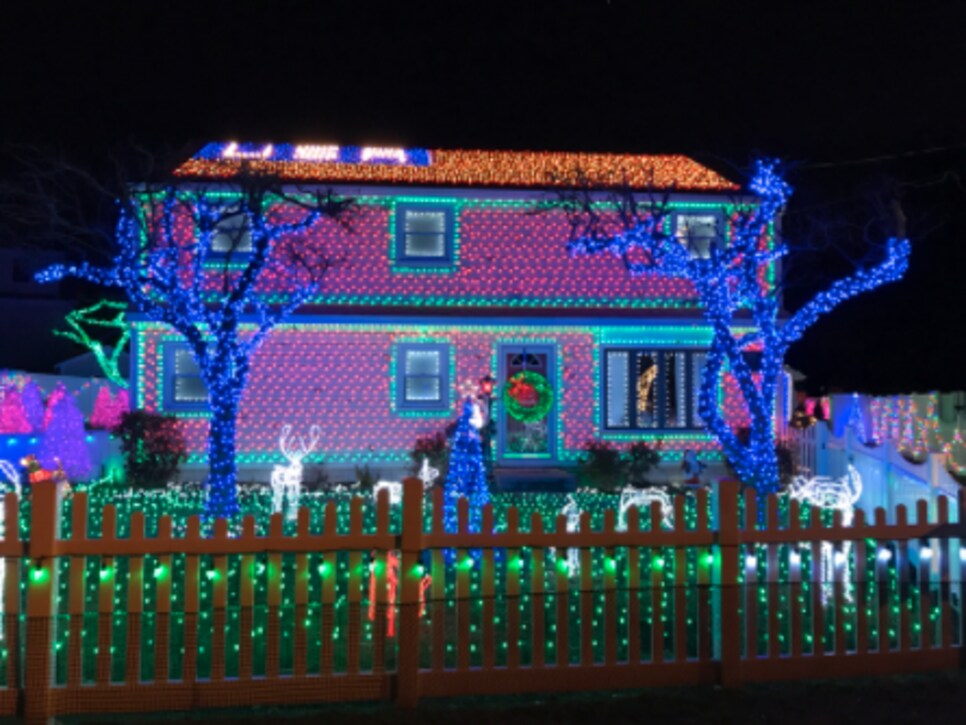 Apparently, it takes the guy two MONTHS each year to set this up. Considering how frustrated I got in less than two minutes of trying to untangle my five strands of lights, I'm guessing this guy is a slightly more patient man.
RANDOM QUESTIONS TO PONDER
Will John Daly Jr. make the PGA Tour someday?
Will Mac Daddy Santa make an appearance this year?
What does one get Tiger Woods for Christmas?