News & Tours
Justin Thomas to LIV Golf defectors: 'If you want to go, go'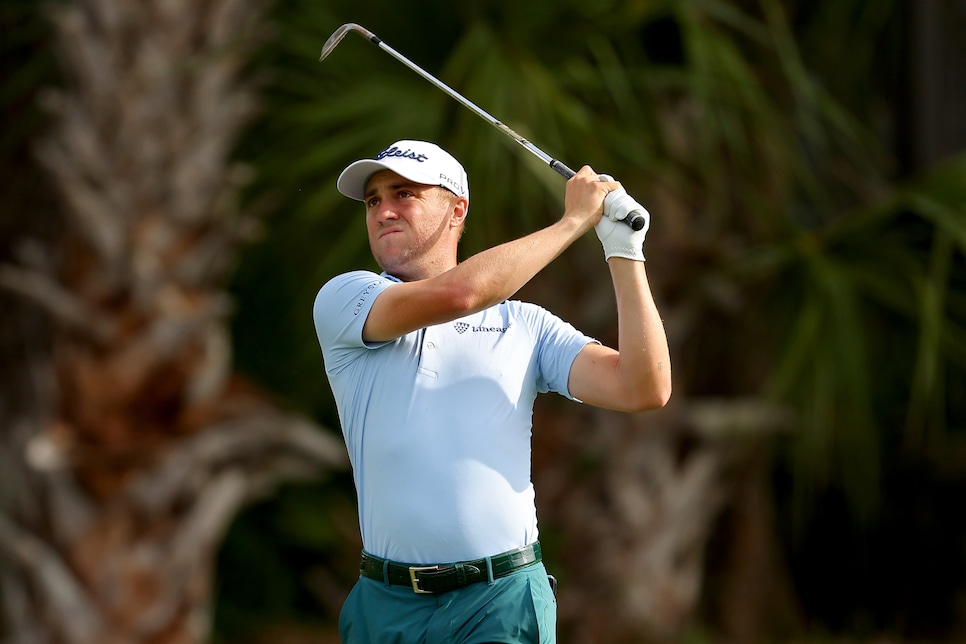 On Tuesday the PGA Tour denied conflicting-event releases to players seeking a spot in the LIV Golf series opener in London. PGA Tour commissioner Jay Monahan has been consistent and unequivocal in his "them or us" messaging throughout the various iterations of rival threats, yet the tour's denials still took some by surprise, wrongfully assuming the tour would only block the petitions when the event in question was held in the United States.
One of those not shocked by Tuesday's news was Justin Thomas.
"I think Jay's made it very clear from the start of what would happen or, you know, I think a lot of people are probably like, I can't believe you did this or, Wow, you went through with it. But I mean this is what he said was going to happen all along," Thomas said Wednesday at TPC Craig Ranch, site of this week's AT&T Byron Nelson. "It's one of those things where he just doesn't want the competing tour, the back and forth."
LIV Golf CEO Greg Norman responded Tuesday evening that the tour is "intent on perpetuating its illegal monopoly of what should be a free and open market" but promised that LIV Golf will continue "no matter what obstacles the PGA Tour puts in our way." Knowing the battle is just getting started, Thomas said he hoped the tour's statement would deter some of his fellow competitors from jumping circuits. He also understands there are some that are looking for a change and that "you're allowed to have that decision, you're a human being and that's just a part of it."
But, to those that are going to jump, Thomas does have one ask.
"You know, it's like, 'Look, if you want to go, go,'" Thomas said. "I mean there's been plenty of guys that have been advocates of it and have just talked it up all the time and they have been guys behind the scenes that are saying, 'I'm going, I'm doing this.' And like my whole thing is, like just go then.
"Like stop going back and forth or like you say you're going to do this, it's like you can do—everybody's entitled to do what they want, you know what I mean?" Thomas continued. "Like if I wanted to go play that tour I could go play that tour. But I'm loyal to the PGA Tour and I've said that and I think there's a lot of opportunity for me to, I mean, break records, make history, do a lot of things on the PGA Tour I want to do."
Thomas was not alone in his assessment Wednesday, with Will Zalatoris echoing similar thoughts.
"I'm on the Player Advisory Council so we've had a lot of talks behind closed doors about it. And I think it's great," Zalatoris explained. "I mean, look, if you want to do it, no one's stopping you, but what we have here is pretty good too, considering every week we're playing for a pretty great purse on pretty great golf courses and considering the benefits that we have off the golf course on top of that it's pretty tough to beat.
"And purses are only going up here, but on top of that, like I said, no one's stopping anyone from doing it, but I think everyone agrees that the decision that came out yesterday is the best for the tour."
Monahan has promised that players who do play in the LIV Golf events risk punishment in the form of a ban or suspension from the PGA Tour. The first LIV Golf event begins June 9.