News & Tours
With some sponsors sticking by him, Justin Thomas vows to 'learn and grow' from controversy over slur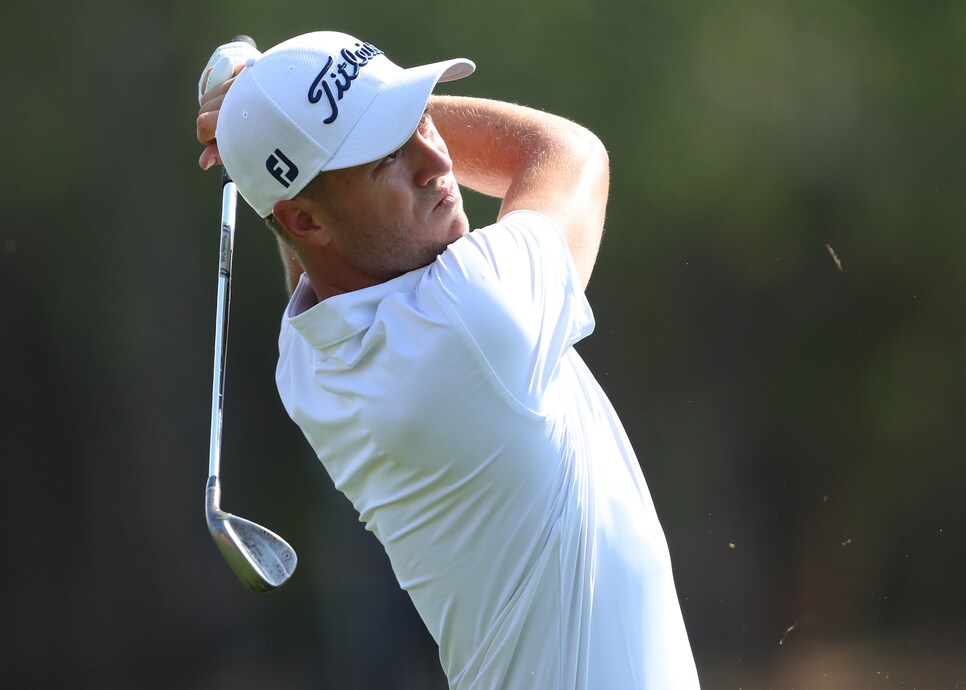 Justin Thomas played in the Abu Dhabi HSBC Championship two weeks ago without a clothing sponsor.
Warren Little
"If I go to the mall and I see something I like, I see a shirt I like, I go home and I just get it embroidered with the Citi logo on the sleeve," he said Tuesday, noting one of his other sponsors that chose to stand by and work with him. "It's definitely a bizarre and odd time, and my closet is as empty as it's ever been, but at the same time it feels right because it's a fresh start, and hopefully will be like that."
It's also the least of his concerns. There are more pressing matters for the 27-year-old. Chief among them is the way forward.
Though Thomas played in Abu Dhabi last week, missing the cut in the European Tour event, this week's Waste Management Phoenix Open marks his first start on the PGA Tour since the incident in Hawaii.
Process is a word that gets tossed around all the time in golf. But in this case, it's applicable.
"It's an ongoing process really," Thomas said of the last few weeks. "I don't expect to be a totally and completely different person now than I was then. It's just like my golf game. I'm continuing to try to progress and get better each and every day and each and every week. I've had some great conversations with a lot of friends, and the amount of support and sponsors and family friends that have reached out, that's probably meant a lot more than a lot of people know. That's kind of what's helped me get through all this."
That included a talk on Monday night with his equipment sponsor Titleist. The conversation focused on what the company has done in terms of diversity and inclusion, according to Thomas. He added that he now has the opportunity to be part of that training with them.
Thomas also took the opportunity on Tuesday to apologize again.
"I will say that I apologized many times for what I said, but I didn't publicly say, which I feel terrible about, that I didn't apologize to the people that were affected and offended by what I said," he said. "I feel like I should take the time now to say that.
"The biggest thing that I've learned from it is that I made a mistake and that I have a tremendous opportunity to learn and grow from it, just like I do in my golf game, just like I do in my everyday life. This is a part of my everyday life, and I have the opportunity to try to turn this into a positive and learn and grow from it as much as I possibly can."
As for the next clothing deal and who that might be with?
That can wait. The time will come for the 13-time winner and major champion.
"I need to be playing golf, but I can't get wrapped up and focused on what clothing deal or whatever I want to do," he said. "I need to be playing good golf, and I need to focus on that. That's what's most important right now, and whatever happens will take care of itself."