News
Justin Thomas enjoyed his ascent to No. 1, briefly. Now comes task of defending it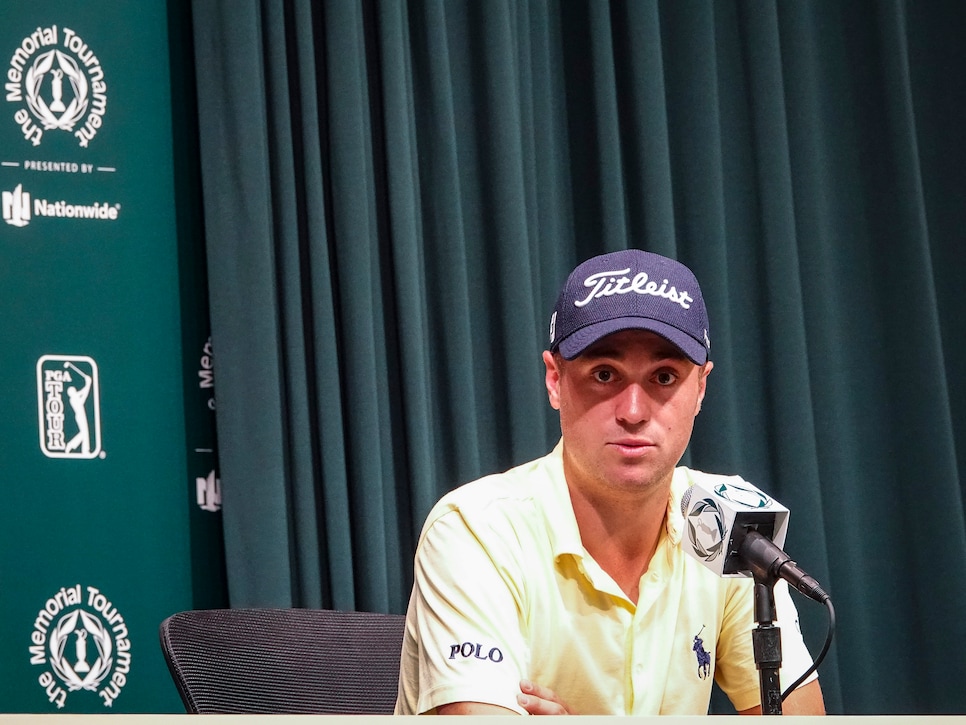 DUBLIN, Ohio – Having held the No. 1 spot on the Official World Golf Ranking – seven different times – Rory McIlroy is eminently qualified to speak about the challenges of being considered the top golfer on the planet.
He did not make it sound like much fun.
"I think it's really hard to try and play as a world number one," the Ulsterman began as he held court Wednesday at Muirfield Village Golf Club. "I think it's really difficult. I mean, you got so much pressure on your shoulders. I mean, there's a bulls-eye on your back. It's just really tough."
Sitting in the back of the room was Justin Thomas, who is making his first start this week with the bulls-eye on his back. Thomas overtook Dustin Johnson as world No. 1 after he fired a closing 66 to finish T-11 at the Players.
McIlroy, of course, knew Thomas was in the room. He was jabbing him. Then he offered a figurative slap on the back.
"Look, obviously, there's a reason JT is number one in the world," McIlroy said after the laughter subsided. "It's because he's been playing great golf, and I think that as long as when you're number one in the world, the demands on your time are a little bit more and as long as you don't forget what got you to that point. And he's great, he practices hard, and he does all the right things, so he's not going to forget that. But you've just got to manage your time a little bit better and find the time to stay there."
The task begins Thursday at Muirfield Village when Thomas joins reigning Masters champion Patrick Reed and Rickie Fowler on the first tee at 8:15 a.m. EDT for the opening round of the Memorial Tournament. Winner of the 2017 PGA Championship, Thomas, a native of suburban Louisville, actually will sport two bulls-eyes as No. 1 in the world and the top-ranked player in the FedEx Cup standings – the same position he occupied at the end of last season when he also was chosen PGA Tour Player of the Year.
Thomas received a trophy for winning the Jack Nicklaus Award as player of the year last fall. He was awarded $10 million to go along with a trophy for his FedEx Cup triumph. The Wannamaker Trophy sits in his house for capturing the PGA, his first major title.
A computer screen shot was his only memento when his name moved ahead of Johnson to the top of the world rankings.
"I enjoyed it for a couple days when I had the two weeks off, but after that it was over with," said the 24-year-old Florida resident, who has two wins this season. "I wasn't really thinking about it. Like I said, it's odd because nothing comes with it. Like when you win a tournament, you win, you get a trophy, you get a lot of money, you do a press conference afterwards."
The real reward is satisfaction.
"Seeing every other golfer in the world behind my name was a pretty fun thing," said Thomas, who was up late enough to actually see his name listed second one minute and then first the next after he refreshed the screen on the OWGR website.
"Yeah, you definitely don't get anything for number one. But it is nice being labeled as the best golfer in the world," said Johnson, who held the top spot for 65 weeks but wasn't distinctly downtrodden for losing it.
"He's been playing very well, and, obviously, he's been playing a little bit better than me, so he deserved to pass me," said the 2016 U.S. Open champion.
"It's a great feeling, knowing that you're walking on to the range or walking to a golf tournament as the number one player in the world," said McIlroy, whose seventh stint atop the heap lasted all of one week, from Sept. 13-19, 2015 as he sparred with Jason Day and Jordan Spieth. "It's a life-long dream for all of us out here and to be able to do it is really cool. So I mean I think he should just enjoy it, but at the same time not forget what got him there in the first place."
That's not likely to happen, and he begins his defense of the top ranking at an event where he finished T-4 just a year ago and feels like a home game of sorts. It should. His father Mike, a club pro, is an Ohio native, and his 86-year-old grandfather Paul, a retired club pro, lives in Columbus.
"Yeah, this is a place that I love coming to," Thomas said. "It's a golf course that I really enjoy, it's a city that I like, it's the closest, about the closest I get to Louisville in terms of an event that happens every year. So this is, I get some friends to come, it's as close as I can get to feeling a home event."
Thomas won his other "home" event earlier this year when he captured the Honda Classic in Palm Beach Gardens, Fla., just a few miles from his house in Jupiter. He defeated Luke List in a sudden-death playoff at PGA National's Champion Course – designed by Nicklaus, who, of course, is the man who created Muirfield Village.
Jason Dufner won the 42nd Memorial last year while holding off Thomas, Fowler and Matt Kuchar, the 2013 Memorial winner, among others. Prior to that effort, Thomas had finished 37th in his debut in 2014 and then missed the cut the following two years. He had his chances on Sunday but a series of missed opportunities cost him a sixth win of the season.
"That's the difference between finishing fourth and winning," he noted, something he knows all too well, especially when he has grown accustomed to the winning part.
He has the trophies to prove it. And the No. 1 ranking, too.