News
Justin Thomas borrows Rickie Fowler's backup putter on Friday and it's not coming out of his bag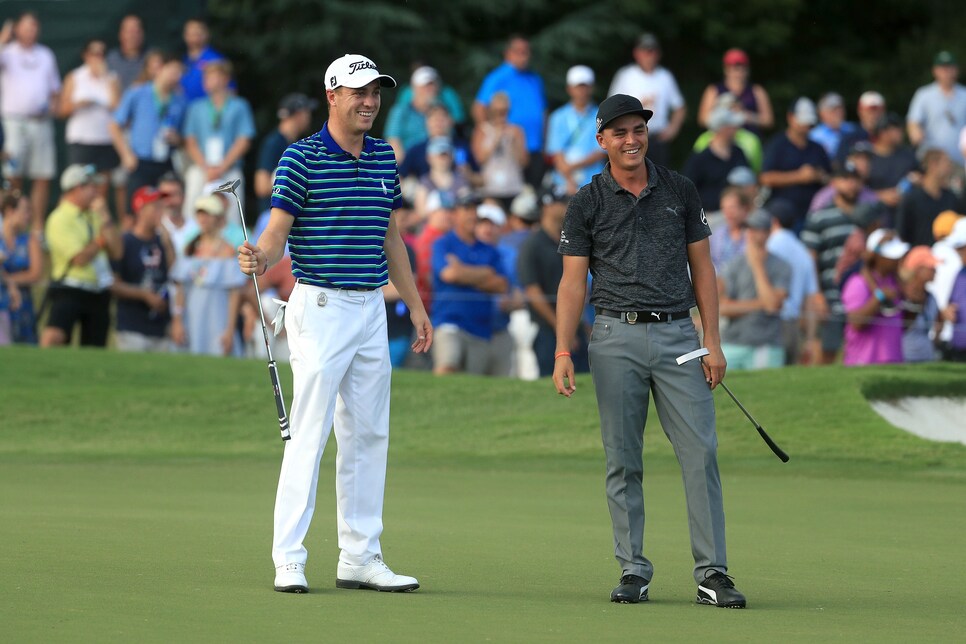 Mike Ehrmann/Getty Images
How far does the friendship of Justin Thomas and Rickie Fowler stretch? How about letting each other borrow their equipment.
Thomas can partially thank Fowler for making it to the weekend at the Wells Fargo Championship after Rickie let Justin use his back-up putter during Friday's second round at Quail Hollow Club.
Thomas, who you'll remember won the PGA Championship at Quail Hollow last August, struggled in his return to the course on Thursday, posting a disappointing two-over 73. Specifically, he was upset with his putting ("Join the club" says Tiger Woods) and started experimenting on the practice green with his back-up flat stick after the round. That too, however, didn't feel right so Thomas talked to Fowler, who he was playing with on Thursday and Friday, to see if he had any back-up putters he might be willing to share.
"I putted so terribly," Thomas said. "It was that desperate in terms of how I was feeling over the putter."
Sure enough, Fowler did, handing over a Scotty Cameron Newport 2 putter with "Rickie Fowler" etched on it. Didn't matter to Thomas, who put it in play on Friday and shot a two-under 69, helping him easily make the cut.
"I didn't actually see him until about 10 minutes before our tee time and he said he was going with it," Fowler said. "I told him after he hit his first tee shot, 'Well, you're kind of stuck now.' "
Thomas is seven strokes back of 36-hole leader Peter Malnati, so he's still got a chance in Charlotte, N.C.. Recall that at the WGC-Mexico Championship in March, he was 11 back after 36 holes and shot a 62-64 on the weekend to get into a playoff with Phil Mickelson.
Thomas says he's going to play with the new putter on the weekend, having gotten the approval from his buddy. Fowler is even OK, apparently, if Thomas keeps it for good.
"Well, he only lives a few hundred yards down the street [in Florida], so it won't be too far away," Fowler said. "But if he keeps making putts, I might have to take it back. … If he wants to keep using it, keep using it, but he's stuck with having my name on the back of it."