The Loop
Justin Rose's golden moment, Robert Allenby's arrest, golfers in gowns, and Tin Cup turns 20
Welcome to another edition of The Grind, where we are especially proud to be American after the Olympic Men's Golf Competition. Why? Rickie Fowler persevered through a bad haircut and was cool enough to have Matthew McConaughey following him around.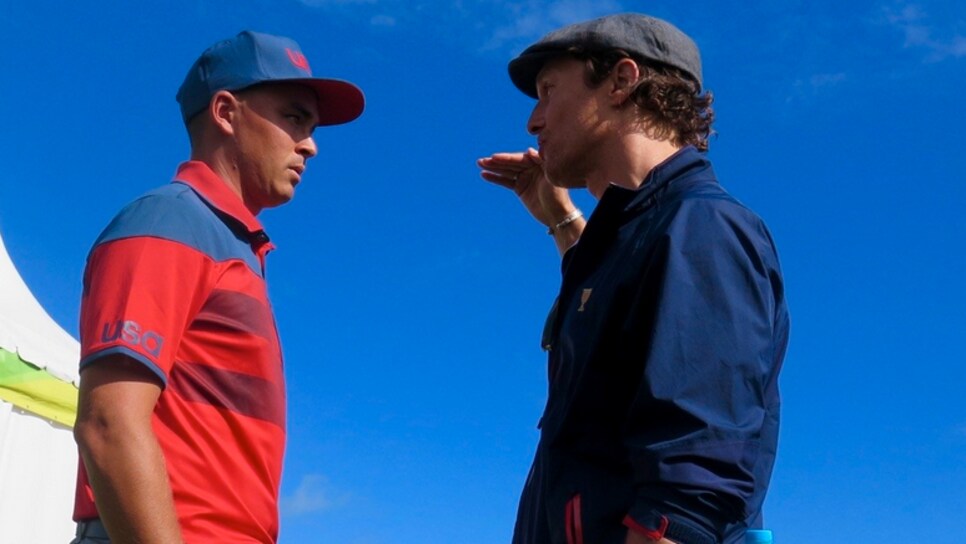 Bubba Watson led the week in selfies taken with other athletes.

Matt Kuchar would have easily won Olympic gold if there was a PDA competition.
And Patrick Reed. . . um, well, he didn't cause any international incidents. Oh yeah, Kuchar also won an actual bronze medal thanks to a Sunday 63. Good job Team America. You played OK, but more importantly, you gave us a lot to talk about. And here's what else has us buzzing.
Justin Rose: Maybe there really is such a thing as karma after all. Among golf's biggest stars, Rose seemed to have the biggest passion for the Olympics, which no doubt played a role in his success in Rio. It started with a hole-in-one on Day 1 and it ended with a clutch birdie on the final hole to wrap up golf's first gold medal in 112 years. It was a great performance and an even greater reaction.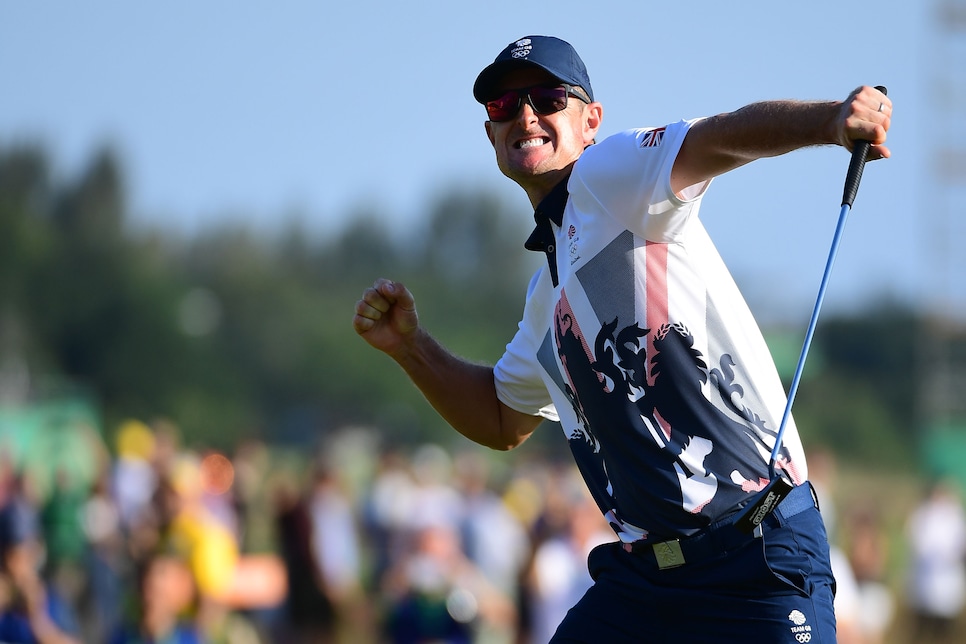 Ryan Moore: Meanwhile, at the John Deere Classic, Moore quietly picked up his fifth PGA Tour title by shooting 22 under and beating Ben Martin by two. I like when this guy does well because his slightly funky swing gives golfers with less-than-perfect moves (like myself) a sliver of hope at playing well someday.
Gene Sauers: A decade after being given a 25-percent chance of surviving a rare skin disease, Sauers won the U.S. Senior Open. "I didn't think I'd ever be here," he said. "I told my wife when I was in the hospital I didn't think I was ever coming out. She kept me strong. I'm honored to be here right now." And we were honored to see it happen.
Golf in the Olympics: The most telling sign that this is a big deal for the pros came from the emotion showed by Sergio Garcia on Sunday when it became apparent he wouldn't represent Spain on the medal stand.
OK, so Sergio looks like that a lot on the golf course, but you get the point. Those who went to Rio were into it -- and they also had a great time as evidenced particularly by the social-media feeds of Rickie Fowler and Bubba Watson. These guys didn't seem out of place hanging with some of the world's greatest athletes and neither did their sport. Let's just hope a few more big names show up in four years.
People knocking golfers for not going to Rio: It doesn't matter that Johnny Miller didn't see any mosquitoes or that no one got sick, Zika was a legitimate threat (and by the way, it often doesn't show symptoms and the real scare comes from birth defects that can occur many months later). Plus, it wasn't the only danger as evidenced by the four U.S. swimmers who were held up at gunpoint by people posing as police officers. Are there some golfers out there who regret not going to Rio? Probably. But let's let them come to that conclusion on their own.
Jaco Van Zyl: Then again, maybe karma doesn't exist. Rose may have focused on the Olympics this year, but this South African sacrificed both summer majors (withdrawing from the British Open and the PGA Championship) to prepare for Rio. And the result? A T-39. Out of 60 players. On the bright side, Van Zyl matched Rose with an ace on the eighth hole during the third round. Oh, and he had a better week than this guy. . .
Robert Allenby: The Aussie was back in the news for the wrong reasons, getting arrested for disorderly conduct and criminal trespassing outside of an Illinois casino early Saturday morning. This came after Allenby missed the cut at the John Deere Classic, the 20th time in 22 starts this season that the four-time PGA Tour winner has failed to make the weekend. At least he's gone more than six months now without being kidnapped.
The PGA Tour heads to Greensboro for the Wyndham Championship, the final regular-season event and the last chance to qualify for the FedEx Cup. Davis Love III became the third-oldest winner in tour history here last year, but the Ryder Cup captain won't be able to defend his title because of a bad hip. Makes sense. And in Rio, there's the Olympic Women's Golf Competition.
Random tournament fact: Margaret Abbott, the only woman to win an Olympic golf tournament, took home a porcelain bowl for her victory in 1900. We assume she didn't have to wear it around her neck.
RANDOM PROP BETS OF THE WEEK
-- Robert Allenby had a great Friday night at the blackjack tables: 1 MILLION-to-1 odds
-- Stacy Lewis will win the gold medal: 12-to-1 odds (Actual odds)
-- Stacy Lewis will win silver or bronze: LOCK
I don't care how many cuts in a row Steven Bowditch misses. Steven Bowditch is the man.
This 7-year-old golfer has some serious skills:
And this TV reporter doesn't:
Also, colleague Ben Walton is still on assignment in Rio so there's no video version of The Grind this week. Hope everyone can manage. But to fill the void, you can check out Ben's awesome video from the Olympics:
See you next week, Ben. I hope.
THIS WEEK IN DUSTIN JOHNSON-PAULINA GRETZKY/AUSTIN JOHNSON-SAM MADDOX PUBLIC DISPLAYS OF AFFECTION
It looks like these lovebirds are still on a boat: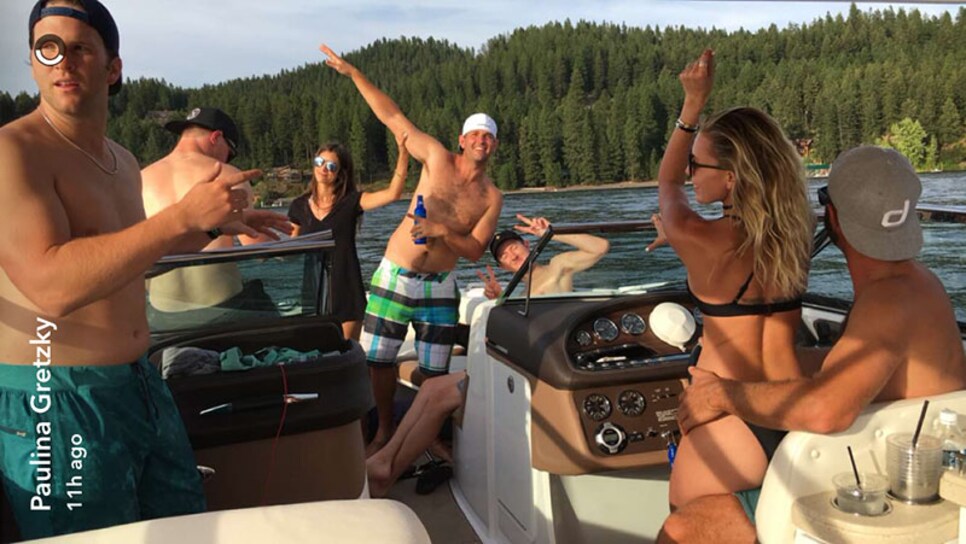 Meanwhile, Austin and Sam took a trip to Vegas.
Yep, surviving Vegas is always a good thing. But that's a pretty snazzy outfit to wear home on an airplane. . .
THIS WEEK IN GOLFERS IN BIKINIS PAGEANT GOWNS
Here's Elise Lobb, first on the golf course taping a swing clinic:
And then all glammed up to oversee the Miss Florida Pageant:
"A little tickle with a lob wedge. I thought it could handle that, if it would have been twice the size, then you probably need to go into the longer irons." -- Henrik Stenson on his encounter (by choice) with a Rio crocodile.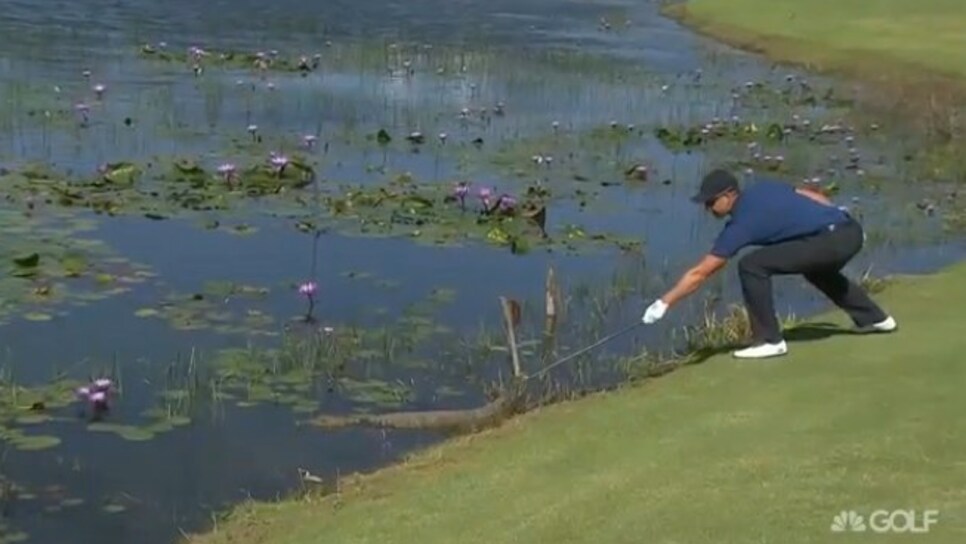 Wesley Bryan put that instant promotion to the PGA Tour to work quickly, picking up a T-8 in his first start as a member at the John Deere Classic. Again, this is a guy whose biggest claim to fame a year ago was that he was really good at hitting a golf ball out of the air. . . . Miguel Angel Jimenez has now blown his last three 54-hole leads on the PGA Tour Champions, this time bogeying the final two holes to lose the U.S. Senior Open by one. He may be the most interesting man in the world, but he's certainly not the least susceptible to pressure. . . . It's now been 20 years since Peter Jacobsen won his lone major title. Don't remember? Maybe this will jog your memory: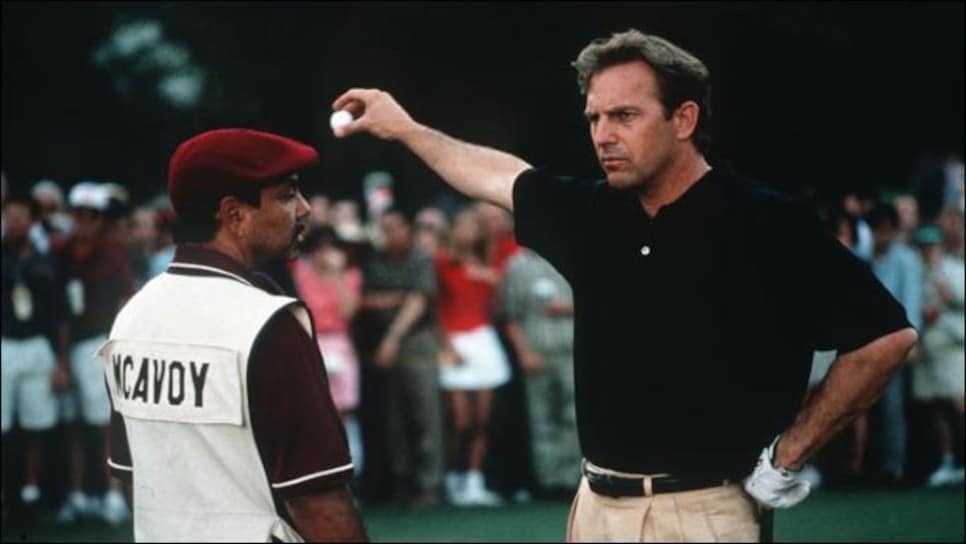 Long live Tin Cup. . . . And here's my Golf Digest colleague, Stina Sternberg, battling (and beating) TSA over bringing some beloved cookie dough internationally: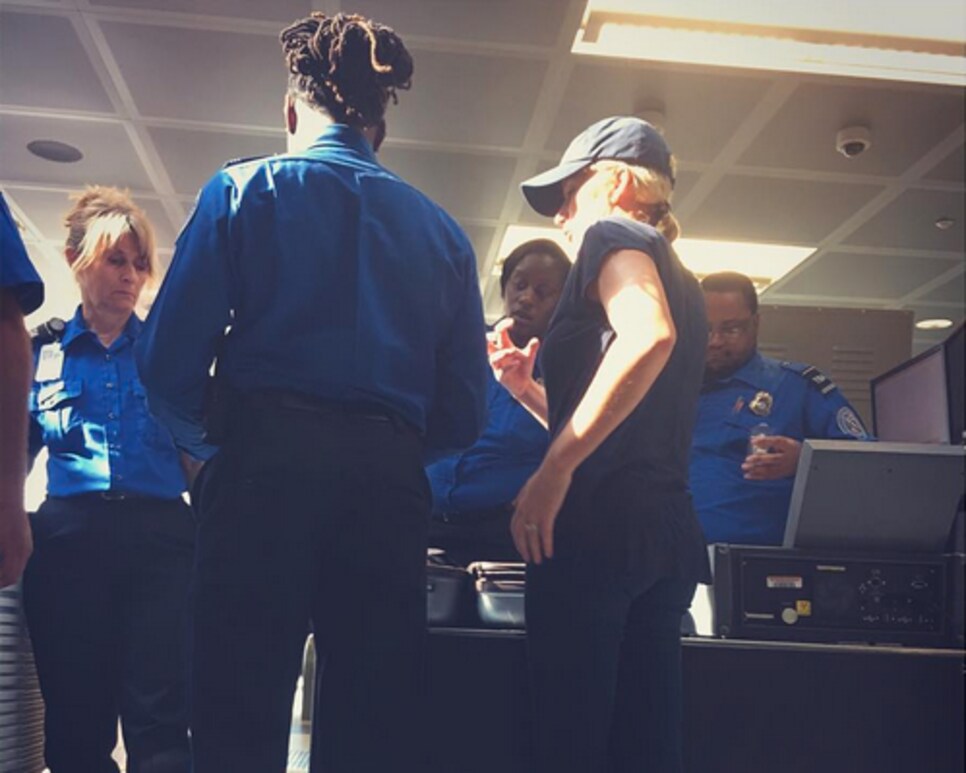 I've never been prouder to say I work with Stina. Like my Swedish friend, I'd do anything for a great chocolate-chip cookie.
RANDOM QUESTIONS TO PONDER
Who will be on Team USA in 2020?
Does Matthew McConaughey regret those Lincoln commercials?
When is Stina bringing some of those cookies to the office?