The Loop
Justin Rose is the best ball striker on tour. Here's the data that proves it
BOSTON -- Who's the best ball-striker on the PGA Tour?
That question gets debated often -- at least a few times annually -- and the answer usually depends on who you ask. Some people look at accuracy stats. Others at distance figures. Some just size it up themselves using the proverbial "eyeball test."
Lucius Riccio, a professor at Columbia University, takes a slightly different approach.
Speaking Friday at the MIT Sloan Sports Analytics Conference, Riccio presented his findings from a paper he had been working on entitled "Quantifying Long Approach Ball Striking." His research involved analyzing every shot hit on tour in 2012 on a par 4 from between 150 and 225 yards.
The verdict? Justin Rose came out ahead among his peers, his greens-in-regulation percentage regressing at a far slower pace from further away relative to fellow competitors on tour. Lee Westwood, however, hit it closer than anyone else on average the further back he moved.
Bubba Watson, whose consistently high placement on the GIR ranking is usually attributed to having closer approach shots because of his driving distance, still preformed highly, while Tiger Woods performed phenomenally well, Riccio said.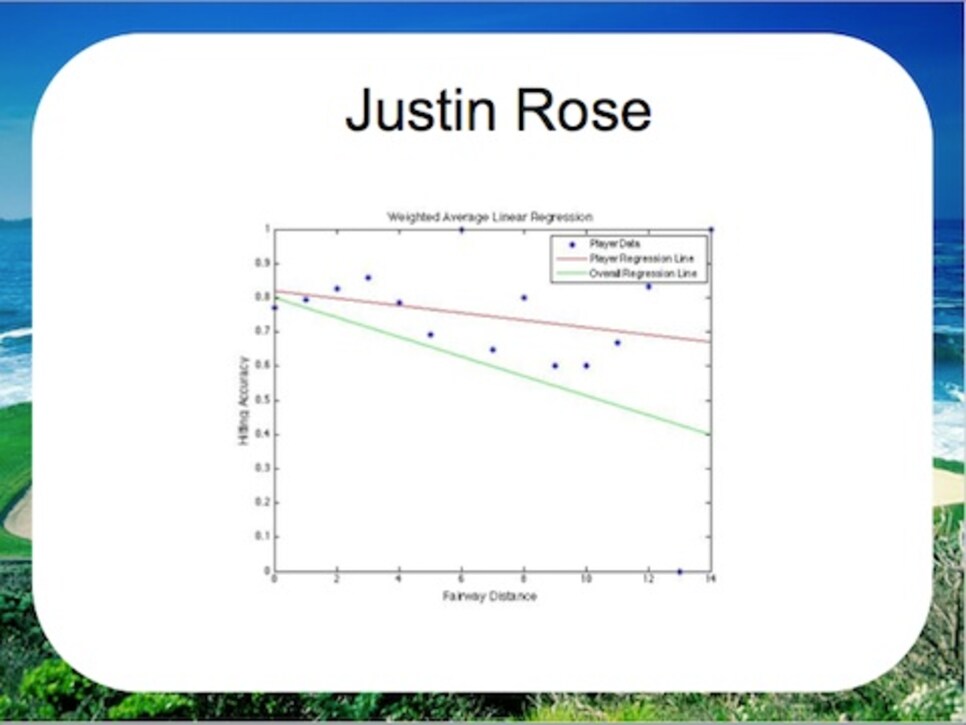 "There are so many things that can be drawn from this," Foley said, speaking broadly of the increased use of data in golf. "I think for the amateurs, and even for the guys on tour I work with, it helps people manage their expectations."
Riccio was presenting at the conference because his paper won last year's CDW Shotlink Intelligence award, a contest hosted by the PGA Tour. The tour agreed to turn over all the data it collected from tournament play to entrants with the caveat that the papers that result from it will be appropriately attributed.
"For a long time, golf was anti-analytical," Riccio said. "For a stats nerd like me, this is just like heaven."
Other interesting findings from Riccio's presentation:
Of the 26-stroke difference between someone who shoots 69 and someone who shoots 95, 18 strokes are lost on full shots, and just eight on the greens.
What's the penalty of hitting it into the rough? About 25 percent of a stroke in regular tour events, and about 50 percent of a stroke in the U.S. Open.
Missing a GIR from the fairway will cost a player about 50 percent of a stroke.
In 2012, Rory McIlroy played the par 5s one stroke worse per round than the year before.
Riccio's full presentation: