News
Justin Leonard thought he was hugged by a priest following his winning Ryder Cup putt -- he thought wrong
Justin Leonard's winning putt at the 1999 Ryder Cup was an instant classic -- both for its stunning brilliance and for the (slightly) pre-mature celebration some Europeans are still upset about. But mixed into that unbridled reaction to the unlikely 50-footer was an unplanned hug that everyone can have a chuckle about nearly 20 years later.
If you watch the highlight, a man wearing a red shirt is the first person Leonard comes in contact with once the putt drops. Leonard high-fives the guy, who gives him a big hug, before other members of Team USA mob the 12-time PGA Tour champ on the 17th green at Brookline. As Leonard explains during an episode of Feherty that will air on Golf Channel on March 12 at 9 p.m., the guy had a badge that said "clergy" on it, which led Leonard to believe, "I had a man of the cloth with me today!"
Only that wasn't that wasn't the case. Here's how Leonard tells the story of the interaction and about finding out about the guy's true identity about a year later:
That is one sneaky fan. Look at how he was even showing off his "clergy" badge as U.S. captain Ben Crenshaw was interviewed on NBC shortly after Leonard's big putt!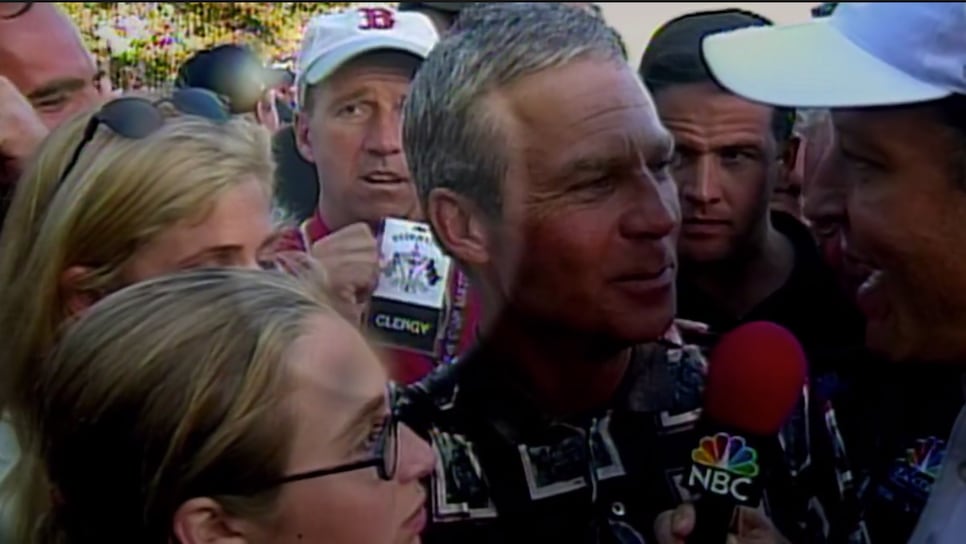 "That guy has forged his way into every major sporting event known to man," Leonard says, relaying what he was told about the guy who also walked away with Leonard's hat. Although, he didn't take Leonard's shirt. Wonder why. . .
Anyway, if this mystery man/fan/imposter happens to be reading this, we'd love to hear his side of the story and all the other goodies he's collected through the years. Oh yeah, and find out what he actually does for a living.