News
Inside Golf's Greatest Comeback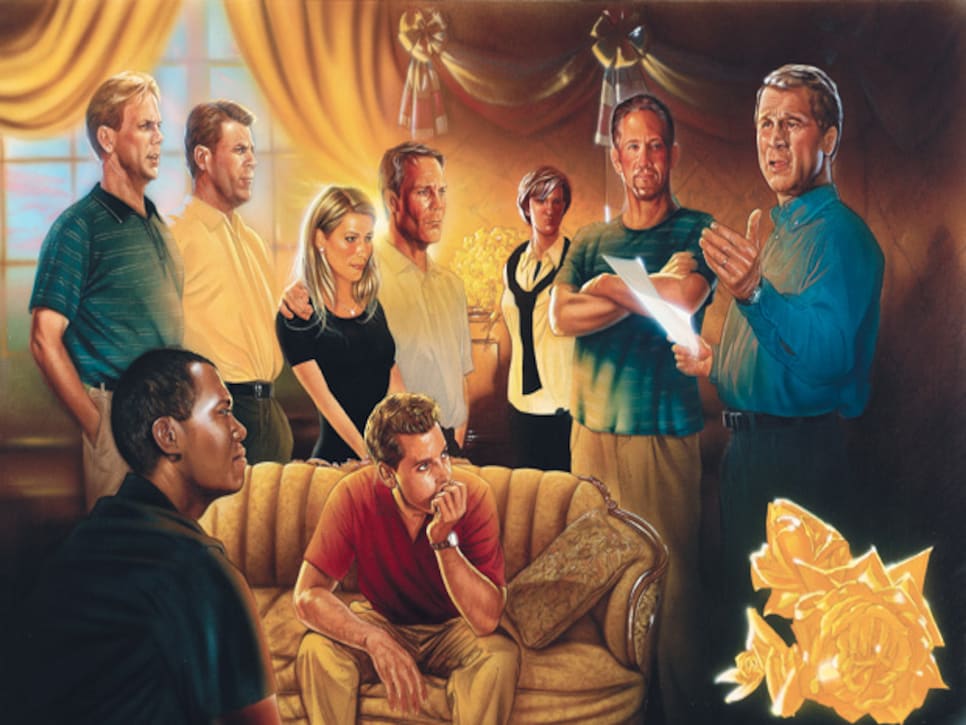 George W. Bush, then governor of Texas, sparked the team with his Alamo speech.
*Just when the Ryder Cup seems incapable of taking drama to a higher level, something even more extraordinary unfolds, making 1999's Battle of Brookline a suspense tale of almost surrealistic depth. Trailing 10-6 after two days of uninspired play at The Country Club, ambushed by a European team many considered the ultimate underdog, a rattled United States squad stood at the precipice of its third consecutive loss. This time, the fall promised to hurt like no other.
From the start, this American team had been branded as greedy and self-centered, most notably by captain Ben Crenshaw, who had admonished several of his top players six weeks earlier for their comments regarding Ryder Cup revenue. The Europeans were proving once again that heart and soul could carry them past any ensemble of U.S. superstars. Come Saturday night, the deficit facing Crenshaw's troops appeared insurmountable.
No Ryder Cup team had ever rallied from four points down in the Sunday singles, a fact not lost on anyone as the players gathered on Saturday night. What follows is a comprehensive oral history of the final 24 hours as told by the players and their confidants, including previously unpublished accounts and behind-the-scenes anecdotes that offer diary-like perspective to the greatest comeback in golf history.
Golf Digest spoke at length with 37 key figures: all 11 surviving members of the U.S. team, European captain Mark James and members of his team, players' wives and caddies, Ben and Julie Crenshaw, and U.S. assistant captains Bruce Lietzke and Bill Rogers. President George W. Bush provided his reflections as well.
Davis Love III: On Saturday night, we finished right before dark and had a little meeting to decide where everybody should play.
Bill Rogers: The picture is still very clear in my mind: The mood was dejection, but Crenshaw was at his absolute finest at that moment. Everyone gathered in the locker room and Ben began to walk back and forth -- he wasn't without a cigarette the whole time. As he got a little more dramatic, I noticed everyone was looking right at him. Tiger, Mickelson -- every one of them.
Tom Lehman: Ben, Lietzke and Rogers had put together this lineup, and they had Tiger second to last. We all said, "Hey, if we're going to win this thing, we're gonna have to get on them early and get on them hard."
The comeback How the U.S. Ryder Cup team rallied from a 10-6 deficit at Brookline to defeat Europe, 14½-13½ (with starting tee times):
10:38 a.m.: Tom Lehman (U.S.) d. Lee Westwood, 3 and 2
10:50 a.m.: Hal Sutton (U.S.) d. Darren Clarke, 4 and 2
11:02 a.m.: Phil Mickelson (U.S.) d. Jarmo Sandelin, 4 and 3
11:14 a.m.: Davis Love III (U.S.) d. Jean Van de Velde, 6 and 5
11:26 a.m.: Tiger Woods (U.S.) d. Andrew Coltart, 3 and 2
11:38 a.m.: David Duval (U.S.) d. Jesper Parnevik, 5 and 4
11:50 a.m.: Padraig Harrington (Eur.) d. Mark O'Meara, 1 up
12:02 p.m.: Steve Pate (U.S.) d. Miguel Angel Jimenez, 2 and 1
12:14 p.m.: Justin Leonard (U.S.) d. halved with Jose Maria Olazabal
12:26 p.m.: Colin Montgomerie (Eur.) d. Payne Stewart, 1 up
12:38 p.m.: Jim Furyk (U.S.) d. Sergio Garcia, 4 and 3
12:50 p.m.: Paul Lawrie (Eur.) d. Jeff Maggert, 4 and 3 Jim Furyk: Guys started offering solutions. Davis is kind of a veteran member -- everyone looks to him for ideas. Hal [Sutton] was the same way.
Steve Pate: I was putting pretty well that week, but I couldn't hit the clubface. Ben wanted to send me out early -- I told him early wasn't the right plan. I wasn't going to shoot 65, but I could certainly par it to death.
Mike Hicks (Payne Stewart's caddie): There were seven or eight captains around the table that night. Guys were saying, "I should play here." Mickelson said, "I think I should go off first." It was very unlike other Ryder Cups. It easily could have led to chaos.
Ben Crenshaw: It was a collective effort. Like putting a recipe together, you throw in a little of this, a little of that.
Mark O'Meara: Mickelson and Davis were really talking about strategy, what they wanted to do and what they thought would work. The rest of us just kind of sat around. I kept my mouth shut, because I'd played in only one match and got beat.
David Duval: Our best guess was that they were gonna go from strongest to weakest, period. We thought their guys who hadn't played [Jarmo Sandelin, Jean Van de Velde, Andrew Coltart] would be in the last matches. Then we saw their lineup a while later, and that wasn't the case.
Crenshaw: I just could not believe Mark James sent them out three in a row.
James: The decisions all week were not made by me talking to one or two guys in a corner. If anyone didn't agree, they didn't say so at the time.
Jean Van de Velde: I didn't want to be in one of the last groups. Having not played, having no competition whatsoever, I didn't want the responsibility, if it was close, to win or lose the Ryder Cup.
Love: It always seems to fall on the wrong guy anyway, no matter how you do it.
Bruce Lietzke: Those were like three automatic points to me -- they were going against Mickelson, Love and Tiger. That put the real pressure on Lehman [against Lee Westwood] and Sutton [against Darren Clarke] in the first two matches. Those two points became critical.
Andrew Coltart: I was in my room watching The Golf Channel and saw the singles draw. That was the first I knew about playing Tiger. I thought it was fantastic. I had nothing to lose, obviously. I slept very well that night.
Paul Lawrie: Some of our team felt the job was done. There was a little bit of celebrating. A few of our players were happier than they should have been.
Colin Montgomerie: We'd done a hell of a job to get 10-6 up. Mark had done a hell of a job. Yes, we'd left the three guys out, but at that stage, it didn't matter. I'm sure if we were on the Concorde on the way over and Mark stood up and said, "Look, we're going to be 10-6 up Saturday night, but there are going to be a few guys who haven't played," I'm sure we all would have said, "Doesn't matter. It's a team game. We've got four points to win? Thank you very much."
Jesper Parnevik: I didn't think it was over at all. Looking at the pairings, I thought we'd have a tough time. Everybody talks about four points. To me, that's not much. I think it's much better to have a four-shot lead [in stroke play] going into Sunday than a four-point lead in the Ryder Cup.
Furyk: I went from being really upset to thinking maybe we've got a strategy. We went up to the team room, and that's when I really started to believe, "Hey, this could really happen."
Before returning to team headquarters at the Four Seasons, Crenshaw responded to the media's questions with rambling, unintelligible answers. His thoughts scattered like broken glass, the captain completed his interview with a startling proclamation: "I'm a big believer in fate," he blurted, wagging his finger for emphasis.
Julie Crenshaw: I happened to turn on the TV while we were getting ready. Ben's on there babbling, then all of a sudden he gets real serious and says, "I've got something to tell you." Some players were already back at the hotel. I remember Davis' reaction when Ben started wagging his finger, which is so uncharacteristic of him. Our mouths dropped open, then Davis said, "Way to go, Ben!" And we all just erupted.
__"Who knew what would happen? One man did: Ben Crenshaw. He never lost faith." -- President George W. Bush __ Love: We were getting P.F. Chang's delivered that night. I got back early, went right in and dived into the food, grabbed a plate and sat down at the end of this giant table for 20. Right when I sat down, Ben started shaking his finger, saying, "I'm going to leave you with one final thought ... "
Furyk: When you watch the replay, you see Ben's thoughts are all over the place. He knew what he wanted to say, but I think he was trying too hard and got emotionally charged up about it.
Ben Crenshaw: I was so damn tired. Bill and Bruce both said, "Look, he's starting to ramble, let's get him out of there. He's not making any sense." I was trying not to make a mistake. I was trying to say, "I've seen some really good golf out of my team. I think we're on the verge of something."
Love: Everybody starts piling in back at the hotel, saying, "Did you see what he said?" Then he put the pairings up and we looked at them. Guys started saying, "Hey, we can win the first six! It can happen!" In Australia on Saturday night at the [1998] Presidents Cup, we were like, "We're getting killed. Let's go have some fun." This time, the turning point wasn't on the golf course. It was Saturday night.
Hicks: I'll tell you what -- I thought it was over, just like everybody else. Not until making the turn Sunday did I think we had a chance to win.
Bruce Edwards (PGA Tour caddie and U.S. aide): The caddies for both teams were staying at the Holiday Inn. I remember telling Jerry Higginbotham, who was working for Sergio [Garcia], "We're going to kick your ass tomorrow." And he laughed. I said, "I'm telling you, your guys can't play singles." He thought I was being a smart-ass, but I was serious.
Higginbotham: Bruce doesn't let it go that easy. I told him "You'd better bring your A game." I thought there was no way we'd get beat.
As the U.S. squad gathered in the team room Saturday night, the next three hours were a tempest of emotion. A motivational video planned for months by the Crenshaws was followed by a special guest speaker, then soul-baring reflections from every member of the team, wives included.
Julie Crenshaw: Ben was pumped up when he got back to the hotel -- I didn't think he was going mental at all. Then [PGA of America media official] Julius Mason came in and handed him some stuff. Ben said, "I'm gonna share this with the team." It was Colin Montgomerie saying, "You know it's over, don't you?"
Montgomerie: I've said a lot of things in my life, but I'm not stupid enough to say that. If I was ever quoted as saying it was over, it was rubbish.
Julie Crenshaw: When the pairings started circulating, everyone was like, "Well, hello! This is fabulous. We've got this one, this one, this one, this one, this one. We're 1 up already." We sat around and ate. Half of us were on the floor. There were so many things the guys really enjoyed, and that was one of them. It was very casual.
Melissa Lehman: Did you ever go to camp as a kid? You remember what it was like the night when everybody just comes together? That's what Saturday night was like.
O'Meara: Everybody exchanged gifts. The players gave a gift to Ben, the wives gave one to Julie, and Julie gave gifts to the players.
Julie Crenshaw: Traditionally they give the captain a trophy and his wife a beautiful silver box. So Ashley Sutton gives me this golf broach. It was horrible. It was enamel. I'm thinking, "Oh, I've got a team with such young wives; they didn't know they were supposed to give me that silver box." Ashley starts howling. "Ha, ha, ha!" It was funny. After we watched the movie, they gave me the box. I bawled like a baby.
Furyk: There were videotapes every night. One night it might be the Europeans knocking in shots from everywhere, which was probably supposed to tick us off. Another night was a video of us winning tournaments, to pump us up.
Julie Crenshaw: We worked on the [Saturday night] movie for a year. Mickey Holden, the producer, Ben and I came up with the idea. I asked all the wives who their husbands looked up to, what kind of music they liked. Jim Furyk is a big Pittsburgh Steelers fan, so we had a clip from their coach [Bill Cowher]. Ben had the idea of doing a patriotic movie clip, which starts with George C. Scott in "Patton." And then George C. Scott died that week.
Furyk: It was a very eclectic group -- musicians, athletes from other sports, politicians. Just an amazing group. Lehman: I have a really close friend, Les Hughey, the pastor of our church. He does this "Deliverance" thing where he puts his hat on sideways and says, "Tom, they say you kiss the best, but now you've gotta go out there and kick some tail." He rattles on for about five minutes. Everybody's like, "Man, who is that guy?" I tell them he's the pastor at my church. They're like, "I want to go to your church."
Ben Crenshaw: There was some funny stuff, some serious stuff -- it kept your emotions going. It was fun.
Lehman: [Singer] Huey Lewis comes on. He says, "I know, we'll go to the European team's hotel and turn off their hot water! No, wait -- that'll make them think they're back home! Forget about that." They got the UCLA dance line going for Steve Pate, these knockout girls, and everybody's like, "Oh, wow, Steve." Then they show the Centenary dance line doing a cheer: "Hal, Hal, he's our man. If he can't do it ... " And Ashley is like, "Hal, who are those girls? Do you know those girls?"
Julie Crenshaw: We watched the video, then Governor Bush came in. Ben had planned the Alamo speech [Alamo commander William Barret Travis' refusal to surrender in 1836] three months before the Ryder Cup -- we had no idea it would be so appropriate.
President George W. Bush: I walked in the room and was surprised by the relaxed atmosphere of the players. As I read Travis' famous letter, the room was silent, the players and wives seemed to listen to every word. I finished with the "victory or death," wished them Godspeed, told them the country was pulling for them, and immediately left the room. I wasn't sure of the effect. Who knew what would happen? One man did: Ben Crenshaw. He never lost faith. Mickelson: We weren't in a life-or-death situation, but we were representing the United States and what so many of those individuals had fought for.
Melissa Lehman: He gave this speech about the Alamo, but it wasn't any one thing that was said. It was more or less everybody sharing what the week had meant to them.
Love: You go around the room and everybody says something. There's a lot of emotion. It's the wives who haven't been there before, like Ashley Sutton, who talked about how proud she was of Hal. It's Tracey Stewart talking about how happy she was to be on another team and meet some of the younger people.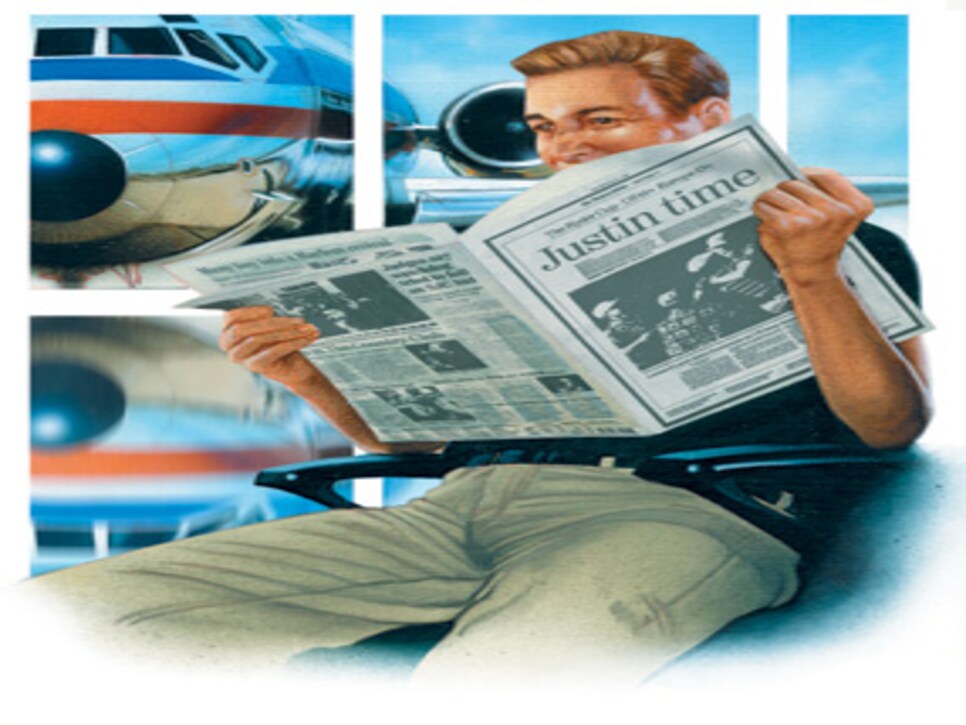 Maggert: It might have been just one or two words, but it seemed like everybody in that room had one line that lifted us just a little.
Furyk: Pate started off and said something really sarcastic, kind of a smart-ass comment, and it got us laughing, because that's his role. He's the guy who keeps you loose. That got us rolling. He was the funny guy, and there were guys who were serious and guys in between.
Pate: I was sitting there in pain, and I wanted to go get my back worked on. It kept dragging on and on, and I probably did make some smart-ass comment.
Lehman: My most vivid memory is of Payne talking about his father. He talked about his dad and got teary and emotional. He wished his dad could have been there to see him play. That moved me a lot.
Tracey Stewart: I do remember Payne saying how unfortunate it was that his father wasn't around to see most of his victories, how he was envious of Mark O'Meara, who's had his father travel with him. He would have loved to have done that with his dad.
__"My wife just bared my soul out there in front of everybody." -- Hal Sutton __ Pate: Hal and Payne were the two real leaders. Tiger's real quiet. He wasn't sitting in the background, but he wasn't a vocal, rah-rah guy. That was Payne more than anybody.
Tiger Woods: I was just sitting there, head down, tired. Hal was the same way. Beat up, tired. All of us were just worn out.
Julie Crenshaw: Some of the girls were scared to talk. They looked at me like, "What have you done to us?" Once you do it, you're so happy you did it. Ashley went on about Hal: "I don't care if he could play golf or not. I just love him. I want you to know I love this man."
Sutton: There were wives who said things their husbands had never heard. There were guys who said things we didn't think we'd ever hear them say. I mean, my wife's telling them about how far I was down -- she just bared my soul right there in front of everybody. All of a sudden, you felt comfortable being naked in front of these guys.
Pate: Hal's almost hysterical. He gets really focused, whether he's talking about golf or fishing or whatever.
Duval: This was my first Ryder Cup. It's not something we'd done at the Presidents Cup, but everybody talked for a few minutes. I don't remember exactly what I said. I've got a bad memory.
Julie Crenshaw: As a joke, I said, "David, you talked on Thursday night; you can have a pass if you want." He said, "No, I'm not taking a pass." Then he stood up and said, "I had no idea how incredible this would be. I just didn't know. It's like having a baby. You just don't know until you experience it."
Love: We were going around the room when [wife] Robin came over to me and said, "You know, what I haven't heard all week is a mention of Harvey Penick [longtime teacher and mentor]. I thought that would be one of Ben's big themes. I know what I'm going to say." Usually, she's trying to get out of talking, like a lot of the wives, even some of the players who don't want to say anything.
Julie Crenshaw: How brilliant was that? I'm glad Robin was thinking on her toes. And she started it with, "Everyone, I'm going to make Ben and Davis cry."
Robin Love: Fortunately they started with the person to my right, so there were something like 23 people before it came to me. I said, "You guys go out and take dead aim for Davis' dad and for Harvey." Then I lifted the trophy over my head and said, "Let's raise the trophy to the two guys who have meant the most to Davis. Let's lift the trophy to the heavens. Let's bring back the Cup for the people up there."
Furyk: She made sure she was last. That was kind of neat.
Robin Love: The entire room was crying. I'm sitting there thinking, "Gosh, I didn't know it was going to be that sad." Everybody loved it. The next day, friends in the gallery were saying, "I heard about your speech last night." It probably was a good thing I was last.
Throughout the week, Tiger Woods had taken on the role of superstar enigma. His only victory in four matches had occurred Saturday morning, and those failures became emblematic of a team in competitive disarray. The loss at Valderrama two years earlier seemed to have hardened Woods' view of the Ryder Cup experience, but behind closed doors, his teammates caught glimpses of a different Tiger.
Julie Crenshaw: The whole thing started at Valderrama. They were going around the room that Saturday night and Tiger said, "See that can? That's a can of whup-ass. Let's go out and whup some ass tomorrow." He said it as sort of a joke, and we had heard about it. When we were in Telluride on vacation, there was this can of whup-ass in the window of a store. Ben and I both said, "We've got to get this for Tiger!" So we bought it and wrapped it in the worst brown paper you can imagine. He said it was the best present he's ever gotten.
Love: He has more fun than people would expect, playing video games with Katherine Crenshaw [the Crenshaws' 11-year-old daughter], goofing around with O'Meara and some of the girls. Julie Crenshaw: He taught Katherine how to play Bloody Roar [a video game]. Wednesday night at the gala, she's in a long dress, he's in his tux, and they're playing. Love: Somebody said something about Tiger's fist pump. Hal says, "Hey, I invented that! I was doing that before you was born."
Julie Crenshaw: Tiger's the future of the Ryder Cup, and you need him to love it and want to play in it. When he said, "I'm happy. I wake up with a smile on my face; I'm happy to come in and see my friends," that was it.
Sutton: Tiger always seems guarded, but he didn't seem guarded sitting on that piano. It was like, "OK, I'm going to let you all know me for a minute." I understand why he's that way, but he felt comfortable in front of all of us.
Maggert: I noticed a big difference between 1999 and 1997. In '97, he really didn't know how he fit into the team, mainly because of his age. He tried so hard at Valderrama, but sometimes when you try that hard you get in the way of yourself.
Pate: I remember Tiger had taken some heat about things he said over the course of six months. He thought he had to clear the air, and he did. And that was real good. But he's not the guy who's going to sit there and talk everybody up.
O'Meara: I think he's slowly accepting the responsibility of being a leader, a guy who needs to stand up and make the call so young players can rally around him. He's a great competitor and he wants to win, but I'm not sure he wants to show all his cards to his fellow competitors.
Lietzke: He was a little out of character most of the week. He was extra quiet on the golf course and off the golf course. I felt the urge to watch him celebrate afterward, and he became a little more outgoing. That's the Tiger we're learning about.
Hoping to pull off the greatest comeback in Ryder Cup history, the U.S. players arrived in small groups Sunday morning. They needed to win 8 1/2 of 12 points to beat the Europeans, a total not achieved in the singles matches since the U.S. did it to win by six points in 1979.
Andrew Coltart: I was walking to our van when Tom Lehman came out and got in with me. It was strange -- just him and me chatting, then he got up and walked out just as Darren Clarke was getting in. For whatever reason, he decided it wasn't the right thing to do. I saw no reason why we couldn't go over in the same van.
"I don't think anybody on our team felt like it was a done deal." -- Jesper Parnevik Lehman: I figured they'd want to ride together. It wasn't like, "You guys are here and I'm leaving." It was more like, "I feel like I'm imposing. I don't want to cramp your style." I would have ridden out with Coltart, but two of their team members, that's a different story. I didn't think it was a big deal, and I hope they didn't think it was, either.
Sutton: I got there early and told the trainer, "You've got to work a miracle on me." I told my wife when I laid down Saturday night, "I don't know if I can do this tomorrow or not." My shoulder was bothering me. I don't know if it was from pumping my fist or not. I was just tired. I had gone all the way, and all my matches had gone almost to the end.
Ben Crenshaw: Lehman was getting stretched in the back of the locker room. I go back there and put my hand on his chest, and I say, "Big Tom, we put you in this position [the first match] because we believe in you." With no hesitation he looked at me, and as confident as you could be, he says, "I can do the job." It was one of the greatest moments I've had in golf.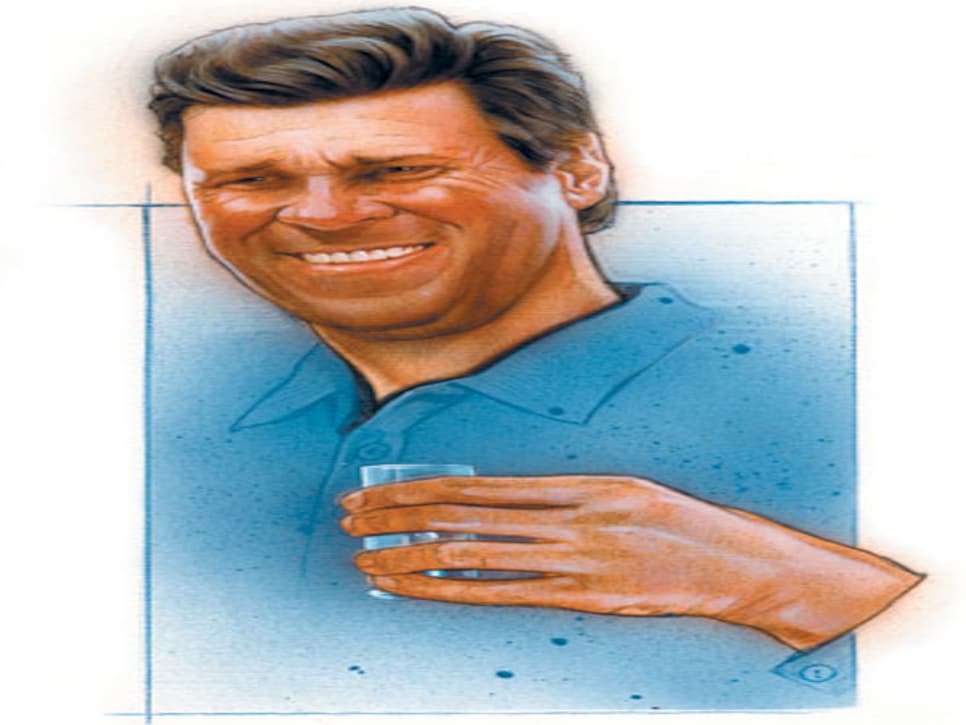 Furyk: A few guys read stuff about themselves in the paper that morning, and it was all coming from [NBC analyst Johnny] Miller. Johnny was very negative toward us. He said a few really rotten things [during the telecast], something about Justin Leonard that I'll never forget. Ben had said he sent Justin out Saturday afternoon because he had a feeling he'd make a few putts. And Johnny's quote was, "I have a feeling he should've stayed home and sat on the couch, because he's not doing any good out there."
Leonard: I didn't know about it until I got to the golf course Sunday morning. If I'd gone right out and played, I'd have been a wreck, because I was so pissed off. But I got there early enough so I could hang for a little bit, then I tried to use it as motivation.
Miller: If there was a moment in my TV career I wish I could do over, it would be the Justin Leonard comment. That definitely was a double bogey. But understand, I play a high-risk game in the tower. I'm trying to be honest and stimulating. Justin had been playing poorly.
Rogers: We ought to go back and kiss Miller. Something like that can put you over the top.
Julie Crenshaw: I was in the team room with Maggert and Justin. Phil came in and slumped into a chair. He put his hands on his forehead and said, "I'm not moving until I see this team winning. I am not moving. I am not getting up." Justin looked at me and and we both sort of said, "OK." So Phil sat in a dead silence with his head down, concentrating, seeing the vision of us winning. All of a sudden he jumped up and said, "OK, I'm ready to go." Then he left. Justin and I burst out laughing.
Mickelson: Before I even went to the range, I was going to wait until I believed we were going to win. As opposed to, "We've got a lot to overcome and it's going to be too tough."
Lin Strickler (PGA Tour caddie and U.S. aide): On the range, the European players and caddies were saying, "Look at those shirts [with pictures of victorious U.S. Ryder Cup teams]. They look like Domino's pizzas with everything but the anchovies." I mean, the American players didn't like them, either, but we didn't want to hear them saying that.
Love: They had a big scoreboard on the driving range with all the matches. Before anybody teed off, Jesper turned and said, "Look at that board. There's no way we can win." He was looking at it the way we were looking at it -- that they were going to lose the first six.
Lance Ten Broeck (Parnevik's caddie): Jesper did look up at the board and say, "I don't know where we're going to get four points." Very prophetic.
Parnevik: I don't think anybody on our team felt like it was a done deal. We didn't lose because we thought we were going to win.
Ken Brown (European vice captain): Everyone on our side was tired, but Parnevik looked the worst. He looked like he'd been through a spin drier.
Ten Broeck: He had this blank look in his eyes. He had trouble focusing. He was just worn out.
James: I've played in all five matches at the Ryder Cup before, and I've managed all right. Admittedly, the pressure these days is greater. Yeah, guys do get tired. That's part of the equation. I wasn't flying blind.
Julie Crenshaw: I remember Katherine got into an accident on the way to the golf course. Her driver hit a little boy. She came to the first tee shaking. The boy was OK, but it was still a bad experience. She had that doe-eyed look on her face, and then she burst out crying. We sent her back to the clubhouse until she felt ready to go out. I said, "Well, go follow Justin. He's a good Texan." She ended up walking with Justin the whole time.
From the outset, the U.S. took command of the singles, winning 28 holes and losing just four in the early stages. As the final match left the first tee, the rout showed no signs of subsiding. America's top-heavy lineup was decimating the weary Europeans, turning the left side of the scoreboard into a blaze of Old Glory.
Lehman: I was nervous, being first off. So I go to the first tee and they're singing the national anthem, which loosened me up. It was a nice way to meet the day. On the right side, all the European fans were singing "OlÈ," that typical song you hear when they're getting drunk.
Brown: The atmosphere was fine, or at least no different from the previous days. It became apparent fairly early how the cards were going to be dealt. The first five matches were all lost very early. Suddenly we were one behind, not four in front. Duval: We didn't just turn the momentum a little bit. We turned it a lotta bit.
Sutton: First hole, I hit the green about 20 feet left and [Clarke] misses 25 yards right. I'm thinking all I have to do is two-putt to win the hole -- and he holes the chip. I'm like, "That's fine. No big deal." I walk off the green and Bruce Lietzke is there. I said, "Bruce, I've been down in every match after the first hole. This is perfect." Next hole, I make a 15-footer to get even. I was like 3 up after six.
Mickelson: I felt bad for Jarmo, Van de Velde and Coltart, because they'd played some great golf throughout the year to make the team, then didn't get the chance to showcase their abilities.
Lawrie: In the team room Friday night, James apologized to the three guys who hadn't played that day and said, "I'm really sorry, but it doesn't look like you'll play tomorrow. We're doing well. I don't want to break anybody up." There was silence. Then Jarmo says, "That's OK, but if you don't play me Sunday [mandatory for singles play], I'll be really pissed." Broke up the entire room.
Coltart: I got an amazing reception on the first tee. The great thing about match play is, you can tell a lot about your opponent by the way he acts before you tee off. I wasn't going to let Tiger see me hiding. I wanted to stride out there, chin up, chest out. "I'm here to win, mate. I want to play you."
Duval: We got to the third green, Jesper was four or five feet above the hole and I was about a foot closer below the hole. We're both putting for par. He says, "Good-good?" and I said, "No, let's putt." He missed and I made it. I birdied the next hole and won six, seven and eight to go 6 up.
Sutton: Darren was a gentleman. I had a four-footer on 9 to go 4 up, but I had it above the hole breaking hard left to right, a tough putt to make. I didn't want to three-putt the darn thing, so I cozied it down there and barely missed on the low side -- it goes about 18 inches past. He ain't going to give me that, so I knock it in. Walking to the 10th tee Darren turns and says, "I'm sorry, but I can't give you that right now." I said, "I understand. I wouldn't give it to you either in that situation." He said, "Well, we need everything we can get."
Brown: I tried to find a match where something good was happening -- it was a long way down the list. Darren lost the 12th hole when he could have won it, a key moment in that match. This was the first time I thought there was a problem. Before Darren and Hal left the green, Bruce Edwards charged across the green screaming his head off. I wouldn't have dreamt of going on the green at that stage. I said nothing, but that was the start of things to come. I should have said something.
Furyk: The best part was going out late, 11th off. I was on the range with that huge screen, and I kept seeing the leader board light up with "U.S." the whole way down. I found myself leaning on my club and looking at the board more than I was hitting balls. I'm like, "Holy s---, we're right in this."
Lawrie: I remember Mark and Sam [vice captain Torrance] were very adamant: Don't watch the board. They emphasized there was going to be bleeding early on. Just play your match. When I got on the course, I looked at the board on the third tee--you walk right toward it; you can't not look at it. I'd never seen so much red in my life.
Lehman: I made a 30-footer for birdie on 14 to go 4 up. The ball was tracking and I started following it -- when it went in, I jumped in the air and ran right to the next tee. The place was going absolutely bananas.
Hicks (Stewart's caddie): The abuse from the gallery on Colin was bad -- it was awful. Mostly during his preshot routine and walking. It was out of line, no question about it.
Parnevik: When they start screaming, "Shank it, you fat pig! ... " Every shot he took on Sunday, somebody was yelling at him to hit it in the bush.
Hicks: I'll tell you what -- this is how much Payne Stewart had changed: The Payne Stewart of the early '90s would have thought that was an edge, Monty catching all that abuse. He never would have thought to stop it. But he didn't want to beat Monty because Monty was upset over what was being said by the crowd. Payne was doing everything he could to keep the people in line.
Montgomerie: I'll always have great respect for Payne Stewart. I'd just holed a huge putt at the third for a halve after he'd hit it stiff. He must have been gutted walking to the fourth tee, and then for him to say to me before we hit, "Look, if there are any more problems, let me know, and I'll let the referees know, and we'll deal with it." I thought, "Wow!" I knew him, but I didn't know him like that. That meant a bunch to me, and then, sure enough, it happened on the fifth. Right on my backswing, somebody said something. So he went over to the people, and I think they ejected somebody.
A pivotal moment occurred when Woods and Coltart, playing in the fifth pairing, reached the ninth tee. Two down at the time, Coltart drove his ball into the rough. After a five-minute search, Coltart's ball was not found, dropping him to 3 down against Woods, who won the match on the 16th green.
Coltart: I have absolutely no doubt that I was being directed to a very strange place -- where people were pointing was almost like a rock face. If my ball had gone up there, it would've had to come back down, too, but they kept sending us farther and farther up the hill.
Ricci Roberts (Coltart's caddie): There were four or five marshals down there. We're on our hands and knees looking near this rock face. Even Prince Andrew was in there, helping us look for the ball. Eventually, they said, "Sorry, your five minutes are up." So I give [Coltart] another ball. He gets in the cart and heads back to the tee.
Coltart: Just as I got into the buggy, my coach [Tim Barter] saw these guys yelling, "Job done!" and high-fiving each other. So I got back to the tee and hit another drive, and lo and behold, the first ball appears.
Roberts: A marshal was standing on it, no question about that. He was right behind me. He goes, "Uh, there's a ball here. Titleist with a blue dot." He was standing on it the whole time. The ball's 10 or 15 feet off the fairway, at least 15 yards from where we'd been looking. The ball is imbedded and there's a footprint around the ball, so you tell me.
__"A marshal was standing on it (Coltart's ball), no question about that." -- Caddie Ricci Roberts __ Coltart: I'm not sure someone stood on it, but it was half under the ground just off the fairway, maybe 20 yards from where they sent us to look. It's hard to lose a ball in a tournament, never mind a Ryder Cup, but it happened. Tiger didn't say anything -- I'm not sure he was aware of what happened. He was a long way up ahead at his own ball.
The United States swept the first six matches to take a 12-10 lead. Pate would then knock off Miguel Angel Jimenez and Furyk would beat Sergio Garcia, leaving the U.S. just a half-point short of reclaiming the Cup, but three of the final four matches involved players who had struggled the most -- Leonard, against Jose Maria Olazabal; O'Meara, facing Padraig Harrington; and Stewart, versus Montgomerie. Maggert was way behind against Lawrie. If the U.S. was going to win, somebody had to produce.
Love: Ben came on the radio and said to go catch Justin on 10. I figured Justin was left for dead [Leonard was about to go 4 down], but they said, "No, go with him, because you're the only guy who can walk with him." They didn't want Justin to be out there all by himself getting crushed, getting beat and picked on. He'd been having a bad day all week.
Bob Riefke (Leonard's caddie): He was so dejected. I'm doing everything I possibly can to keep him focused. We'd been paired with Olazabal before. I kept telling Justin, it's only going to take one shot to rattle this guy -- I knew Olazabal's tendencies. The first time Justin put pressure on him is when Olazabal started hitting it sideways off the tee.
Olazabal: I opened the door a little. I missed a short putt on 11, then I lost the next two holes.
Leonard: I finally hit a couple of decent shots and made a six-footer for par on 12. I didn't do anything stupid -- I played my game and won a hole. Then I hit a good drive on 13 and Jose hit a quick hook. All of a sudden, everything just flip-flopped. I was still 3 down, but I felt like I was in control.
Lehman: When I got to him on 12, Justin had a really good look on his face. He had gotten himself together.
Hicks: Once Payne got back to even [on 15] and saw what Justin had done, we thought it was gonna be his match or ours. To be honest, I'm glad it wasn't us. I'm not saying Payne couldn't have handled it, but it's just not a situation you want to get into. Especially playing Montgomerie.
Tracey Stewart: Payne hadn't played much. He took a lot of time off. We did a bunch of stuff with the family, which looking back now was the greatest thing we could have done. I know he started getting prepared a couple of weeks before, but after all that time off, he didn't do his best. That frustrated him.
O'Meara: I didn't start calculating things out until about 16. I realized it was my match or Justin's, and that if I could finish Padraig off, we'd win. I was nervous. No question about that.
Harrington: At that point, Mark James appeared. His face was a picture. Mark isn't the cheeriest of people in the best of times, but he looked really down. It brought home how much pressure there was and how uncomfortable a feeling it was. Yet I wanted to be there -- it was like wanting to go to the dentist.
Love: When Ollie snapped it in the trees on 13, I told Justin, "You know what? You're going to win it. You're going to beat this guy." Then Justin putted before Ollie on the next hole and made it for birdie. When he turned around and looked at us, his eyes were so big, I said, "There's no way Ollie is going to make his after that." He missed, and you could tell Justin finally started believing.
Lehman: Then Justin made this [35-foot] bomb on 15 that broke maybe three feet right to left. Just swished it.
Olazabal: It was a huge putt, a very long putt. That helped him believe he could win the match. He never gave up.
Leonard: That was a better putt than 17, because it was a putt you think about making. It wasn't some lag putt that just happens to go in. It wasn't the prayer that 17 was.
Leonard had pulled even with Olazabal after 15. O'Meara was all square with Harrington through 16, meaning the U.S. needed a half-point to clinch the Cup. Around The Country Club's 17th green, the tension had become almost unbearable, setting up the most memorable and controversial finish in Ryder Cup history.
Mark Rolfing (NBC analyst): Normally I walk to the green [as players hit their second shots]. I remember getting all the way to the green and Harrington was still at his ball. He had 114 yards, O'Meara 86. Then Harrington walked to the green and was checking out the cup. This took what seemed like forever. I knew it would create an unhealthy atmosphere on the green. I could hear people talking, getting lathered up. You could see O'Meara pacing. Harrington finally played the shot. I don't know what the elapsed time was, but it seemed incredibly long to me.
__"Mark (O'Meara) did the right thing. Actually, he did more than the right thing. He's a gentleman." -- Padraig Harrington __ Harrington: On 14, Mark hit a lovely pitch just past the flag that skidded over the green. That was the first time all week a ball had reacted like that. The greens had become crusty on the final day in the afternoon heat. When I got to 17, I was wondering if that green was the same way. I wasn't pacing yardage at all. I went up to have a look at the surface. I couldn't live with myself if I didn't check the condition of the green. If that cost me the match, what would I think afterward? That I was too lazy to walk 90 yards?
O'Meara: I thought I showed good sportsmanship. He took forever to hit. I didn't make a big issue out of it, but I hit a poor second shot, ended up short of the green and pitched it up to about six feet. I made the six-footer and he had about a three-footer left for par. There was a lot of commotion going on. People running, everybody's excited about me making mine. But it wasn't fair to him with all that stuff going on around us. I didn't want it to be decided that way. So I gave him his putt.
Harrington: It was 18 inches. I was gonna hole it. That's the way I look at it. I was surprised, and it was generous of Mark to give it to me under the circumstances, but on any other day, you're going to tell the guy to pick it up.
Coltart: I was at the side of the green when Mark holed the putt for 4. As Padraig moved toward his ball, Tom Lehman ran onto the green with a woman following him. Then she seemed to realize what she was doing and left. Mark gave Padraig his putt, which was the right thing to do, given what Tom had just done. He got to within 10 feet of Padraig. I couldn't believe what I was seeing.
Lehman: I didn't jump on the green. My wife and I were sitting off to the side of the green toward the front -- I thought Mark had conceded Harrington's putt. When Mark made his, I thought the hole was finished and we were moving on [to the 18th tee]. Then I saw Harrington re-mark his ball and I'm like, "Whoa!" That was definitely an "oops."
O'Meara: I told Padraig we'll go to the 18th hole and decide it that way.
Harrington: Mark did the right thing. Actually, he did more than the right thing. He's a gentleman.
Leonard: We got to 17 all square, and I hit probably my best drive all week, down there a pretty good ways. Olazabal hit his left, which was no problem. I'm walking off the tee and I'm thinking, "If I win this hole, it's over." It was about that time I found out Mark had lost 18. I hit a wedge in, but the harder you hit it, the more spin comes off it, and mine came racing back. Ollie hits a good shot, maybe 10 feet inside of mine.
Riefke (Leonard's caddie): Seventeen was a putt you knew you were going to have at some point during the week, about 45 feet up the hill. We hit it maybe 25 times in the practice rounds. It's pretty straight at the beginning, then it goes right once it gets on the ridge, then it's pretty fast once it gets on top. He asked me to hold the flag. After we got done reading the putt, I was thinking it was a perfect read. I walked to the side of the green -- I forgot he told me to hold the flag.
Leonard: I'm trying to two-putt, trying to get it close enough so I don't have to do anything. If there's a two-foot bucket around the hole, my goal is to get it in that bucket. When it got on top of the hill and started moving, I knew it was pretty good. I thought I hit it a little too hard, but three or four feet from the hole, I said, "Unless something goes crazy, this falls in." It was fun having an idea it was going in before it got to the hole.
Sutton: The main thing I remember is, when the putt got to the top of the hill, I thought, "My God, hit the hole," because it was going eight feet past.
Olazabal: At one stage I was thinking, OK, he's got a good line, but if it doesn't go in, he's going to have a tricky putt coming back. When I saw the ball going in, the whole picture changed.
Love: I was at the front of the green, because I'd been following Justin; everybody else was behind the green. I remember walking past Mario [Lemieux] and [Michael] Jordan, who were inside the ropes. I looked at them and said, "I can't talk to you guys." They were laughing. I was watching Justin more than the ball, and when he ran left, it sucked everybody else with him.
Mickelson: I turned and grabbed [wife] Amy's face and said, "We won!" I felt a little awkward about seeing guys go on the green. Fortunately it didn't last longer than a few seconds, but it did seem weird to celebrate a win when it wasn't exactly over yet.
Maggert: Lawrie and I had just walked onto the 15th green, and that roar came up. You could just see his face go from really focused to like, "I can't believe it."
Love: Justin ran straight to this TV guy [standing 25 feet left]. I'm like, "Hey, wait a minute! I've been out here since No. 10!" Then everybody came.
Leonard: The badge [the TV spotter] had on, I think it said "CLERGY." Something like that. Apparently it was a forgery. Apparently the guy has all kinds of badges -- NBA championships, that kind of stuff. But he had on a red shirt, and I was like a bull. Red shirt -- that's all I could see.
Love: It was the way he ran at the TV guy -- it kind of sucked everybody off the front of the green and everybody from the back. If he had walked straight to the hole, nobody would have gone on the top level. But he went left and everybody kind of went with him.
O'Meara: I was one of the last players to run down the side of the green, just off the edge of the fringe. I couldn't help but look over at Jose. He had this grin on his face, shaking his head, like, "I can't believe he just made that." Then I realized by his expression that it wasn't over, that we needed to get back.
Coltart: I was sitting beside Jimenez. When Justin holed the putt we couldn't believe what we were seeing. We tried to get guys off the green. It was like, What are you doing? The match is still alive. I remember Davis Love putting the flag down. What was he doing with the flag? It looked like he didn't realize what he'd done.
Lehman: We could use a mulligan there. It would have been nice to let Justin celebrate on his own. If we could do it over, obviously that's what should have happened.
Ken Brown: Ollie stepped away from his putt because of the noise from passing cars. He just couldn't get settled. If he'd holed his putt, I don't know what would have happened. Maybe we would have done the same thing and gotten carried away by the moment. What happened shouldn't have happened, but it did. They have apologized, and that's enough for me.
Parnevik: I had so many American friends who apologized to me for being Americans that day.
James: It's something that shouldn't have happened, and they pretty much agree. It's one of those things. The emotions were high. We all do things in our career we shouldn't do. You hold your hands up and say you're sorry.
Duval: I think it's obvious we were wrong. You have to go to the source, however, and Jose said it was wrong, shameful, unsportsmanlike, whatever, but he also said it had no bearing on the outcome of his putt whatsoever. Nobody stepped in his line. End of story.
Lehman: What I felt worst about was the fact that Jose Maria is one of the classiest guys in golf. It was disrespectful to him, even though it was unintentional. He's been too great a champion and has overcome too much to have to deal with that. Olazabal: It was that incident that somehow ... "spoiled" isn't the word. The same thing, the same putt, and the same emotions without people running on the green would have been the better finish.
Duval: A lot was made of it because it was the clincher, because 20 people were involved, but it wasn't any different from what occurred throughout the matches. We had an instance [Saturday] when Davis and I were playing Jesper and Sergio. Twelfth hole, Sergio was out of the hole, I was front of the green and Davis was in the bunker with an easy shot. Jesper pitched in from 30 or 40 yards, and Sergio started running around. We had to wait a minute or two before we could play. Same type of thing. There just weren't as many people involved.
The improbable U.S. victory sent a mass of humanity rumbling toward the clubhouse, where the celebration truly began. Far from being remembered as the biggest group of underachievers in Ryder Cup history, the U.S. team enjoyed its finest hour.
Ben Crenshaw: I grabbed my daughter Katherine and said, "Sweetheart, if we don't run, we're going to get trampled. Hang onto my hand as hard as you can." I mean, it was a stampede up there to the 18th green.
Furyk: We were hanging out around the 18th green, and after Payne conceded his match to Monty, the crowd started closing in on us, the green started getting smaller and smaller. Before you knew it, there was no green. It was just a million people. Got a little crowded there after a while.
Lehman: Then we wanted to go to the clubhouse. I remember somebody saying, "Guys, get up on the roof. Yeah, the roof!" They used that room up there for storage. So we climb over the boxes, crawl up on the ledge and slide out the window onto the balcony. It was just too perfect.
Pate: We run up to the attic and get on this balcony. We had about 20 people up there, and I thought it might cave in.
Brown: There were a lot of tears on our side. Some cried alone. Others did it together. NBC tried to get into our room. We sent them away with a flea in their ear.
Lawrie: A lot of players were crying. I really don't know why -- I certainly wasn't. Mark was very emotional. Sam. Sergio was one of the worst. That was one of things that amazed me the most that week -- and there were a lot of things that amazed me.
Maggert: It was kind of surreal. To stand up on the balcony of the locker room there and look out on the 18th fairway, to just see the mobs of people and everyone waving the flags -- you talk about getting naked. At that moment, it was 12 kids out here just having a good time.
*Back at the hotel, the party carried on deep into the night. The last 24 hours had unspooled an endless yarn of emotion, making a prophet of Crenshaw, turning a squad full of goats into American heroes. *
Julie Crenshaw: We cleared out all the furniture so we could dance. Tiger had gone back to his room to sleep. I told Steve Pate, "Get him up and get him out here. He ain't sleeping."
Pate: Joanna [Jagoda, Woods' girlfriend at the time] said, "I left the door unlocked. I was hoping somebody would go get him."
Pate: I went in the first time and he didn't get up. I went back five minutes later, and I guess he figured I wasn't going to give up, so he got out of bed.
Julie Crenshaw: So Steve brought him in and we were making him take shots. Tiger never takes a shot.
Lehman: Everybody's dancing and eating and having a few cocktails. I'm not sure who started the tequila shots, but it was Tabitha [Furyk's wife], Payne and myself, and we dragged Tracey into it. I don't drink much. I have a beer now and then. So it's like one shot. Then Tabitha said, "Come on, another one. Let's go." She was like that gal in "Raiders of the Lost Ark" who drank the big guy under the table.
Bill Rogers: I'll never forget Hal Sutton. He says, "I think all of you know I'm not a drinking man, but for this team, I'll do anything." And then he downed the shot of tequila. That got as loud a roar as anything on the golf course.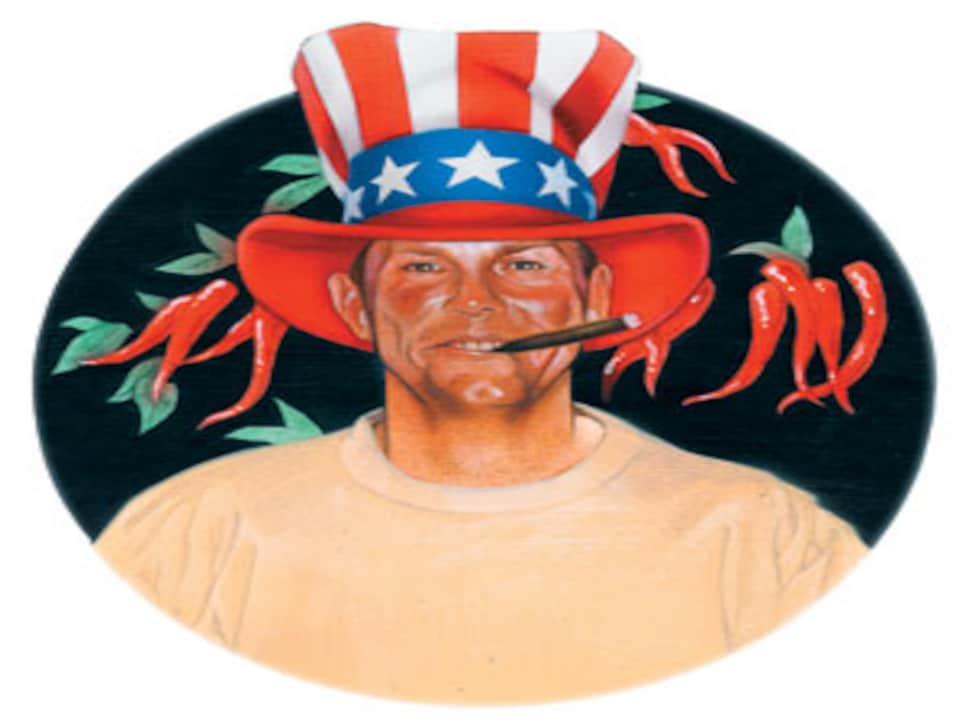 his Uncle Sam hat and chili-pepper pants.
Mickelson: Payne was in his American flag sweats and a wild T-shirt. He's got a cigar in his mouth, a beer in one hand and a glass of champagne in the other, and he's dancing on top of the piano. We have a picture of that in our house. That was the last time I saw him.
Pate: Tracey had to help Payne back to their room. Tabitha, Justin, Tracey and I were the last ones up.
Tracey Stewart: Payne couldn't keep his eyes open any longer. As I put him into bed, he said, "This completes my year."
Lehman: One shot of tequila, two shots, dancing, eating, three shots, more dancing. The cigars came out. Payne's on the piano bench, five shots, six shots. Who knows how many? I lost count.
Julie Crenshaw: Poor Tom Lehman, he was sick as a dog.
Sutton: Payne and I talked for a long time. He said, "We'll probably be chosen captains someday. You can rest assured you'll be one of my assistants. I said, "I'd be honored." He invited me to come up to his boat, then he said, "I've never ridden a horse. I want to come up to your place and ride a horse." I said, "We can take care of that." It was small talk about things Payne and I would never have considered doing before. Until this Ryder Cup, I never allowed myself to be as close to my teammates as I probably should have. That's one of the things I regret. For whatever reason, I didn't allow myself to be good friends with some of the guys out here. These are my friends. These are the people I spend the most time with. Life is short. I didn't think it was very short 20 years ago. I thought the whole world was in front of us.
Maggert: It was hard to go to sleep that night. Hard to wake up, get out of bed and go home. We're sitting at the airport -- there's always a sinking feeling after something like that. It was almost a depressing feeling, like "Gosh, it's over with." It was a pretty amazing thing. You may not see something like that for another 100 years.