The Loop
Just like most Americans, President Obama loses money on the golf course
Don't be surprised if Congressman Joe Courtney gets audited. That seems like the penalty one might get for costing President Obama money on the golf course.
Courtney, a Democratic representative from Connecticut, was recently playing with POTUS, as well as fellow congressmen John Yarmuth (Kentucky) and Ed Perlmutter (Colorado). The foursome recently teed it off at the Courses at Joint Base Andrews in Maryland.
Courtney was teamed with President Obama against Yarmuth and Perlmutter. According to the Washington Post, Yarmuth and Perlmutter won the match on the 15th hole, but Obama and Courtney pressed on the final three.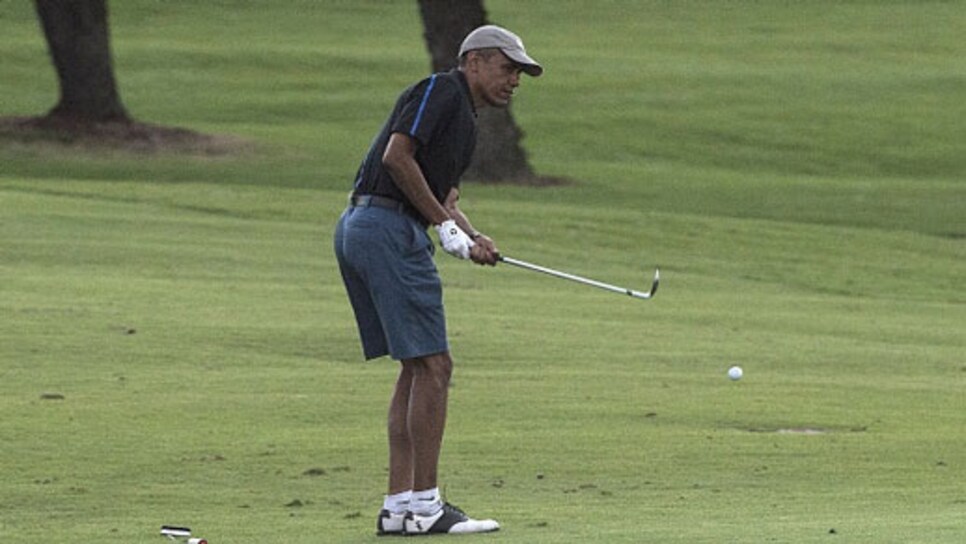 Which is how Courtney found himself over a knee-shaker on the 18th green, with a miss giving the game to Yarmuth and Perlmutter. His putt stayed on the lip, meaning Obama and Courtney had to cough up the cash.
Though President Obama has been bitten by the golf bug -- he's officially hit the links for 240 rounds in office -- this match was just the fifth time he has played with members of Congress, according to CBS White House correspondent Mark Knoller.
Yet, according to accounts from the three congressmen, lobbying was left in the parking lot.
"I just thought this should be a nice day of golf," Yarmuth recalls Obama saying. "I wasn't gonna get into business."
However, Courtney shouldn't expect any political favors from Obama. Not after letting his teammate down.