the hot spot
Who will be the winner of the south Florida golf boom?
162 holes, 13 big-name architects, all within a 10-mile radius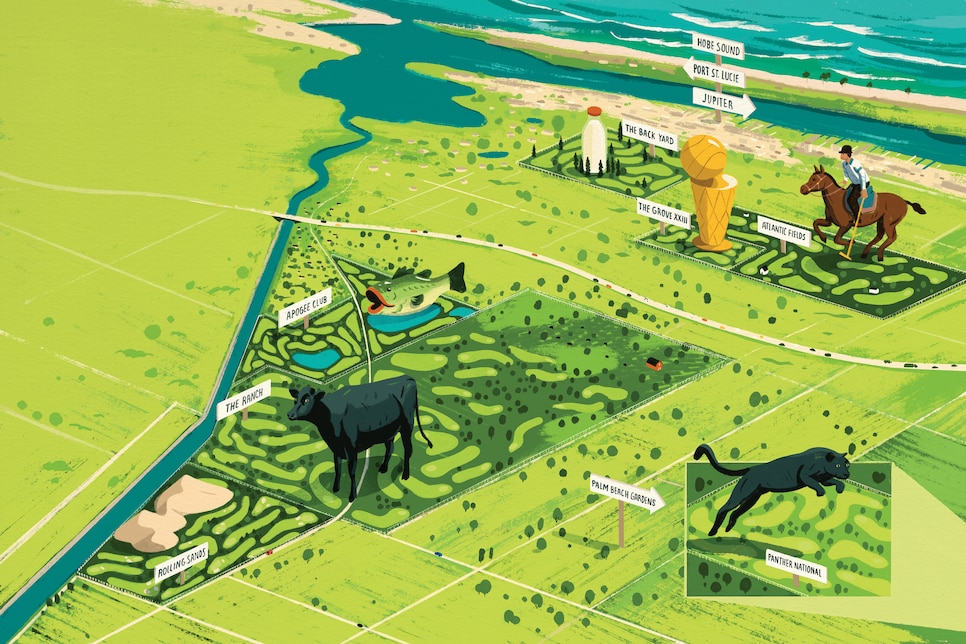 Illustration By: Ryan Johnson
Ken Bakst, the founder and developer of Friar's Head on Long Island, crouches into the driver's seat of a two-man Gator utility vehicle and cranks the engine. We're off to explore what will become The Ranch, his soon-to-be 36-hole golf club in Martin County, Florida. We drive for half a mile across barren pastureland and through a series of steel gates that prevent the wanderlust of the roughly 800 head of cattle that call the property home. Eventually we come to a section of land that looks mostly like what we've passed: flat, grassy and intersected with drainage ditches. A few pockets of trees break the horizon, but the only other elevations are dozens of seven-foot-high white stakes that represent the tees, fairways and greens of what will become the East and West courses.
Little here suggests the makings of a national-level golf club: no heaving sand dunes, no sunset marsh vistas, no forests of elevated tees and cascading creeks. It's difficult to envision an architecturally compelling design existing on this site, but Bakst has been through this before. Large portions of Friar's Head, now ranked 15th on America's 100 Greatest Golf Courses, were dead flat and had to be transformed into a riveting tapestry of sand, bumps, fescues and frolicking turf, much of the work done by Dave Axland and Rod Whitman, who helped construct the course for architects Bill Coore and Ben Crenshaw in the early 2000s. Axland, Whitman and partner Keith Cutten will build The Ranch. As Bakst sees it, this property has the potential to achieve something greater than its countenance suggests.
Some of the most esteemed players in investment, real estate and golf development—Bakst at The Ranch; Michael Pascucci at The Apogee Club with partner Stephen Ross; Discovery Land Company with Atlantic Fields; Chris Shumway's (investor and founder of Shumway Capital) Rolling Sands; and Dominik Senn's Panther National (15 miles south in Palm Beach Gardens)—are sensing something similar, namely an opportunity to capitalize on the surging demand for private golf in this section of Florida. Across a 10-mile stretch of Martin County, west of the sleepy beach town of Hobe Sound and just north of Jupiter, these investors are building or preparing to build eight private upscale courses at five properties. Another club, McArthur, has added a second course that will open this fall. The plans total 162 new golf holes, not counting several short par-3 and regulation-length practice courses.
What exactly is happening in Martin County, and to a lesser extent adjacent Palm Beach County, that's so attractive to golf's highest rollers and prognosticators? For 15 years, almost all new course construction has been driven not by need or location but rather by the discovery of gorgeous golf sites like Streamsong and Sand Valley. A lot of squinting is required to picture a similar level of destination-worthy golf in Hobe Sound. As one architect familiar with the properties puts it, "These people are investing tens of millions of dollars, and none of the sites are any good."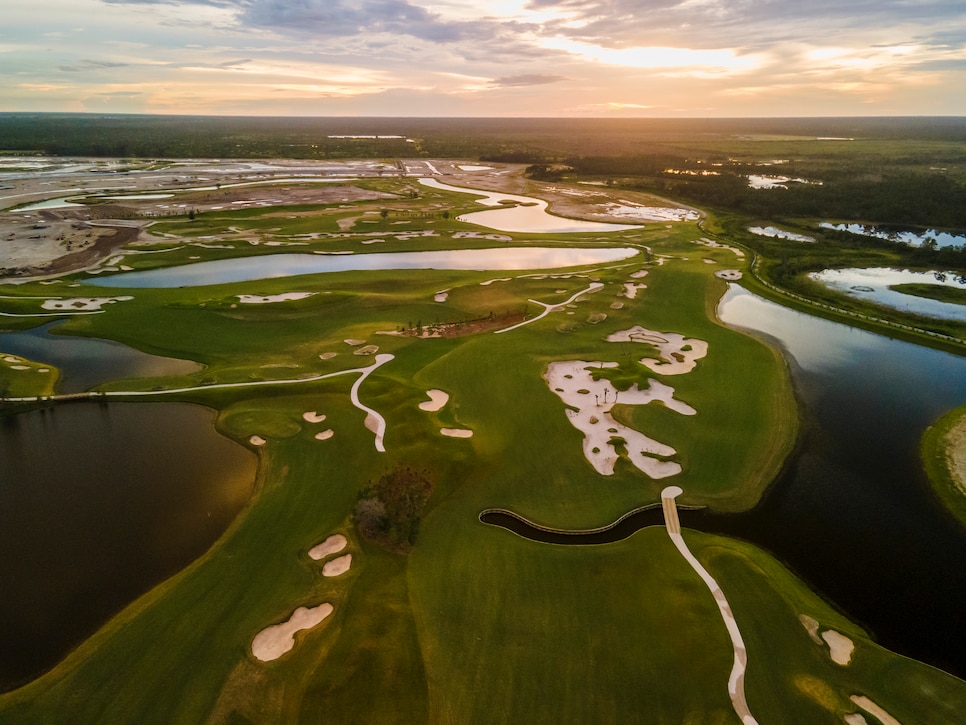 OPENING IN 2023 Panther National is built on one of Palm Beach County's last pieces of usable golf land. Photograph by Jensen Larson
Imagination, engineering and money will be required to transcend the limitations of these flat parcels that are largely indistinguishable from the terrain on which hundreds of other south Florida courses have been built. Tabbed with making that happen are some of the biggest architects in the profession. In addition to Whitman, Axland and Cutten are Bill Coore and Ben Crenshaw; Tom Doak; Gil Hanse and Jim Wagner; Tom Fazio; Tommy Fazio and Mike Davis; Kyle Phillips; and Nicklaus Design.
It amounts to what may be the biggest architectural bake-off in the history of the profession, with the generation's top designers working virtually simultaneously within miles of each other, none with a clear topographical advantage or any relative budget constraint. Similar architectural flurries happened in locales like Westchester County (New York), Los Angeles and Chicago in the 1910s and 1920s, but those were slower and the result of population growth and city expansion. It's also different from contemporary epicenters like Bandon Dunes or Kiawah Island that are each owned or operated by single entities. The Martin County properties are starting independently from nearly the same point, all blank canvases with only minor variations. Each architect and team will be attempting to not just produce a style of course that outclasses the typical Florida golf stereotype but outclasses each other. By sometime in late 2025, all nine courses may be complete, each product primed for consumption and scrutiny. It's like asking Monet, Degas, Renoir and Manet to each paint a riverside garden using only four colors of paint.
COVID-19 squeezed the south Florida golf market hard as seasonal residents remained in their winter homes and others migrated south. Clubs that only a year before were searching for ways to reach capacity suddenly had difficulty fitting everyone onto their courses. Rounds skyrocketed, club rosters filled and waiting lists developed almost everywhere. As remote productivity removed the necessity of going into offices, families relocated to Florida permanently for the weather, lifestyle and absence of a state income tax. But it hasn't been easy to play golf.
Another architect put it this way: There are a lot of wealthy people moving to Florida, "and none of them can get into Seminole."
IMAGINATION, MONEY AND ENGINEERING WILL BE REQUIRED TO TRANSCEND THE LIMITATIONS OF THESE INDISTINGUISHABLE PARCELS OF LAND.
"I found myself spending almost three months in Florida during the winter, which would not have been the situation had COVID not happened," says Renee Noto, 57, a Connecticut-based investment manager who joined The Apogee Club, a 54-hole retreat being built by Pascucci and Ross, the developer and owner of the Miami Dolphins. "That's true for most people who have moved down there. There are so many younger people moving to Florida, but it's gotten super expensive, and there's no club that you can join."
The developers see Martin County as a Goldilocks zone, a perfect, habitable environment that combines available land, proximity to population centers and the attraction of West Palm Beach, particularly the Palm Beach International Airport 30 minutes south. Almost no desirable or available parcels of land remain in Palm Beach County or farther south, and properties to the north, also scarce, risked cutting off buyers and prospective members from the West Palm Beach market, one of the southeast's hottest hubs for finance and business. Martin County's historically slowgrowth zoning outlook has preserved most of its land as farms and ranches rather than the malls and gated communities that populate its neighbors.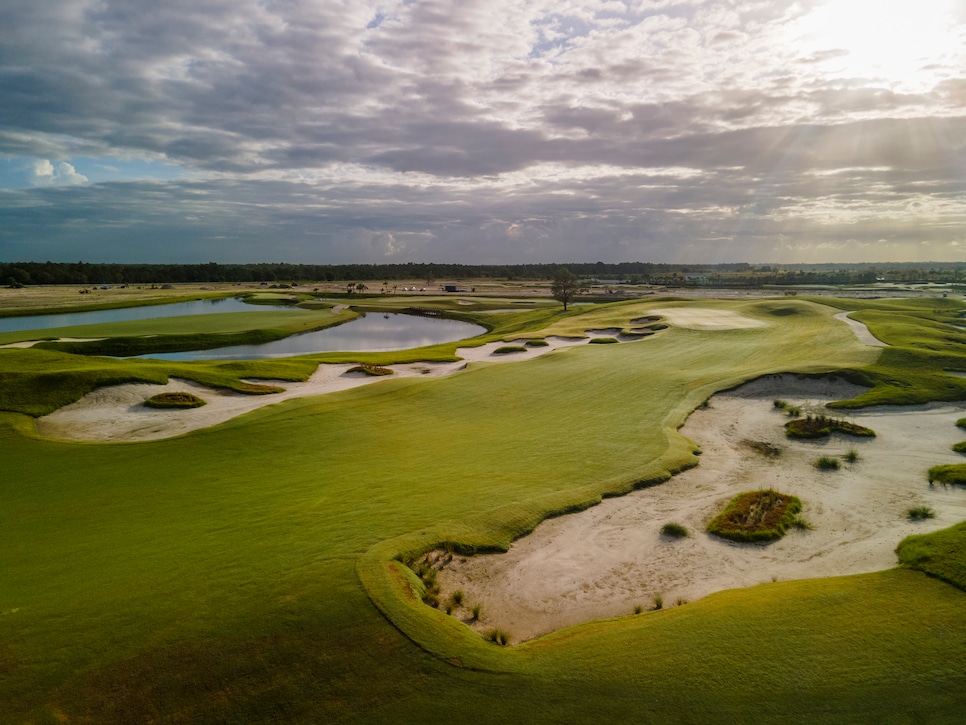 TAKING SHAPE Millions of cubic yards of sand bolster Panther National's rolling ridgelines. Photograph by Jensen Larson
The bet is that south Florida's demographic gains aren't going to retract. "People have been flocking to Florida for more than 130 years," Bakst says. "Many work all their lives to retire here, and more and more young people are now choosing to live in Florida, which keeps growing even during down-turning economic cycles. I don't see that changing."
Pascucci, who built Sebonack on Long Island and was a founding partner of The Bear's Club in Jupiter, says he had no interest in building another course. Then the golf squeeze—and influx of money and new players—became too intense to ignore. "I thought, if I can find the right land to do it, I'm going to build three golf courses," he says.
The site Pascucci found is 1,220 acres with 5,000 feet of frontage along the St. Lucie Canal that was used by the previous owner for hunting with his kennel dogs. The idea, Pascucci says, "was to do everything you'd ever want in golf in one location, where you never had to wait to play, had three courses that aren't like your typical flat Florida courses, that anyone from children to tour pros can enjoy, and to not plan any homes."
'THERE ARE SO MANY YOUNGER PEOPLE MOVING TO FLORIDA, BUT IT'S GOTTEN SUPER EXPENSIVE, AND THERE'S NO CLUB THAT YOU CAN JOIN.'
At initial membership prices of $475,000 to $650,000, Apogee will consist of two Hart Howerton-designed clubhouses, short par-3 courses, more than 300 rooms in a variety of luxury villas, a heliport and a collection of restaurants, courts and pools.
"To be able to go down to Florida three or four times a year and stay in beautiful cottages rather than having to buy a home, and then to have three golf courses, that was very attractive," Noto says.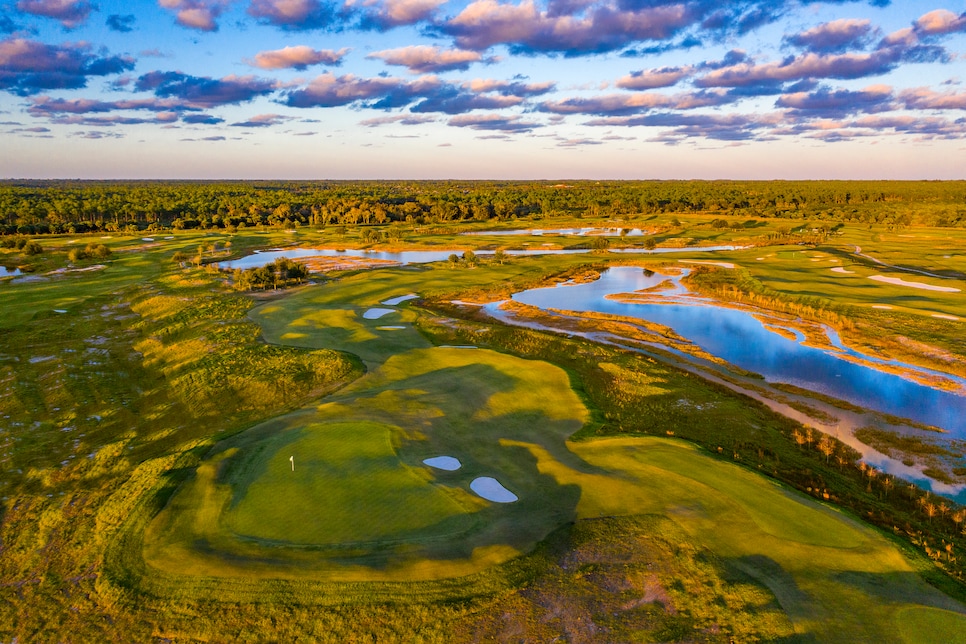 THE O.G. Michael Jordan's The Grove XXIII opened in 2019 and was the first course to show the untapped potential of Martin County. Photograph by Larry Lambrecht
LC Lambrecht
Architects Hanse and Wagner, who recently completed construction of The Park, a popular new public course in West Palm Beach, are finishing Apogee's West Course full of playful greens, multiple options off the tee and an attractive blend of oaks, pines and palms over a 500-acre parcel next to the canal. The South course, designed by Tommy Fazio and Mike Davis, the former chief executive of the USGA, is something different. Industrial excavators are digging 15 to 20 feet into the earth around the perimeter to create 160 acres of bass lakes and four million cubic yards of material that will become tall dune ridges that move holes up, down and over. It is scheduled to open in the fall of 2024, and the Kyle Phillips-designed North Course, a more subtle foray through tree-lined corridors, will come online in 2025.
Unlike the other golf developments, McArthur, a low-key club next door to Medalist off U.S. 1, isn't seeking new members but more room for those it already has. Its new course is built in the woods and marshes just beyond its 2002 Tom Fazio-Nick Price design. The second course, appropriately called "The Back Yard" (the original course becomes "The Front Yard"), circles through the kind of flat, swampy terrain Coore and Crenshaw would have passed on 15 or 20 years ago. However, at this point in their careers, the challenge of coming up with hole concepts out of whole cloth, what Coore calls "theoretical" golf with few restrictions, enticed them to sign on.
The Back Yard sets the architectural bar for the new Hobe Sound courses. The riveting design eclipses the common environment with rippling, effervescent ground contours that taper out into sandy areas and wetlands. Some greens are set low amid pockets of dunes, and others are elevated sharply above bunkers and mown grass hollows, setting up recovery dilemmas that make Pinehurst No. 2 sit up straight. As a collection, the green complexes are some of the most varied and expressionistic Coore and Crenshaw and their associates have crafted, particularly the saucer-like par-3 fifth green peeking out from behind a steep diagonal berm, the punchbowl eighth recalling Bel-Air's 10th and the 17th that appears to float and transmogrify.
Credit for breaking the ice in Martin County goes to Michael Jordan, who in 2017 purchased a 220-acre plot north of Bridge Road to build his own course, The Grove XXIII, so he could have the luxury of playing as much golf as he wanted in large groups. The Grove opened in 2019 and now has a neighbor, Atlantic Fields, the newest development from Mike Meldman's Discovery Land Company, its first in Florida. Built across 1,500 acres of nondescript land south and east of The Grove, the development will consist of 317 low-density homesites ranging from $6 million to $15 million. Membership opportunities are extended to property owners at an additional cost of $200,000.
Tom Fazio, who has put four previous Discovery Land Co. courses on the current 100 and Second 100 Greatest ranking, will design the course. To illustrate the maneuvers necessary to convert sites like this into enclaves worthy of multimillion-dollar investment, about seven million cubic yards of fill will be mined from 84 acres of lakes to produce the 30- to 40-foot elevation differentials that the homes will sit on. It's believed to be the largest land move in terms of volume that Discovery has undertaken. Atlantic Fields' market is not just premium home buyers, golfers and nature lovers (it borders Atlantic Ridge Preserve State Park), but also the equestrian set who gravitate to the Wellington area 45 miles south. Dan O'Callaghan, Discovery's east coast director of sales, describes interest as "extremely high."
"I don't think anybody saw what was going to happen in Florida," he says, noting the company had been exploring opportunities in the state before the pandemic. "The timing ended up being better than anyone could have expected." An innovative 10-hole short course with 37 teeing options will open by year's end, with the Fazio course expected to break ground shortly thereafter.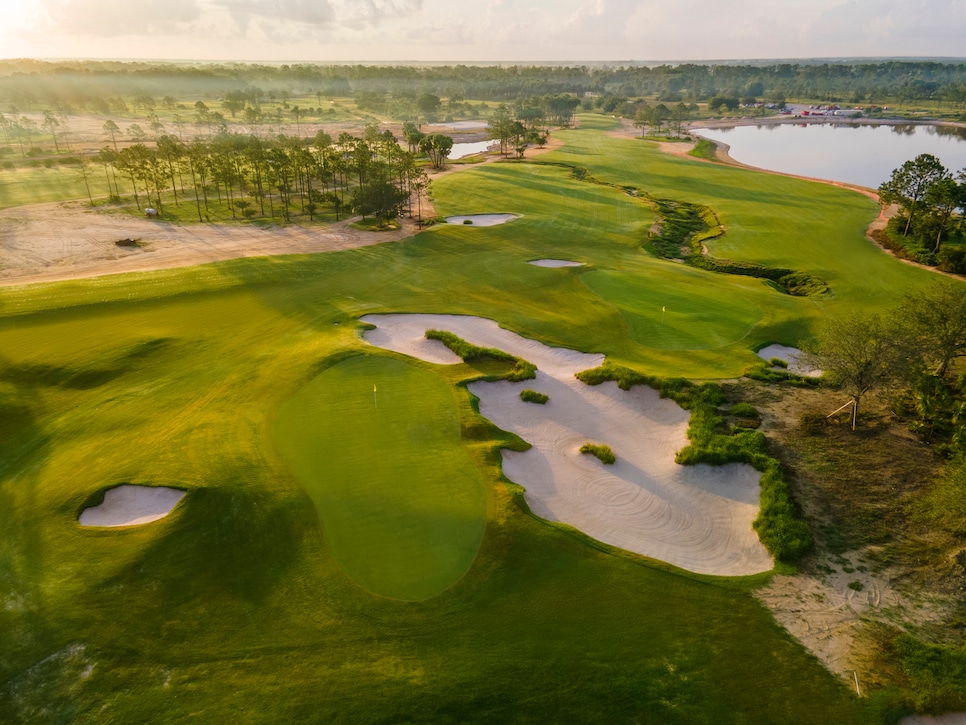 OPENING IN 2023 The playful shapes of Apogee's West Course add intrigue to Jensen Larson
Less is known about the plans for Rolling Sands, on the western border of The Ranch. According to the site plan permit, the 239-acre parcel will have a clubhouse, practice and maintenance facilities, a Tom Doak-designed 18-hole course and 20 acres zoned for a residential lot, presumably for owner Chris Shumway. This golf-only outpost may appeal most to hardcore, multiclub architecture enthusiasts and fans of Doak. The north border of the long, narrow property runs along the St. Lucie Canal, and a highway forms the south boundary. Significant alteration will be required to transform the exposed former agricultural land into something as evocative as "rolling sands"—and to shield it from the road.
Though not located in Martin County, Panther National shares many of the same traits as the Hobe Sound projects. The development comprises 218 modernist Max Strang-designed estates ranging from $4 million to $15 million, a lifestyle club and spa, fine dining, the centralized championship course and a nine-hole short course. The land borders a 2,400-acre nature preserve, and the target members are a younger, active, professional demographic.
Panther National may be the last course Jack Nicklaus, 83, is heavily involved in designing, but he has been an active on-site presence since ground was broken in early 2022 (the course opens this November). His co-designer, Justin Thomas, was brought on to add perspective on modern, elite-level golf. At more than 7,800 yards it will be bearish enough to challenge even Thomas and his peers. A series of man-made lakes come into play (there are two island greens), and more than three million cubic yards of sand was molded to create 40-foot elevation changes and ridgelines, particularly on the second nine.
"There's nothing else like it in Palm Beach, with the separate par-3 course, the putting course, and then the elevation changes. When I saw that, I thought, Whoa, this is something I've been looking for," says Eric Glasband, an early joiner who added Panther National to his membership at a nearby club. "They got me when they said to me, 'If you hit the left side of this fairway, you'll hit the speed slot.' I've never heard 'speed slot' in Florida before!"
The community is the vision of Dominik Senn, a former professional alpine skier from Switzerland who owns a sports marketing agency that represents professional athletes, including numerous PGA Tour players. When he relocated his business from London to Boca Raton seven years ago, he observed that the homes and clubhouses of most clubs in south Florida looked dated and repetitive. "I thought, There must be a market for a newer version of The Bear's Club," he says. "We should build a modern version that blends the best from Switzerland with the best of south Florida." He began looking for properties in south Florida and kept moving north, at one point expressing interest in The Grove XXIII site. Eventually he was able to secure just under 400 acres west of Palm Beach Gardens.
'THEY GOT ME WHEN THEY SAID, "IF YOU HIT THE LEFT SIDE OF THIS FAIRWAY, YOU'LL HIT THE SPEED SLOT." I'VE NEVER HEARD "SPEED SLOT" IN FLORIDA BEFORE.'
"This new generation of players, they travel and visit five-star hotels, they enjoy modern architecture and service and have a different view on what they like," Senn says. "These are high-demand people who are high performers in their professional fields who like to have the best of the best." That perspective seems on point: More than $270 million in real estate sales had been recorded as of mid-2023, and the $400,000 memberships, which are by invitation for non-homeowners, are going fast.
If nothing else, these projects will give this thin slice of Florida arguably the most elaborate collection of practice spaces in the United States. Panther National's performance center is designed specifically for the needs of tour players with TifEagle-grassed target greens and narrow U.S. Open-style rough-lined fairways on the range. Apogee features a 50-acre performance and teaching center with a par-3 course, Himalayas putting green and 270-degree hitting zone. Atlantic Fields will have three practice ranges equipped with TrackMan launch monitors at each station. At The Ranch, Bakst, the 1997 U.S. Mid-Amateur champion, can devote an incomparable 175 acres to its practice facility on a property that's nearly 4,000 acres, or more than six square miles. It includes a 360-degree driving range, a practice putting green nearly as large as the range, a 12-hole par-3 course and a regulation-length 10-hole practice course.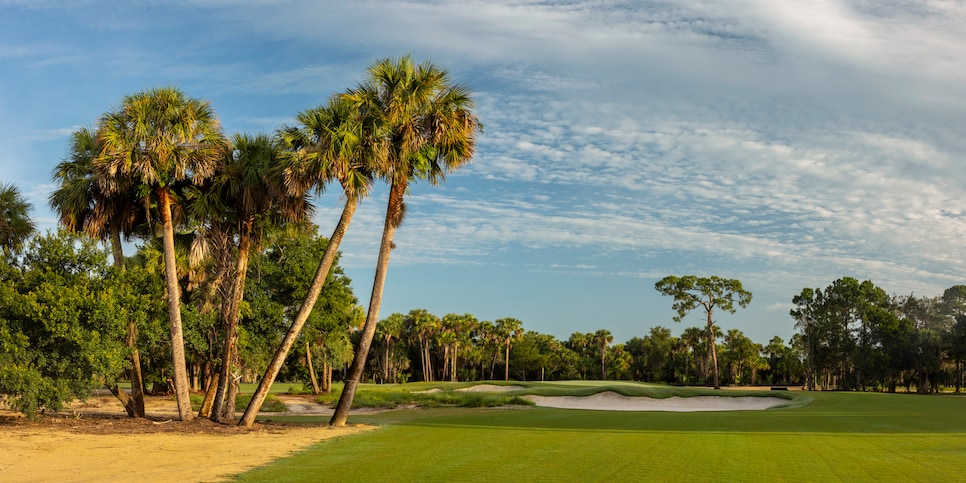 LOW FLOW Hanse and Wagner's Apogee course slithers through pines, palms and mature oaks. Photograph by Jensen Larson
The architectural and developmental wattage being applied to these sites represents an incandescent, nearly blinding new epoch in Florida, recalibrating the possibilities of golf in the state. However, such an influx of premium golf raises the question of whether this market or any can sustain nine new courses opening over a 24-month period. Will they thrive or cannibalize each other? Is this too much inventory too fast?
SUCH A RAPID INFLUX OF PREMIUM GOLF RAISES THE QUESTION OF WHETHER A MARKET CAN SUSTAIN NINE NEW COURSE OPENINGS OVER 24 MONTHS.
O'Callaghan, of Atlantic Fields, is encouraged by the growth. "We see it as a very synchronous relationship," he says. "It wouldn't surprise me if there are many crossover members, nor would it surprise me if some of the other members purchase real estate with us."
"Golfers travel to the Monterey Peninsula because it has some of the best golf courses in the world like Pebble Beach and Cypress Point in a compressed area," Bakst says. "The same is true for eastern Long Island—people come from around the world to play National, Shinnecock, Maidstone, Friar's Head and the other great courses. I believe that's what is happening here in Hobe Sound and Jupiter. People are going to travel here to play all of these great courses, both new and existing."