Jungle Bird
'Jungle Bird' returns to Olympic Club, where he infamously (and weirdly) interrupted Webb Simpson's trophy ceremony in 2012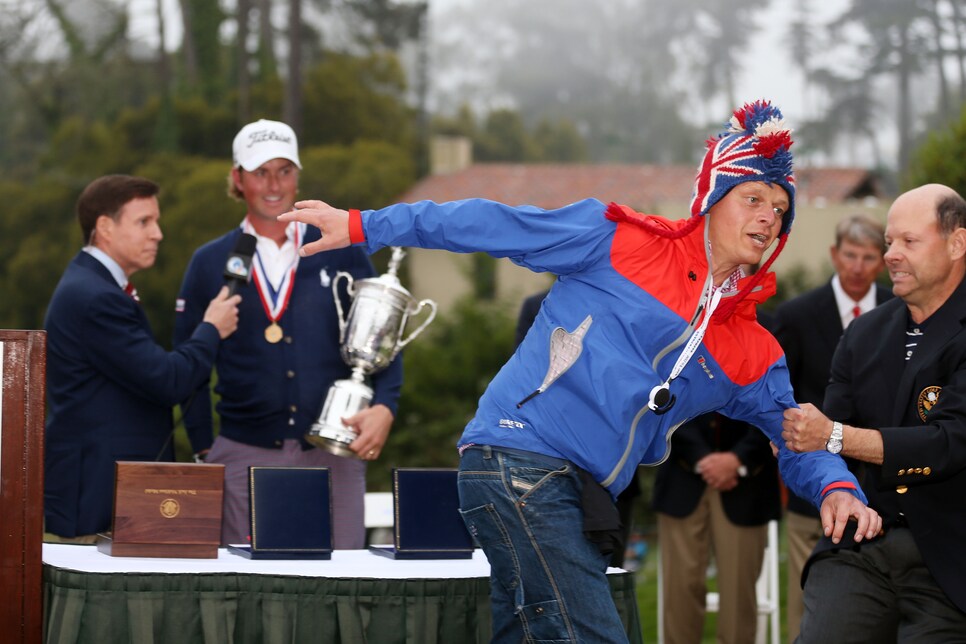 The last time Olympic Club hosted a major championship was back in 2012, when Webb Simpson—sporting a very 2012 cardigan—won the U.S. Open. During his trophy ceremony, a man wearing a knit cap with the Union Jack on it interrupted proceedings to make bird noises, which he later says was designed to protest deforestation. Mike Davis of the USGA sprung into action quite impressively, aggressively yanking Jungle Bird (whose real name is Andrew Dudley) off-screen and getting the show back on the road. It was a truly odd and sort of hilarious moment that lived on in internet infamy.
Major championship golf is back at Olympic Club this week for the U.S. Women's Open…and so is Jungle Bird. No, seriously.
Dudley tweeted a selfie from behind the Lake Course's 18th green on Sunday, showing himself in a disappointingly normal outfit: button-down shirt, vest, baseball cap and, most notably, no bird hat. The strangest part? He thanked both the Olympic Club and USGA, which would seem to suggest he was invited to watch the action unfold.
Kudos to the USGA for not holding a grudge and letting bygones be bygones. But of course, we won't know whether the decision to allow Jungle Bird on the grounds was a good one until that trophy ceremony. Something tells us someone will have their eyes locked on Mr. Dudley during that period.