News
June is Women's Golf Month
Thinking about picking up golf? Or perhaps wondering if it's time to get back to the game after giving it up a few years ago? Then this is the month to make your move. June is American Express Women's Golf Month, and for the sixth year in a row, some 1200-plus golf facilities across the country are offering women golfers free or discounted clinics, lessons, playing experiences and scrambles.
This year, the program is focused on introducing and reintroducing women who don't play to the game, and on getting women who play to bring a friend who doesn't to the golf course. To accommodate those who live in the warmer parts of the country, the program has been expanded to run all year, but June is still the official Women's Golf Month.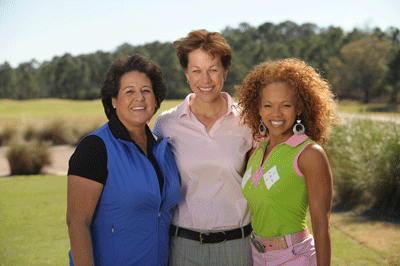 Like last year, the official spokespeople for the occasion are Nancy Lopez, Suzy Whaley and Donna Richardson Joyner, and sponsors include American Express, the PGA of America, the LPGA, the NGCOA and the GCSAA. To find a participating golf facility near you, go to this link and type in your home state (if you skip entering a city name, you'll be given a lot more choices).