News
Judy Rankin to Golf Channel?
During a telephone press conference last Friday, as Golf Channel's Dan Higgins launched into a detailed description of the plans for the live coverage of next week's Solheim Cup, he said: "Rich Lerner will assist with play-by-play when he is not conducting interviews. And joining him as analyst in the booth will be Judy Rankin. She'll be making her Golf Channel debut with us."
The press conference was mainly a pre-tournament interview with Dottie Pepper, lead analyst for Golf Channel's LPGA Tour coverage, but it was the Rankin news that made me sit up. If Judy Rankin, LPGA Hall-of-Famer and arguably the sharpest television golf analyst under the sun -- male or female -- is coming to Golf Channel full-time, it would be the best thing to happen to women's golf in a long time.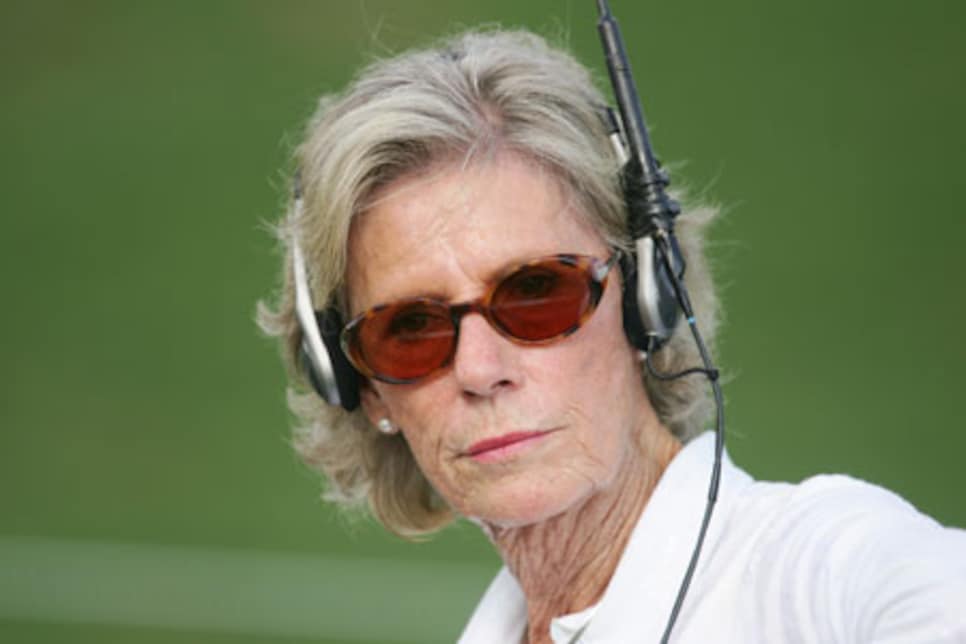 Ever since the 28-time LPGA winner hung up her spikes and became a golf broadcaster in the mid 80s, her employer has been ABC/ESPN. She covers both LPGA and PGA Tour events and has earned a reputation for being the most right-on-the-money, cut-to-the-chase voice in the game. Up until 2009, ESPN covered its fair share of women's golf, which meant that LPGA fans got a good dose of Rankin throughout the season.
However, last February, the LPGA and Golf Channel jointly announced that GC will take over as the tour's official cable host in 2010. So if you want to watch women's golf on TV over the next 10 years, you have to tune in to GC. For some fans, that news was met with mixed emotions. Having an exclusive home for the LPGA Tour is a good thing. Watching women's golf without Rankin in the booth or on the course, not so good. With all due respect to Val Skinner and Beth Daniel, who alongside the excellent Pepper do much of the GC LPGA coverage right now, they don't hold a candle to the no-nonsense Texan.
But Rankin was an ABC/ESPN girl. As those networks stepped down their golf coverage over the last 12 months, and we saw less and less of the 64-year-old, it was natural to assume that she would soon walk off into the sunset and retire.
Until Higgins's statement last Friday.
Does Rankin's participation in the upcoming Solheim Cup coverage mean she's signing with Golf Channel? According to Tom Stathakes, GC's Senior VP of programming, production and operations, that's a premature question. "She's doing the Solheim Cup for us and then we'll see," he said Tuesday. "Would we like to use her going forward if we can reach an agreement with folks? Surely. We would very much like to use her in our LPGA coverage next year, there's no question about that. We'd be lucky to get her for PGA coverage, let alone LPGA coverage. She can certainly do both."
Indeed she can. And hopefully she's is up for it. Because, as Stathakes put it, "Judy brings real credibility to our LPGA coverage along with Dottie Pepper. It doesn't get better than that [combination]."
--Stina Sternberg (Photo by Scott Halleran, Getty Images)