Interview
J.T. Poston talks about his equipment, the personal item he keeps in his bag and playing the Open for the first time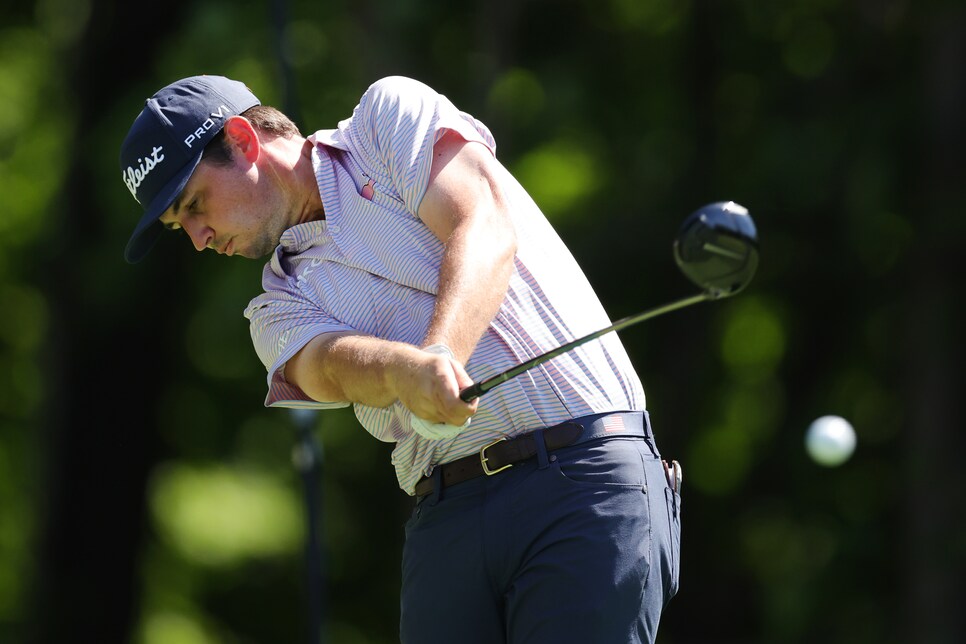 One of the hottest players in golf is J.T. Poston, having finished T-2 in the Travelers Championship and following that up with a victory in the John Deere Classic, shooting a combined 38 under par over the two events. Golf Digest equipment editor E. Michael Johnson caught up with Poston to talk about his Titleist equipment, why he keeps a broken divot repair tool in his bag and how he plans to balance his excitement at playing his first Open Championship with trying to be competitive.
Some immediate success with the new TSR3 driver you put in play at the Travelers. What do you like about it from a performance standpoint and are you typically able to transition into a new club that easily?
I loved it right away. Talking about transition, sometimes it can be more difficult depending on what club you're talking about. The driver was an easy one. When I popped the head onto the shaft, I noticed it looked very similar to the TSi3 I was playing. I'm very much a feel player so how it looks, sounds and feels is important and it checked all three of those boxes. After a few hits I noticed my ball speed was up a couple miles per hour so all of that made for a no-brainer transition. I didn't really hit that many shots with it on the range but I took it out on the course and hit it great out there so I put it in play right away.
You mention you're a feel player. How much when you're making a decision on a change like that is based on the feel and look and how much is based on the launch monitor numbers?
Usually, the final call comes down to the feel and the look and how it performs out on the course—how it performs when you have to hit a certain shot like a draw or a fade when it's a must to find the fairway. That's kind of the final box to check off. That said, I like to see the numbers to compare it to the model it would be replacing and then you can kind of have an idea of how the newer one might be better and then I can take that to the course and see if it passes the on-course test. Anyone can hit it well on the range. But when you can take that to the course and see that it's going down the middle and longer, well, that's an easy switch.
On the golf ball, what performance attribute do you look for in a ball? Also, reading your tour profile I notice you only use Nos. 1 and 3. What's the deal with that?
The tour profile I probably need to update [regarding the numbers]. That was from my rookie year. I had a teammate in college that only used 2s and 4s so I always used 1s and 3s and just got into that habit but I'm not as steadfast on that anymore. I use the Pro V1x and it's on the more spinny side. I have a harder time creating spin than other guys and I never want to try and feel like I have to try and spin a golf ball. Around the greens it feels really soft to me and that gives me confidence on chips and pitches, short-sided shots. It just gives you the extra confidence you can spin it and stop it on a dime.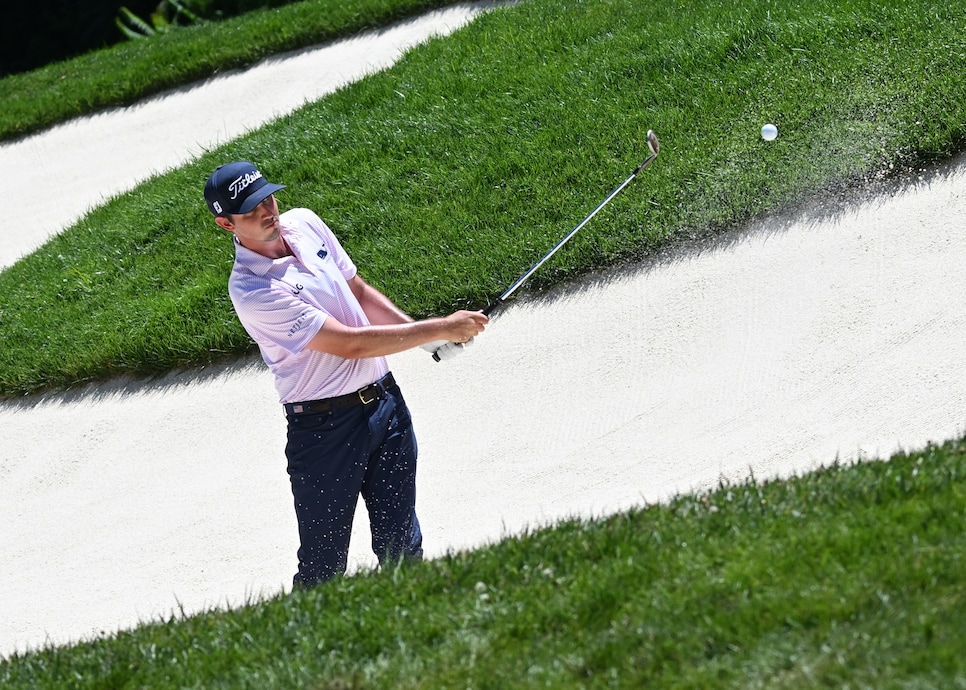 Anything unique about your wedges from a grind or bounce standpoint? Also, what is the thought of using a pitching wedge that matches the rest of your wedges versus the set wedge?
The pitching wedge I didn't do when I first turned pro, but I have done it for a few years now. It just helps me dial in the distance control on those shots into the green and it helps me control the flight better as well. If there's any sort of wind it's easier to keep it down and it's also easier to hoist in the air and get it to stop softly if that's needed. Just a little more control. On the bounce and grind, out of college I was playing all my wedges with the same bounce. A couple of years ago I saw Aaron Dill [Titleist's PGA Tour rep for Vokey wedges] and he suggested mixing up the bounce on the sand and lob wedges, so I had more options with different shots, different lies, different turf. That opened my eyes a little bit and led to switching to a 60-degree with just 4 degrees of bounce as opposed to the 8 to 10 degrees I had been using. It makes those tighter, firmer lies a little easier to chip off. Same with firmer bunker sand. The sand wedge has 12 to 13 degrees of bounce as opposed to 8 degrees. That allows me to chip with confidence off some softer lies or something that's sitting down or grainy or softer sand. It gives me more flexibility and the freedom to use the bounce in my wedges to my advantage.
The putter is an interesting look with the shaft going right into the head. How did you arrive at that setup and how long has that putter been in the bag?
I put this putter in the bag at the Players Championship in 2019. Before that I was using a blade putter [a Scotty Cameron Circa 62] that I had been using forever—10 or 11 years or so. I finally made the switch to a mallet because I was having trouble being consistent from 10 feet and in. I've always been a feel putter, so it was kind of hard to pinpoint what the issue was, but I worked with Drew Page [PGA Tour rep for Scotty Cameron putters] and he was the brains behind the switch. It was a mallet that has a long line in the flange that he felt would help with the alignment on those putts and it was just something that I noticed an improvement with right away on a week-to-week basis. The confidence from closer in led to more confidence on the longer putts as well because I wasn't fearing the comebacker as much. It's been in the bag ever since.
What's the most unusual or personal thing you keep in your bag?
I have a divot repair tool that my grandfather gave me. It's one of those where you push a button, and the blade spins out. But it's so old that mechanism is broken so the blade is out all the time. My grandfather got me into the game so it's kind of a cool thing to keep in the bag. It's old and beat up. It has to be at least 15 years old. But I still use it every round.
You're going to the Open Championship for the first time. Pretty cool that it is at St. Andrews and that makes it extra special. But you're also playing very well right now. How do you balance that excitement of wanting to take it all in with trying to be competitive in the event?
It's my first real experience with links golf, too. A lot will be new to me. I've never played in an Open so we're going to get in Saturday morning, get in a little early, to hopefully knock some of that wow factor out early. I'll also use the time to get used to the links style of golf, the grasses and see the whole St. Andrews area and get all that out of the way. Then, when the tournament comes, I can focus on doing the right things and my usual prep for a tournament and stand on that first tee Thursday and go out and try to win.
What J.T. Poston has in the bag
Ball: Titleist Pro V1x
Driver: Titleist TSR3 (Mitsubishi Diamana BF 60 TX ), 9 degrees
3-wood: Titleist TS2 (Graphite Design Tour AD IZ 7X ), 15 degrees
Hybrid: Titleist TS2 (Graphite Design Tour AD DI 95 Hybrid X ), 19 degrees
Irons (4) Titleist T100•S; (5-9): Titleist T100, True Temper Project X 6.5)
Wedges: Titleist Vokey Design SM9 (46.10F, 50.12F, 56.10S, 60.04L), Dynamic Gold S400
Putter: Scotty Cameron by Titleist GoLo 5 tour prototype