JORDAN SPIKE?
Jordan Spike? Turns out fans don't recognize PGA Tour players any more than they do NFL teams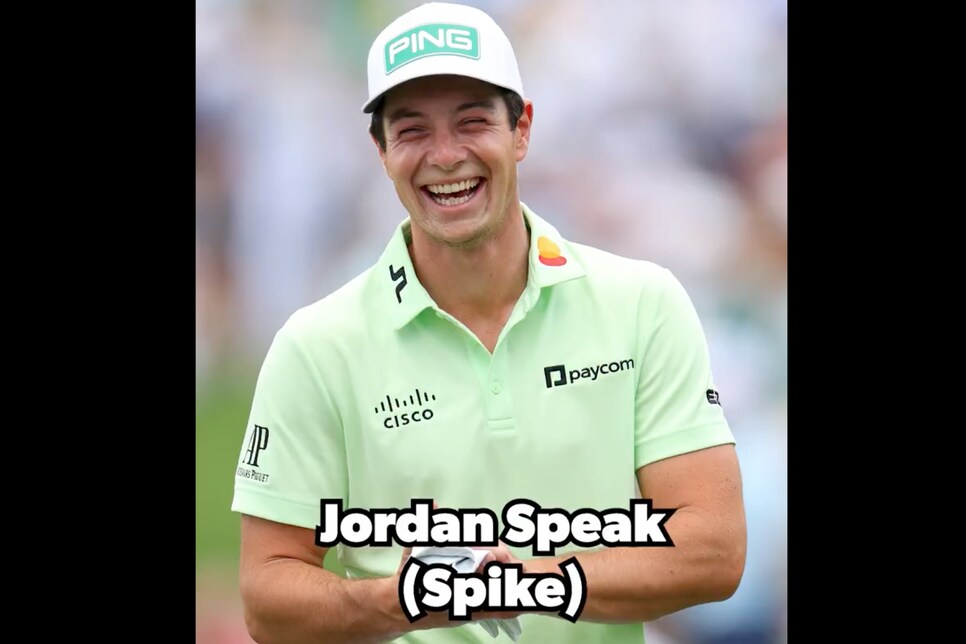 Jordan Spike? John? Dom? What is going on?
The PGA Tour social media team attempted a bit that the NFL's Tennessee Titans produced on Thursday that coincided with the NFL's schedule release. The results were equally as bad and almost nearly as funny.
The Los Angeles Chargers released their schedule via a two-minute anime video. The Denver Broncos attempted a bit done on the TV show The Office and the Indianapolis Colts treated two players to 17 different food dishes and had them attempt to pick which team they were playing based on what they were eating. (All can be watched here.)
But it was the Titans that received the most acclaim after going onto the streets and showing random fans a logo and having them guess the team name. It was gross. Like, 0-for-17. Didn't get one correct. Don't know where the Titans found these people, but it was abysmal. Although it was hilarious.
The New Orleans Saints were the first logo, and a woman guessed the St. Louis Rams. Another guessed Lightning McQueen when the Chargers' logo was shown. The Bengals were guessed as the Boston Bobcats, the Altanta Falcons were guessed as the Red Stallions and even twice people thought the Indianapolis Colts logo was the Dallas Cowboys.
So the PGA Tour social media team walked around TPC Craig Ranch Friday during the second round of the AT&T Byron Nelson and asked fans if they could name a golfer after seeing a photo.
See the results for yourself:
A man wearing a nice Titleist hat and a Peter Millar golf shirt saw a photo of World No. 1 Jon Rahm and guessed … Dom? A woman saw a photo of Viktor Hovland and first guessed "Jordan Speak" but then clarified that she thought it was "Jordan Spike."
The last was a photo of PGA champion Justin Thomas. The woman guessing, after thinking about it for a few moments, said, "he kind of looks like a John."
In the words of Ace Ventura, "Alrighty then."