The Loop
Jordan Spieth's story of Tiger Woods and Patrick Reed trash-talking each other at the Ryder Cup is too good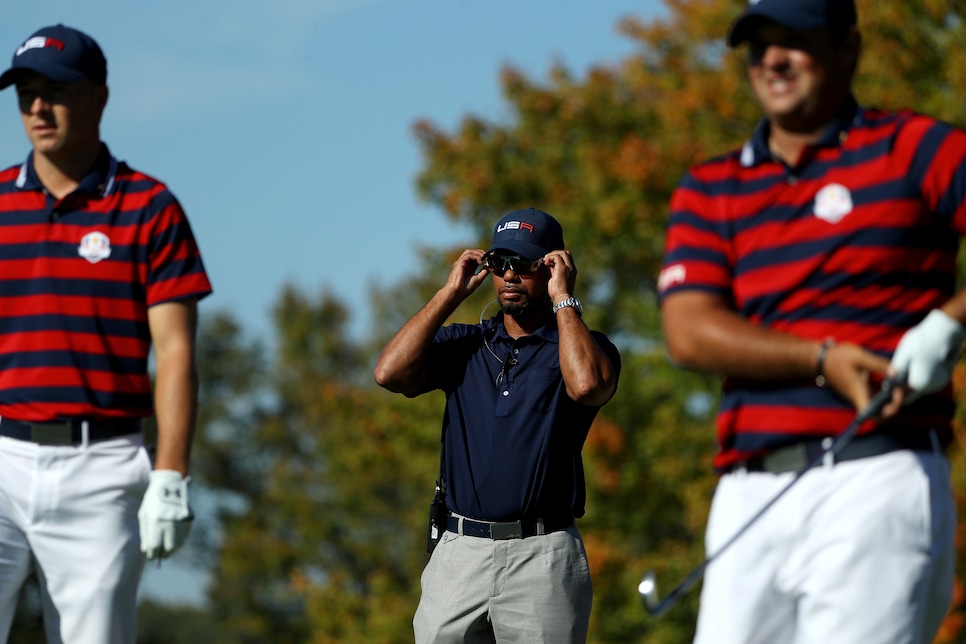 PGA of America via Getty Images
The Ryder Cup happened two months ago, but we're still learning about some of the things that happened inside the ropes at Hazeltine. And it doesn't get much better than this story involving Jordan Spieth, Patrick Reed and Tiger Woods.
Spieth joined the No Laying Up Podcast for an entertaining chat on Tuesday. You should listen to the entire interview, but it included the two-time major champ sharing an incredible tale of this trash-talking triangle.
The story took place during Saturday morning's foursomes when Spieth and Reed were taking on Sergio Garcia and Rafa Cabrera Bello. Woods, one of the U.S.'s vice captains, was following the match containing two members of his pod. Spieth told No Laying Up's Chris Solomon he joked with Tiger that he'd never played alternate shot this well. When Woods responded with "something smart," Reed jumped in on the boasting. We'll let Spieth take it from there:
"Tiger goes, 'Don't worry, Patrick, you only need 74 more wins and 14 more majors.' And then I go, 'Patrick, you can't talk sh#! to him, because you can't even talk sh*! to me. You need two more majors and four more wins to get to me!'"
But then Reed backed up his bravado. Spieth continued, "It's that kind of talk that gets him going, and he went off there right afterwards. But it was a funny moment with Tiger because you don't really hear Tiger talk about everything he's dropped to go back on Patrick and he used it there, because he was just like, 'Screw this guy. I'm using this right now. Who is this guy?'"
"This guy," of course, turned out to be Team USA's leader in the victory over Europe. But Spieth also claims Reed's intensity nearly injured him later that afternoon after Reed holed a wedge shot on the sixth hole of a four-ball match against Justin Rose and Henrik Stenson.
"I thought I broke my thumb when we stood on the seventh tee," Spieth told No Laying Up.
"I threw my putter up in the air and I started running back to him. He thought we were going for the chest bump, and I instead went for the normal high five. I mean, he took my hand off. I get on the tee on 7, and I grip the club and I bring Micahel (Greller) over like I normally do just to use the towel to wipe my hands and grip. 'Mike, this isn't for the towel, dude, I literally can't feel my right hand right now. He said, 'Alright, just put a smooth swing on it.' I hook this thing so far into the water left, I go, 'Patrick, that's your fault. You've got this hole too.' Man, the fire he brings. It's just. . . He's Captain America, man, in that tournament."
What makes Reed so successful in the Ryder Cup? Perhaps, it's this mentality that Spieth says his partner possesses:
"It's about sticking the knife in," Spieth said of Reed, "instead of just playing the match for the match."
And apparently, it's also about needling people as he goes about his business. No matter who it is.
The spirited conversation should resume when Reed and Woods are paired together on Thursday for the first round of the Hero World Challenge.