SPIETH BEING SPIETH
Jordan Spieth's wild day included a blown mind, clearing the LIV air and 4 late bogeys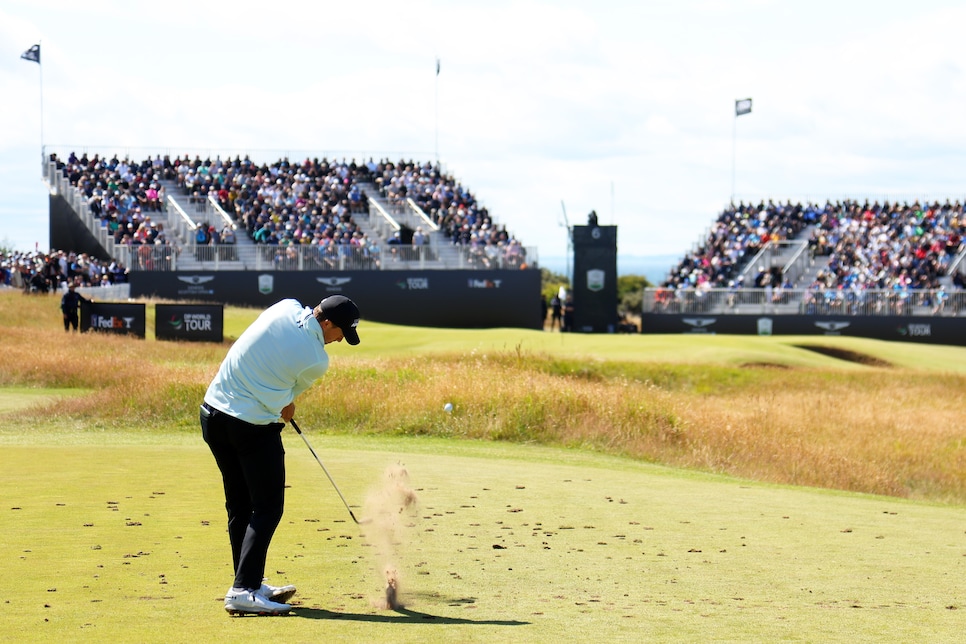 Jordan Spieth tees off the par-3 sixth during the second round of the Genesis Scottish Open at the Renaissance Club.
Andrew Redington
Jordan Spieth makes headlines seemingly everywhere he goes. On Friday at the Genesis Scottish Open, he made them for three distinctly different reasons.
One of the events was comical. The other two were not.
After an opening-round 68 at the Renaissance Club in North Berwick, Spieth was in contention and quickly made birdie on the third hole Friday to start his second round. Once he got to the 111-yard, par-3 sixth hole, a mesmerizing conversation with his caddie Michael Greller ensued. They've had a few in their day.
The wind was into Spieth, making the hole play longer—Xander Schauffele said later it was playing close to 140 yards—and putting a premium on club selection. Video picked up the discission, which went like this.
"I don't see this even getting within 10 yards of the green," Spieth asked Greller. "You think it does?"
"Yeah, I still like that," Greller said without hesitation. "I mean, if it ends up, you know, 100, that's good."
Spieth was clearly not convinced, but took some extra time over the ball, then pulled the trigger. The ball was a second off the face of his club when he barked in disgust, "I mean it's just not even remotely close to going 90 yards."
The ball landed softly, nine feet from the pin, and Spieth, with a smile on his face said, "Oh my God, it did. Didn't it look like it was going 40 yards short?"
Greller didn't say a word.
Spieth missed the birdie putt but made an easy par, and birdied the 10th hole to jump into the top five before making four birdies over the last seven holes to shoot two-over 72 and drop into a tie for 20th place.
While that was happening, rumors were swirling on social media that LIV Golf officials had talked to Spieth and that they were in negotiations. Some of those posts have since been removed. Spieth has pledged his loyalty to the PGA Tour many times over the past year, but so have some of those players who ultimately jumped to the eight-event Saudi-backed series.
A few hours after Spieth was done with his second round he released a statement on his Twitter account reiterating his previous comments.
"Let me be clear, any reports that I am contemplating anywhere other than the PGA Tour are categorically untrue," the statement said. "I am NOT in discussions with LIV. I have been quotes on the record for months that I fully support the PGA Tour and have never considered any alternatives."
So, basically, just another normal day in the life of Jordan Spieth.