The Loop
Jordan Spieth's rare gift: Even when he complains, he remains likable
UNIVERSITY PLACE, Wash. -- Five minutes after meeting him, you want some of whatever makes him Jordan Spieth. He may not have every gift the giftie gives us. But he's got more of 'em than most citizens between the Atlantic and Pacific. He's younger than springtime, he's got the good-looking thing, the talent, the green jacket, and he's taking dead aim at the U.S. Open trophy. And when did we last hear any golf hero scream?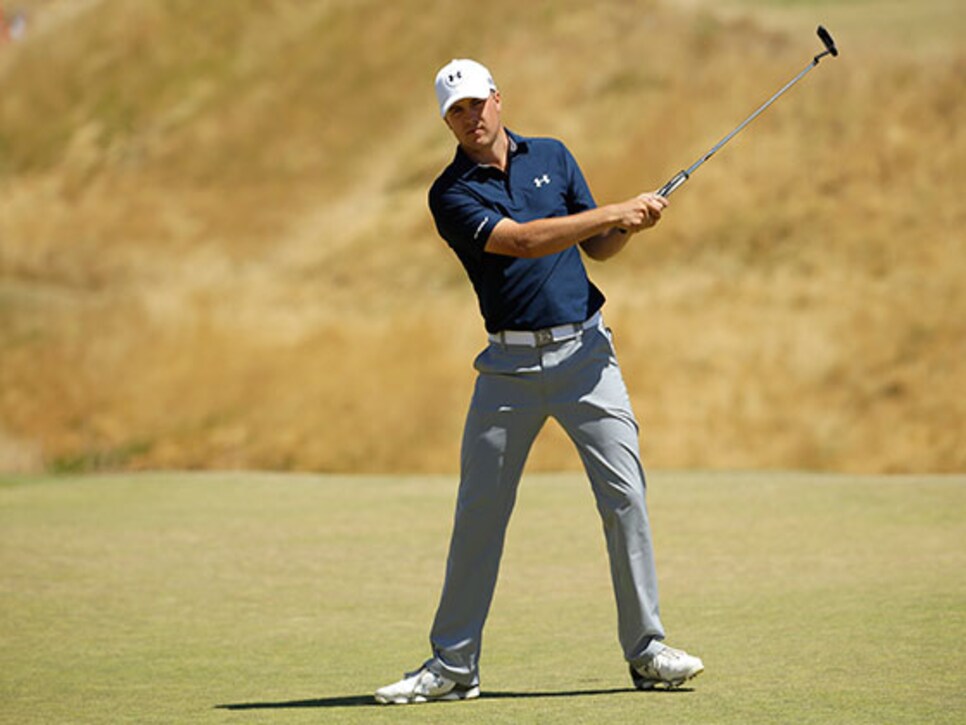 On the first green Friday, this year's Masters winner screamed. Not for himself but for a playing partner who did something marvelous. Jason Day put up a 30-yard lob wedge shot. Spieth was on the green. "I had a good view," he said, and he thought the shot looked good. "Second bounce, or third bounce, or whatever it was, DUNK. I just screamed back at him as if I was sitting in the gallery. It was a cool shot to see."
Then Spieth, in that Texan boyish aw-shucks manner of his, said, "Probably wouldn't scream if he did it on Sunday and we were tied." A smile. "But it was nice today."
Jordan Spieth is what golf has long needed, a star you want to embrace. His Friday round of 67, following his opening 68, put him five under par after 36 holes and kept alive his chance of becoming only the sixth player ever to win the Masters and U.S. Open in the same year. Nice company he'd be keeping: Craig Wood in 1941, Ben Hogan '53, Arnold Palmer '60, Jack Nicklaus '72, and Tiger Woods in '02.
Even Spieth's possible flaws are rendered charming, as on Friday when he chose to gripe out loud on national TV. Four under par through his first eight holes, he drove into a fairway bunker at the 514-yard, par-4 18th. Greedy with a 9-iron, he clipped the bunker's edge, leaving another 9-iron shot that rolled into a greenside bunker. From there he failed to get it up and down. A double bogey. After his second shot, a TV mic caught Spieth's complaint: "This is the dumbest hole I've ever played in my life."
Much later, meeting the press where he would have to explain himself, Spieth had three options: 1) he could refuse comment, 2) he could mumble inanities, obfuscations and other lies, or 3) he could man up.
Guess which door Spieth chose.
"I think 18 as a par 4 doesn't make much sense," is how he began. He quickly took his part of the blame: "Of course, when I didn't hit the right shots, it's going to make less sense. I'm not going to put a smile on and be happy with the way I played the hole. So I am who I am."
Then he got after it: "I think the hole doesn't make sense because you can hit it down the left center of the fairway and still end up in the right bunker in trouble. There's a group of about 10, 12 guys that can fly it 310 yard that have an entirely different hole to play there. For anybody else, you have to hit in a five- or six-yard area. And if it's going to be a par 4 (it's sometimes played as a par 5) and you're going to bring that other bunker into play, I think the tee should have been moved up more. . . . I just didn't know where I could hit that tee shot. . . . I wasn't going to hit a 3-iron off the tee and then hit 3-wood. . . . So all in all, I thought it was dumb hole today."
All of which, if said with a touch of vinegar, would be off-putting. But said simply, candidly, and with a full explanation of a golfer's thought process, Spieth's account was one more reason to think we need to hear more from this man for many years. Listen, for example, to his analysis of what the Masters victory might mean for his chances this weekend.
Not much, really, is what it means. But Spieth said it in a softer way.
"I'm not going to have, whatever it was, a four, five-shot lead," he said, meaning he went to Sunday at the Masters the runaway leader. "So, given it's a U.S. Open, I imagine they're going to try to bring us back to par," meaning the USGA will set up Chambers Bay more diabolically each day and certainly more difficult than Augusta at any time. "So I'll draw some on Augusta, but at the same time my patience level has to be even that much higher."
One more thing. That dumb 18th? It figures to play as a par 4 again on Sunday. With the tournament to win, how would he play it?
A quick laugh. "I'm going to hit a punch slice."