The Loop
Jordan Spieth's nightmare, Paulina Gretzky caddies, and my winning Danny Willett wager
Welcome to another edition of The Grind, where we're back home after gaining the annual "Masters 15." Seriously, you should see the spread Augusta National lays out for the media. Nothing fancy, but you can eat all day. And boy, did I do just that. In addition to the normal meals, other patterns developed like the late-morning chocolate chunk cookie, the early-afternoon ice cream sandwich and the late-afternoon platter of potato chips. Oh, and the soda. That sweet, sweet, soda. . .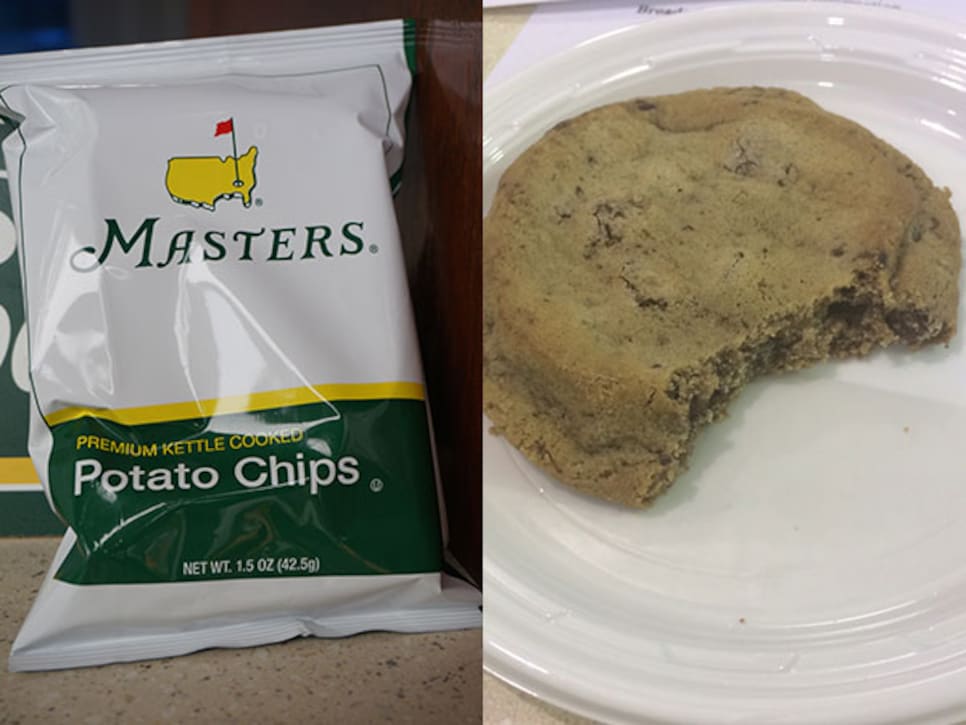 Of course, there was also a golf tournament going on -- and a pretty interesting one at that. Let's try to make sense of it all before our blood-sugar level drops.
Danny Willett: As in, I bought some "stock" in this guy at 66-to-1 odds before the Masters. Danny boy! My MAN!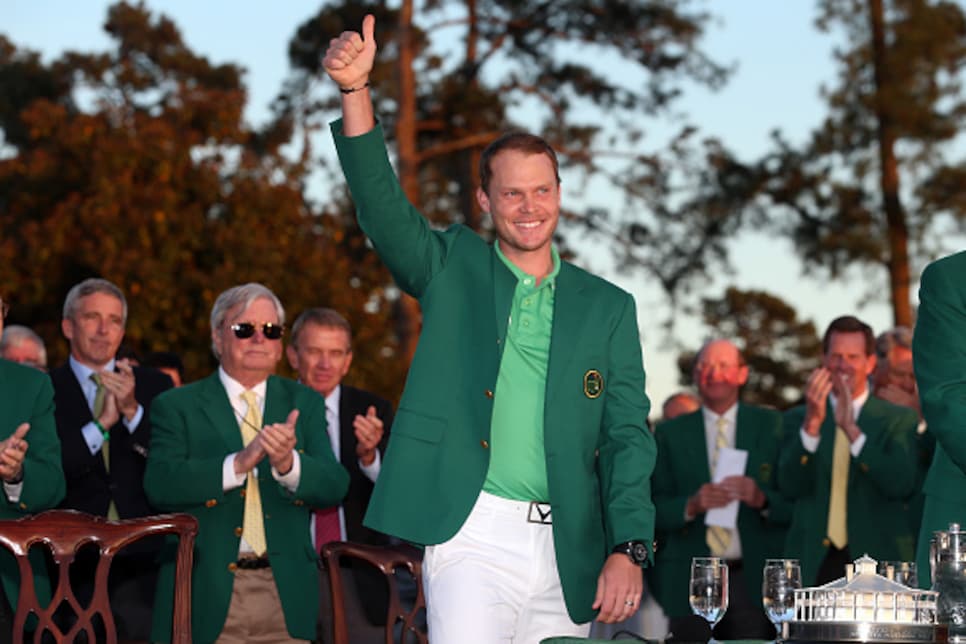 Brilliant betting aside, what an unbelievable performance by this 28-year-old Brit, who posted a bogey-free 67 despite playing under the weight of serious Sunday pressure at a major championship for the first time. Here he is reading the morning paper after enjoying a Danny's Grand Slam breakfast: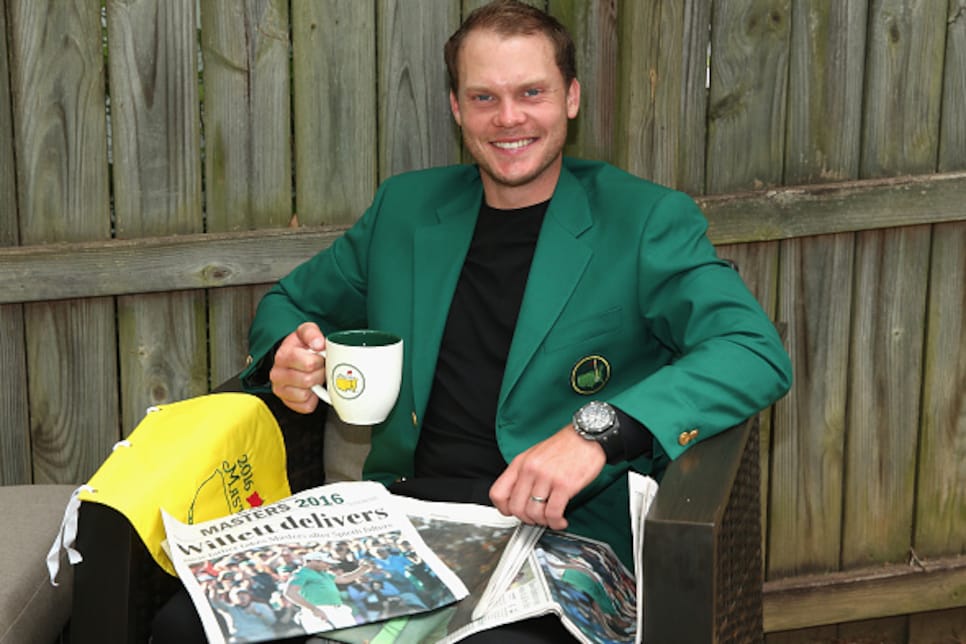 Sorry, couldn't resist. I'm suddenly giddy over Danny.
Nicole Willett: Talk about a clutch performance, Willett's wife, and his newborn son, Zachariah, teamed up to come out 12 days early. That gave Danny enough time to get to Augusta National, claim a green jacket, and win me some money. Did I mention I made a wager on Willett? Thanks, guys. It was a real team effort.
Augusta National's back nine: The old saying about the Masters not starting until the back nine on Sunday mainly refers to golfers' ability to get hot and make charges up the leader board. But with water on 11, 12, 13, 15, and 16, golfers can get wet as well. Add it all up and it's the most exciting stretch in golf.
Jeff Knox: Talk about living the life. The guy runs a non-profit, is a member of Augusta National (among other places), and plays a ton of golf. To top it off, when he goes to the Masters, he usually gets to tee it up as a marker. Oh yeah, the 53-year-old amateur can also play, often hanging with the best golfers in the world on his home course, like he did with Bubba Watson on Saturday.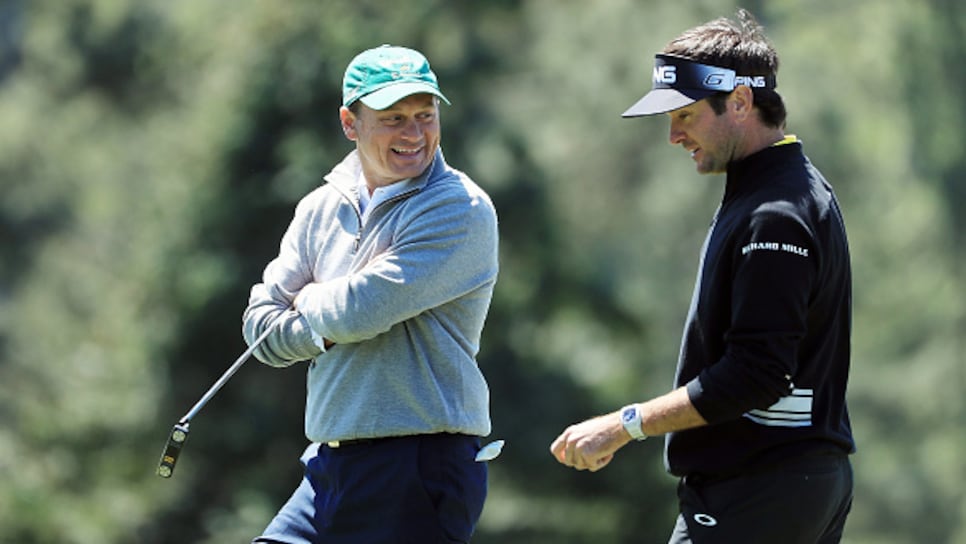 Jordan Spieth's 12th hole disaster: Collapse. Meltdown. Choke. Whatever you want to call what happened to Spieth on Augusta National's famed par-3 on Sunday, it's impossible to describe his quadruple bogey as anything other than stunning. From pressure to aliens (Yes, aliens), we've seen all kinds of theories for how this could have happened.
It's gotta be the aliens. . . right? There were certainly some otherworldly things going on at ANGC, including this banked-in hole-in-one from Louis Oosthuizen, which has since been combined with the voice of a soccer announcer. Enjoy:
Dustin Johnson's Sunday putting: It's hard to play Augusta National any better from tee-to-green than Johnson did during the final round, and yet, he left again without a major to his credit. DJ tried to go the Adam Scott in 2013 route by giving himself opportunities on every hole and hoping he just makes a couple of putts. Unfortunately, "I didn't make any of them," he said after. Thankfully, he had his dogs to cheer him up after:
1112 Stanley Drive: At least, we think we'd sell it if we had the chance. The address is the last house located on the grounds that serve as parking lots for patrons during Masters week and Augusta National has been making big, BIG offers to buy it from the Thackers for years. That's easier said than done, though, when you've lived there since 1959 and when your grandson is a PGA Tour pro (Scott Brown) with Masters aspirations. Oh, and when you live this close to an Olive Garden.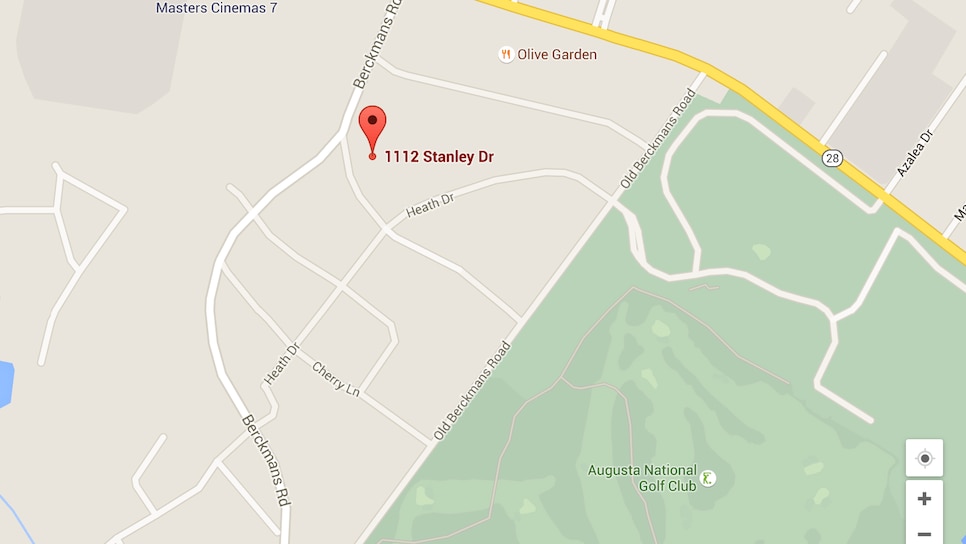 The PGA Tour takes a short trip up the East Coast to Hilton Head's Harbour Town for the RBC Heritage. Jordan Spieth is not playing this year, which is probably for the best.
Random tournament fact: Bryson DeChambeau is making his pro debut this week after a pretty strong showing – save for that ill-timed trip to the bathrooms on Augusta National's 18th – at the Masters. In case you didn't watch any of the Masters, he's the guy who wears the Hogan cap and who plays irons that are all the same length.
RANDOM PROP BETS OF THE WEEK
-- We will see another banked-in hole-in-one at Harbour Town: 1 Million-to-1 odds
-- Danny Willett will win the 2016 Masters: 66-to-1 odds (Again, these were the actual odds I got last week. Cha-ching!)
-- Danny Willett will not be a 66-to-1 long shot next year: LOCK
Still can't believe this happened. . .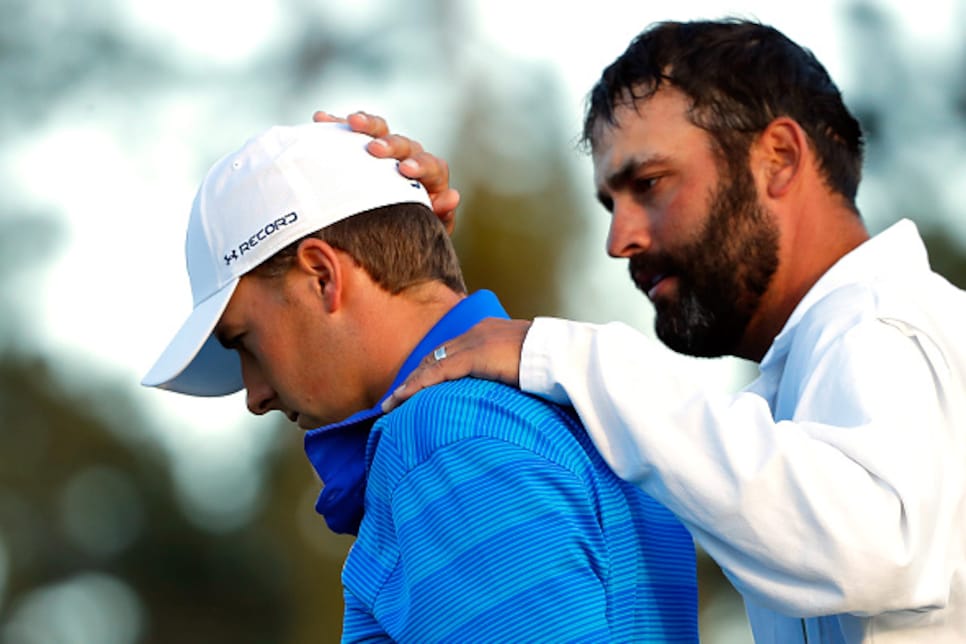 Bubba and Caleb wore matching Masters outfits every day:
And Henrik Stenson's daughter, Alice, tried to do everyone in the field a favor. . .
How strict are Augusta National's rules during Masters week? Even Jack Nicklaus can't drive down Magnolia Lane to the club without being stopped by security. Multiple times.
"This one will hurt. It will take a while." – Jordan Spieth. #Honest
Another reason to root for Danny Willett? His brother, PJ, who drew notice for his hysterical tweets during the final round. Here's a sampling:
THIS WEEK IN CELEBRITY GOLF FANS
On Friday, hip-hop superstar Lil Wayne tweeted he gave Tom Watson, who played his final competitive round at the Masters, a standing ovation – in his living room:
Then on Sunday, Stephen Curry had the opposite reaction, falling to the floor in warm-ups when he found out his buddy Jordan Spieth had just given away the green jacket:
For the record, Spieth and Curry have a match set up for this summer. And Watson – yes, 66-year-old Tom Watson – says he plans to give Lil Wayne a standing ovation of his own at one of his concerts.
Who said this guy can't relate to the younger generation?!
THIS WEEK IN DUSTIN JOHNSON-PAULINA GRETZKY PUBLIC DISPLAYS OF AFFECTION
Paulina finally caddied for DJ during the Masters Par 3 Contest: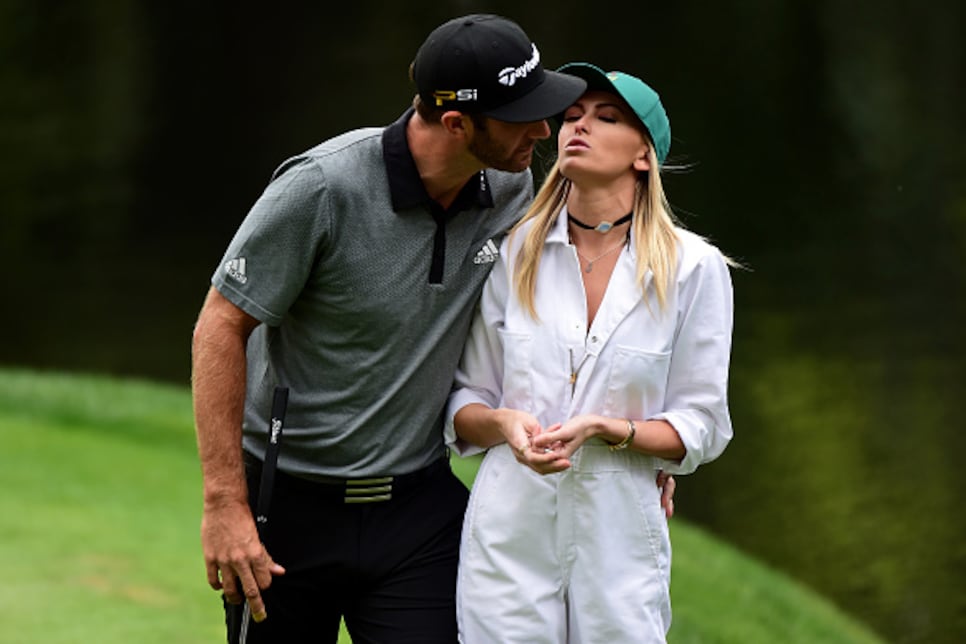 THIS WEEK IN OTHER PGA TOUR WAGS (AND EX-PGA TOUR WAGS) NEWS
Another WAG making her debut as a caddie in the Par 3 Contest was Daniel Berger's girlfriend, Victoria Slater.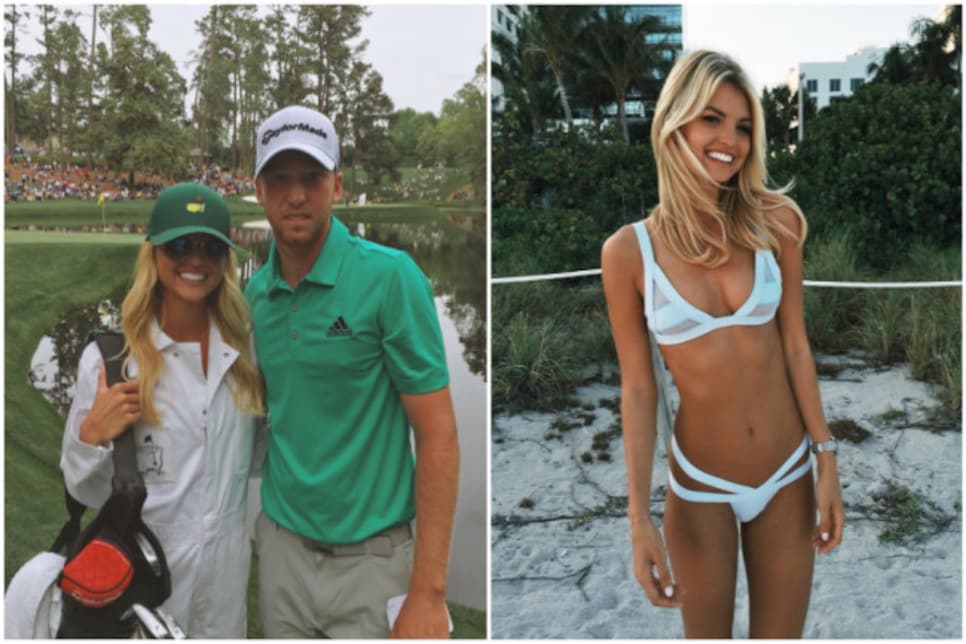 Something tells us the cameras will find her the next time Daniel is in contention. . . And after months of disappearing, we finally had an Amanda Dufner sighting. In a bikini. Shocking, I know.
The winning entry in DraftKings' "Millionaire Maker" contest, username "Bidle," had the following squad: Danny Willett, Jordan Spieth, Lee Westwood, Paul Casey, Hideki Matsuyama and Troy Merritt(?). A million bucks kind of puts my Willett money to shame. . . . Sorry, Jordan, but there was only one person who defended his title in Augusta last week: Me. All my preparation paid off when I became the Golf Digest ping-pong champion for a second consecutive year. . . . One thing I didn't win was the Masters media lottery to play Augusta National on Monday. Congrats to my co-worker and office neighbor Ryan Herrington, who now has a huge leg up on me when it comes to swapping golf tales. . . . And finally, here's the legendary Dan Jenkins and I at last week's Golf Writers Association of America Awards Dinner in Augusta. It's a little blurry because of all the paparazzi snapping photos of us:
Combined, we've won . . (Googles Dan Jenkins and sees he's won a record 10 GWAA Awards) 10 GWAA Awards. Not too shabby.
RANDOM QUESTIONS TO PONDER
How have I not won a GWAA for my WAGs coverage? (Hey, you can't spell GWAA without W-A-G!)
How much was Danny Willett's phone bill last week?
Will I ever get to play Augusta National?