The Loop
Jordan Spieth's meteoric rise might just be beginning
LAKE FOREST, Ill. -- Jordan Spieth shot an even-par 71 in the first round of the BMW Championship. It wasn't good and it wasn't bad. It was a mixed bag -- five birdies, including three in the first four holes, offset by five bogeys -- on a day when the education continued for one of the best newcomers to the PGA Tour has seen in years.
"It's been the whole college degree and a Masters degree," Spieth said of his amazing 2013 season. "I've had a lot to learn on and off the course, and there's still a long way to go."
Part of Thursday's lesson was numerical. Someone usually goes very low on the PGA Tour, and this time it was Brandt Snedeker, reeling off seven consecutive birdies en route to a 63 that led Zach Johnson by a stroke at Conway Farms GC.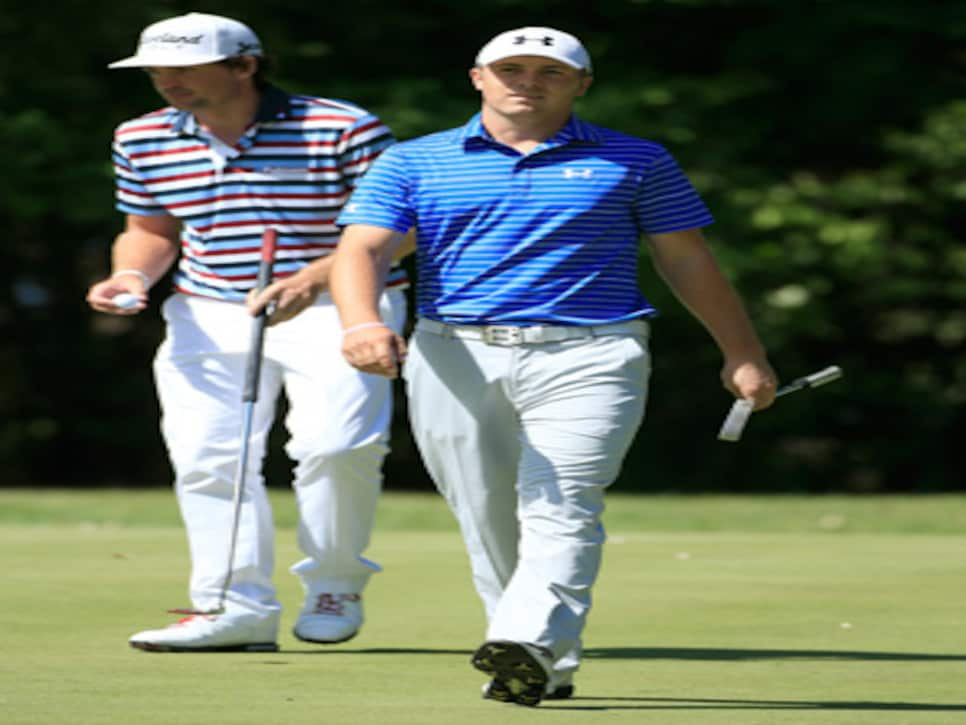 "Eight under is pretty special," Spieth said. "I thought maybe six under would be leading and there would be a few five unders. But those guys took it deep, and we have a lot of ground to make up."
Not that Spieth doesn't have the gear to make up that ground. That's essentially what he has done all year, beginning it without any status on the PGA Tour and becoming the first golfer since Tiger Woods in 1996 to make it to the Tour Championship from that starting line.
There was a victory at the John Deere Classic, where at 19 years, 11 months, three days, he became the first teenager to win on the PGA Tour since Ralph Guldahl at the 1931 Santa Monica Open and fourth-youngest winner since 1900 behind Harry Cooper, Guldahl and Johnny McDermott.
He arrived at the BMW Championship 10th in the FedEx Cup points standings, off his eighth top-10 finish of the year, a fourth place at the Deutsche Bank Championship where he closed with a 62. It has been a year of adjustments after climbing one rung after another, including getting selected as a captain's pick by United States Presidents Cup skipper Fred Couples.
"You know, there's always a next goal," Spieth said. "There's always a higher achievement, until you're the best in the world and you're winning almost every time like the guy [Tiger Woods] that's there right now. There's always ways to improve. It's been phenomenal; it's been the best year of my life."
Polished and poised, Spieth recalls the young Davis Love III and Scott Verplank (like Spieth, a Dallas native) from three decades ago. He is as purposeful as any talented player to hit the tour. That includes Woods, whose three U.S. Junior Amateur titles make him the only male to have won more than Spieth's two titles (2009, 2011).
Spieth jumped into the deep end of golf by turning pro last December midway through his sophomore year at Texas, but he has always been precocious and focused on about where he wanted to go. His parents, Shawn and Chris, let him fly alone to a junior event for the first time when he was 14.
"We knew he was going to play golf, not to goof around or get in trouble," Chris said as she watched her oldest child play Thursday. "We trusted him when he was 8 or 9 and dropping him off to play against the older boys."
This year Chris has seen "such an impatient kid" mature even more, aware that patience is key to the long haul of a pro career. Spieth has worked with instructor Cameron McCormick since he was 12, but he has an appealing, throwback sense of self-reliance when it comes to his simple, rhythmic swing.
"When I'm out here [on tour] I rarely talk to him," Spieth said. "If something is going wrong, I'll send him a text real quick, but for the most part I like trying to fix it on my own because when I'm on the course and something goes wrong, I've got to fix it on my own."
Spieth showed old-school manners when he twice lifted a gallery rope for a less than lithe reporter as they walked toward the sixth tee. After Spieth bogeyed the 16th, he showed old-fashioned fire when he scuffed the wood chips hard on a path beneath a grandstand.
Beneath the cool, smooth exterior that makes it seem as if he has been a pro for 20 years instead of nine months, Spieth has a competitive streak that burns hot. "I'm just a competitor," he said. "It doesn't matter if it's playing with my buddies or if it's in a major championship or a big PGA Tour event. When I need to make a putt, I'm solely focused on the putt. I don't really think much about the stage or the effects that it could have been."
He is a big name on the big stage now, and so far the results have kept up with the potential, something that is sometimes elusive.
"Jordan, my money's on you," a spectator shouted as Spieth walked onto the 17th green.
If not this week then for the long haul, that seems a very good bet.