The Loop
Jordan Spieth's instructor: 'No reason he can't have the right [British Open] plan by Tuesday'
Jordan Spieth's historic journey, if that is what this ultimately proves to be, will have included a layover in Silvis, Ill., site of the John Deere Classic this week.
Spieth, winner of the Masters and the U.S. Open, has opted to honor a commitment to play at John Deere and to use it to prepare for the British Open on the Old Course at St. Andrews in what now is a Grand Slam quest. Learning the nuances of the Old Course can wait until he arrives on Monday.
"There are many reasons for it being the right decision, that being a big one of them," his instructor Cameron McCormick said Tuesday, citing Spieth's commitment to the John Deere. "The point needs to made that playing and competing is the right thing to do. The best way to prepare for a big event is to play a big event."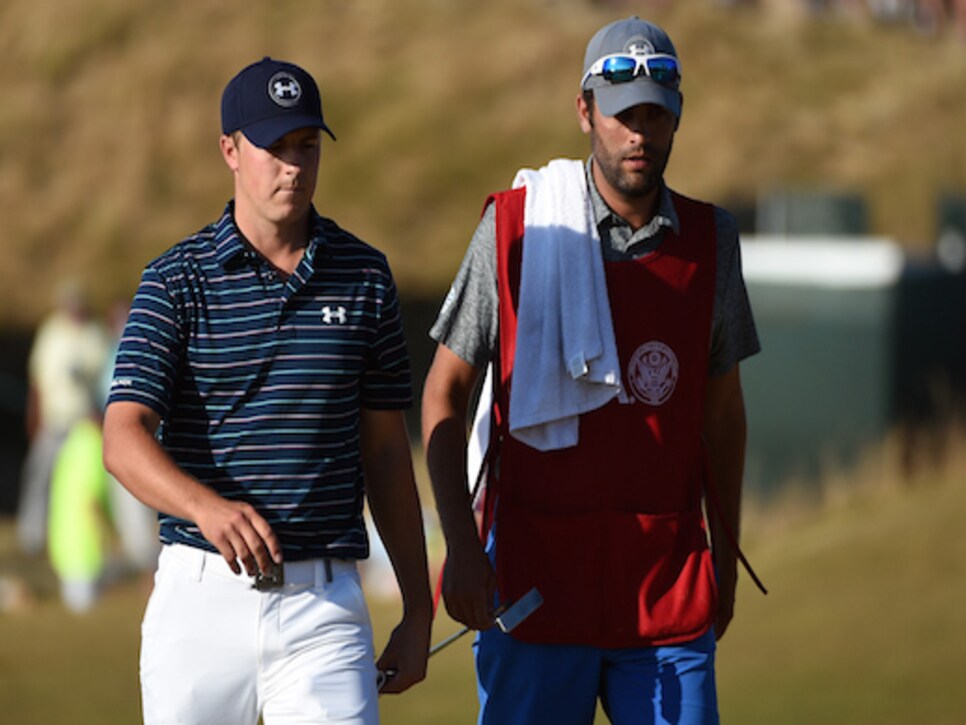 Jordan Spieth and caddie Michael Greller (Getty Images)
"The other side of that is developing a game plan and acclimating to both time and weather conditions. Jordan's always been a quick study — developing tactical intelligence, where the right places to be on the course — and with [caddie] Michael [Greller] amplifying that, I see no reason why he can't have the right plan architected by Tuesday afternoon."
That speaks to the tactical, but what about the technical? Spieth began preparing in Dallas last week, McCormick said.
"Coming off Chambers Bay [site of the U.S. Open], we're in a unique position, because any equipment changes dovetail nicely for St. Andrews," McCormick said. At Chambers Bay, Spieth replaced a a 20.5-degree hybrid with a Titleist 712U 3-iron.
McCormick said that Spieth worked on long lag putts in preparation for the Old Course. "There will be a lot of putts from off the green and you need a high level of touch control. Some of the greens at St. Andrews are beyond large and you'll find yourself in situations multiple times where you might be lagging it up 70 or 80 feet. He was checking that box, ensuring he has good touch control going into next week."
He also prepared for the possibility of facing steep-faced bunker shots and windy conditions. "We challenged him to create quick vertical trajectory to be able to escape them," McCormick said. It also has been typically windy in Texas, and Spieth has been working on keeping "the trajectory of his shots down for control into the wind."