The Loop
Jordan Spieth's dominance, Powerball dreams, golf-themed bar crawls, and Holly Sonders strips down
Welcome to another edition of The Grind, where we're beginning to worry about the rest of the PGA Tour. Jordan Spieth is really, REALLY good, but beyond that, he seems like a guy who means business. Spieth's pre-tournament comments indicated he was working hard to make sure 2016 was merely a continuation of 2015. And when he's not practicing, he's not exactly behaving recklessly.
In Hawaii, he hung with his sister at the beach. And as fellow tour pros celebrated the New Year, it appears he was busy playing on the new ping-pong table his parents got him (and which he helped assemble). Spieth, 22, also said last week he hopes he has "40 years out here." Yeah, you guys are in trouble. For a long time. Well, we guess there's always the chance of a debilitating ping-pong injury.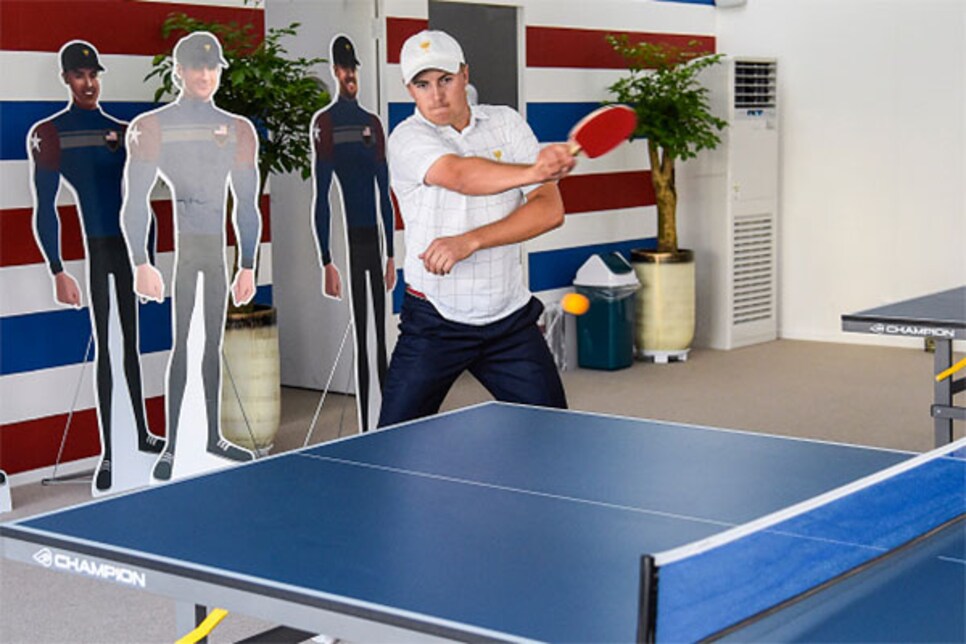 Jordan Spieth: Spieth displayed nearly flawless golf during an eight-shot romp at the Hyundai Tournament of Champions. There were plenty of staggering numbers to focus on, but we'll stick with two: 30(!) under par for the week, and 16(!) under par on Kapalua's par 5s. It's incredible we're even contemplating a comparison to Tiger Woods as being legit, but with Spieth, it is. Spieth moved ahead of Tiger's torrid pace in the majors at last year's U.S. Open and now he's tied Woods for number of victories before turning 23. Oh, and by the way, Spieth has another six months before he turns 23. . .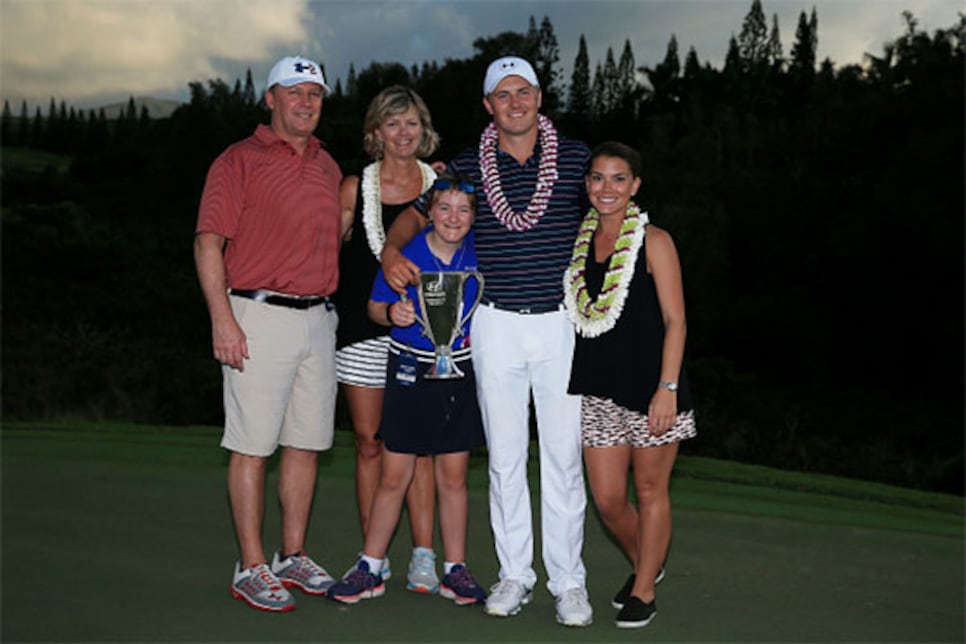 Golf-themed bar crawls: Golf Instagram star Elise Lobb looked like she had quite the 21st birthday celebration:
Not sure how the "Par - de - Bars" worked, but it sounds fun.
The Haas Family Christmas card: How big a deal to the Haas family was that Presidents Cup victory in which Bill earned the winning point for his father and captain, Jay? This big: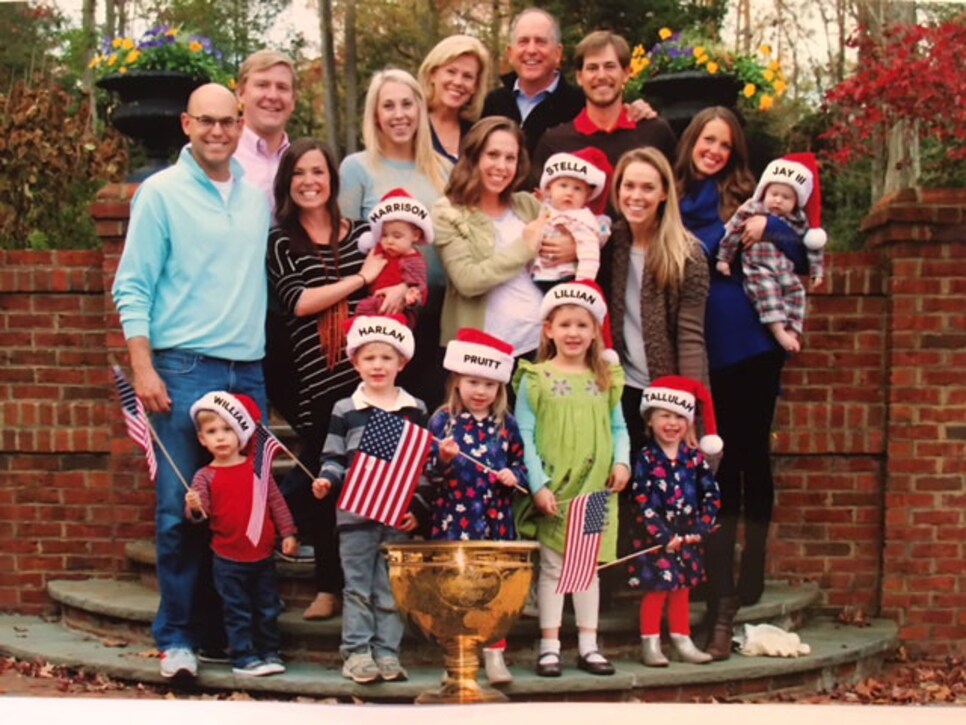 Powerball tickets: The jackpot is now $1.3 BILLION?! How could you not buy at least one? Even tour pros like Luke Donald are getting into the action:
We're not knocking the Donalds for being a bit greedy. Why? Because as a wise man (Justin Timberlake's character in "The Social Network") once said, "A million dollars (or 33 million in PGA Tour earnings in Donald's case) isn't cool. You know what's cool? A BILLION dollars." Hopefully, you'll read all about me winning in next week's Grind.
Winning a Ryder Cup over a major: We appreciate Justin Thomas' enthusiasm for getting America back on track at the biennial team event (which he reiterated on last week's Golf Digest Podcast), but c'mon. He'd rather be one of 13 people sharing the credit for winning than claiming the everlasting individual glory -- not to mention the money -- that comes with winning a major? If so, he's one of the most selfless people on the planet.
Rickie Fowler's high-tops: We're not saying Fowler isn't free to wear as he chooses, but we're not fans. Sorry.
Jean shorts: Speaking of questionable fashion (Sorry to go all Mr. Style this week), these still appear to be an acceptable thing for guys to wear in South Africa: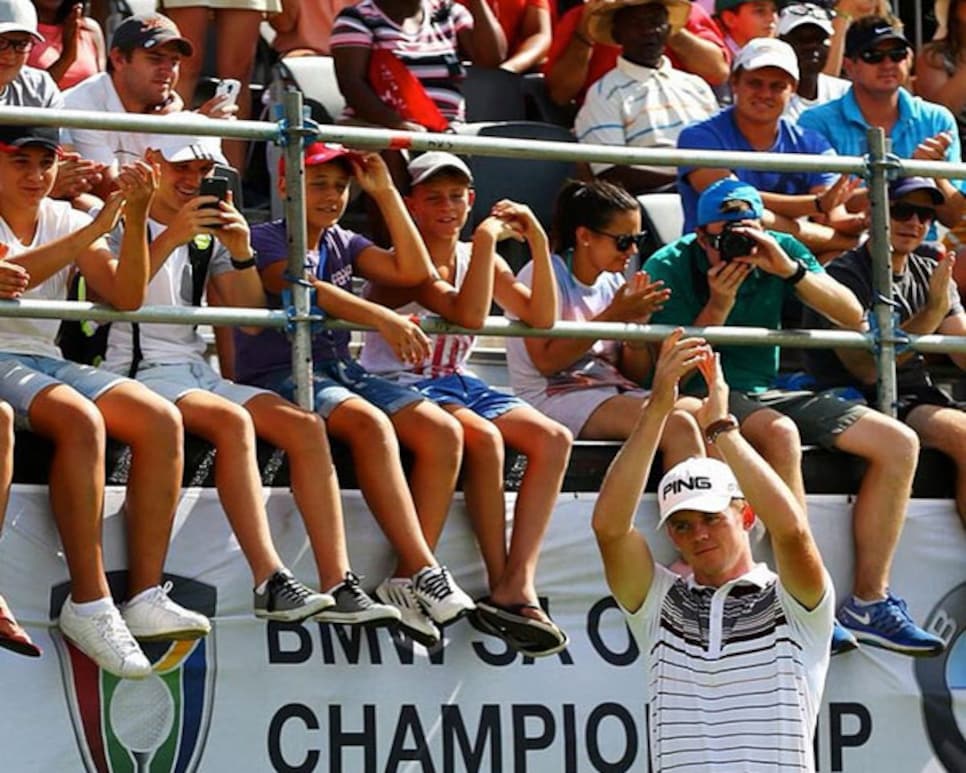 The PGA Tour stays in Hawaii for the first full-field event of the new year, the Sony Open, aka that event that Jimmy Walker wins every year.
Random tournament fact: Jimmy Walker doesn't actually win this event every year, but he has won the last two, including a nine-shot victory (take that, Jordan!) last year.
RANDOM PROP BETS OF THE WEEK
-- I will win the Powerball jackpot this week: 292 MILLION-to-1 odds (actual odds)
-- Jordan Spieth will shoot 30 under at Oakmont in his U.S. Open title defense: 1 MILLION-to-1 odds
-- Justin Thomas would take winning this week's Powerball jackpot over winning a Ryder Cup: LOCK
He's back! Well, sort of. Michelle Wie posted these photos of Tiger Woods, who was hosting a golf clinic, giving her some chipping lessons:
Very cool. We just hope Wie didn't hog too much time from the kids in attendance.
Brandt Snedeker's son looks like he's a chip off the old block:
THIS WEEK IN TOUR PROS BEING TOUR PROS
How about a sevensome at Medalist?
And Ernie Els got a haircut by the beach:
THIS WEEK IN NATALIE GULBIS CARLY BOOTH MAKING US FEEL BAD WITH HER TRAINING
THIS WEEK IN PAIGE SPIRANAC BEING PAIGE SPIRANAC
This week we learned that Paige reads comic books while wearing lingerie:
"But there's no way to practice a three-foot putt to win the Masters and there's no way to practice the pressure of making a game-winning kick in the playoffs." -- NBC's Chris Collinsworth after Blair Walsh missed a 27-yard field goal to give the Seahawks a 10-9 win over the Vikings in the first round of the NFL Playoffs. Chris, nice analogy, but we're pretty sure your bosses would have preferred you mention the British Open or Ryder Cup instead.
__THIS WEEK IN DUSTIN JOHNSON-PAULINA GRETZKY HOLLY SONDERS PUBLIC DISPLAYS OF AFFECTION __
Patrick Reed finished runner-up at Kapalua -- aka he was the TOC B-Flight winner -- for his seventh consecutive top-10 finish worldwide. That inched him even closer to the top-five status he covets. . . . Brandon Stone won his first European Tour title at the South African Open. Like Jordan Spieth, he's only 22. . . . Arguably the most recognizable 90s rock song, "Two Princes," turns 25 this year. In honor of that, here's my on-course interview with the Spin Doctors' lead singer, Chris Barron. . . . And finally, the good news is I now have a treadmill in my basement: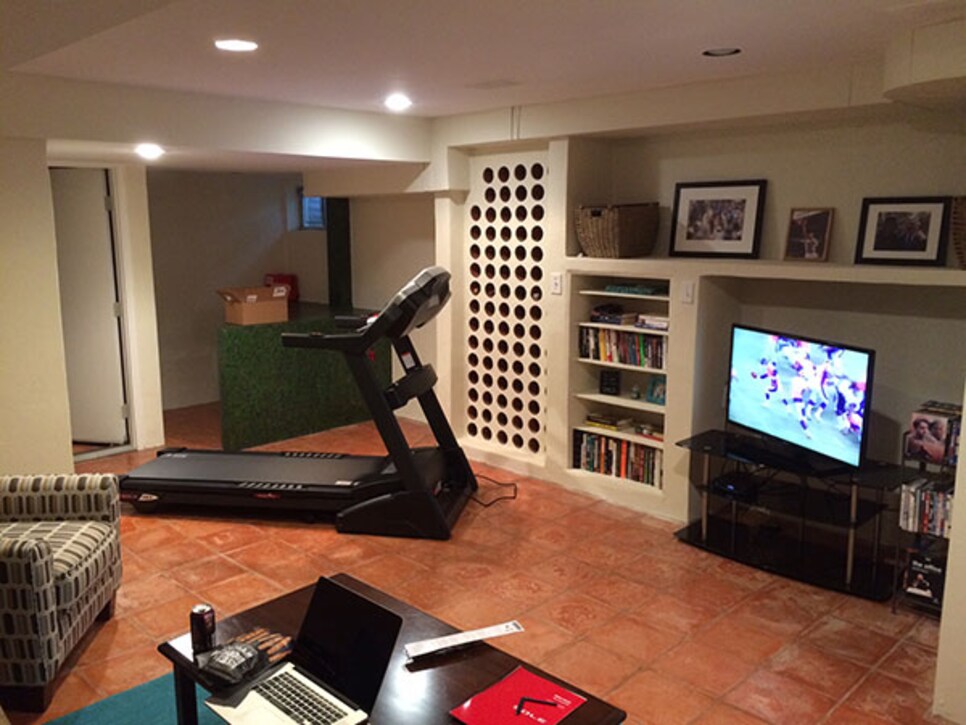 The bad news is there's now NO excuse not to exercise every day.
RANDOM QUESTIONS TO PONDER
How many times have I listened to "Two Princes"?
How many days will I use that treadmill in 2016?
How much could Tiger charge for golf lessons?