The Loop
Jordan Spieth's character at the fore; his speech 'ambassadorial-like'
The character of Jordan Spieth is as much a part of the story of his remarkable victory in the Masters on Sunday as talent and grit, and it was an emphasis of the post-tournament analysis on Golf Channel.
"As good as he is on the golf course," Golf Channel's Brandel Chamblee said, "it seems like everything he says in the media center strikes the right note. That was evident in his acceptance speech."
Chamblee then asked Colin Montgomerie that in terms of appeal whether he reminds him of anyone.
"Seve," Montgomerie replied. "The people's champion. People loved Seve. This guy [Spieth] has a very, very young Arnold Palmer-esque feel about him. Seve and Palmer are loved. A lot of other golfers are respected."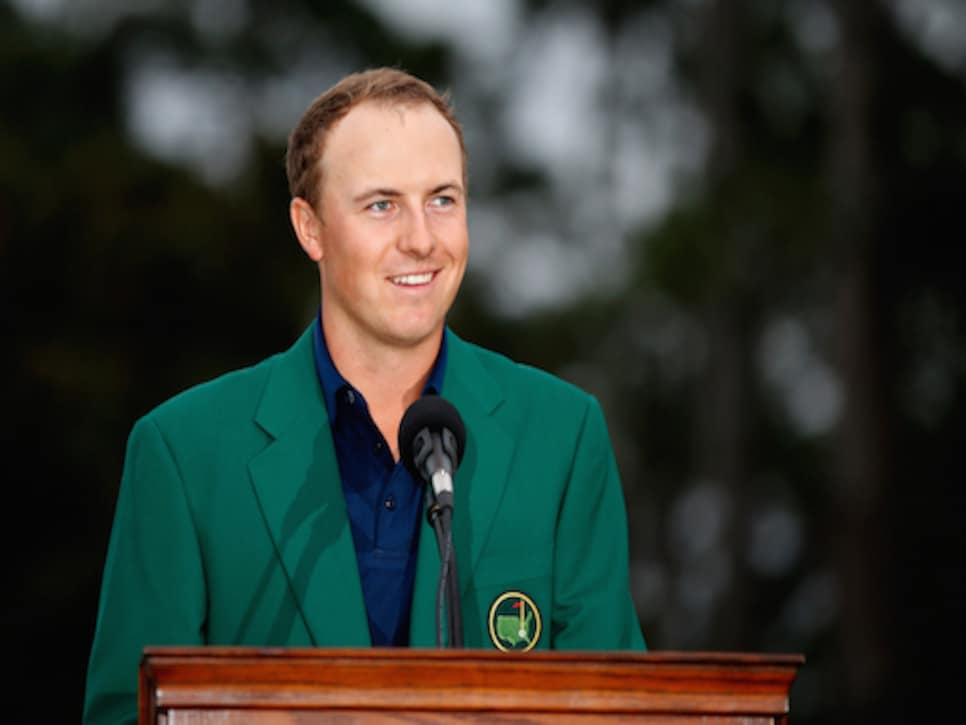 Spieth giving his post-tournament speech (Getty Images)
He noted how Spieth returned to the 18th green to thank the patrons at Augusta National Golf Club. To understand the root of Spieth's character, look to the parents.
"Shortly after he won," Golf Channel's Ryan Burr said, "he got a hug from his mom, he got a hug from his dad. His dad said, in the middle of all this, two minutes after he won the Masters, go out there and thank everyone who is there.'"
"That boy, to me, his words and his speech encapsulate his spirit," Ben Crenshaw said in telephone interview with Golf Channel. "He's very respectful, he's polished. He knows where he's going. He's a really, really fine boy. He's hard not to pull really hard for him. I am so dang proud of him. What a wonderful boy. I've cried a few buckets of tears over here [in Austin, Texas] today."
Montgomerie, meanwhile, saw what Chamblee, Crenshaw and probably everybody else saw.
"I see the future of golf in a very healthy state," he said. "The kid played like a veteran in every way, off the course as well, the way he has comported himself, his demeanor, his maturity, quite phenomenal for someone so young. His speech afterwards, for a 21-year-old, was ambassadorial-like. It was fantastic.
"This is a very special time for golf and for American golf."