The Loop
Jordan Spieth, with new attitude, 21 putts, turns bad round into a 68
AKRON, Ohio -- An admittedly new Jordan Spieth emerged during the first round of the WGC-Bridgestone Invitational at Firestone Country Club. Of course, he looked a lot like the old guy, the one whose short game is the envy of the golfing world.
That guy scratched and clawed his way around Firestone's brutish South Course for 10 holes Friday afternoon to keep himself somewhat competitive on an ideal day of scoring at two-over par.
"If I had hit it where he did those first 10 holes, I'd have been eight over par," said former PGA champion Rich Beem, who was on hand as a reporter for Sky Sports.
But the "new" Spieth didn't dwell on his errors. Instead, he finally found a rhythm, put a few good swings on the ball, and birdied his last four holes to turn a round of struggle into a two-under par 68.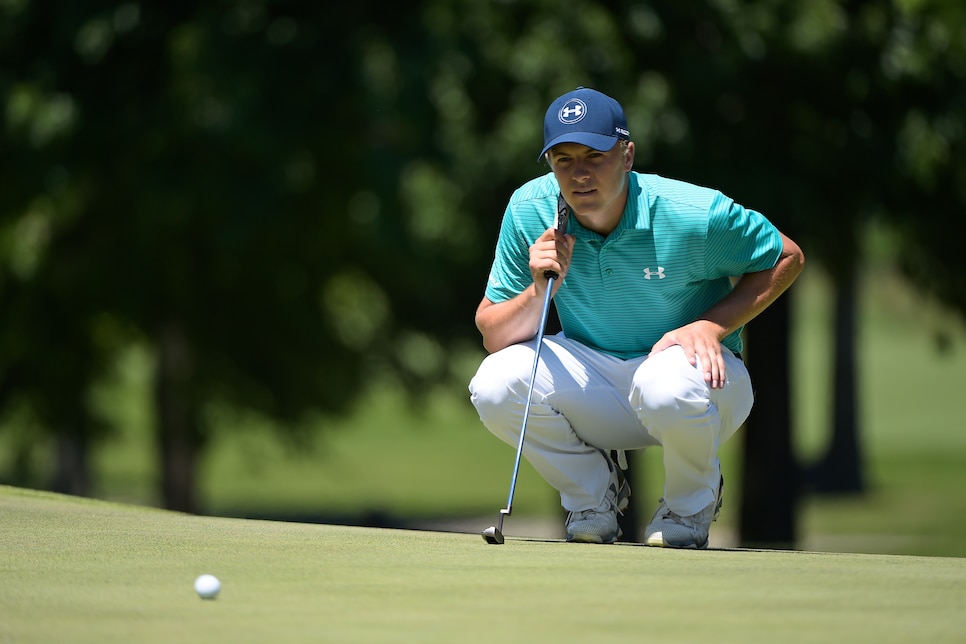 "This is one of the best rounds -- one of the happiest two-unders I've ever shot for sure. Yeah, it's up there," Spieth, 22, said after hitting six fairways, seven greens and saving himself with 21 putts. "I wasn't supposed to shoot two-under today. Somehow -- and I kind of wish we kept on playing, even though I felt so kind of poor most of the round."
The No. 2-ranked player in the world said the difference was yardages. When he had good numbers into the greens and could make a full swing, he struck his irons well. That's called a stock swing. But rarely is any round filled with stock swings. It's feel shots and knock-downs and incremental adjustments. And Spieth has hit what he calls a "lull" in his game in that area.
"I'm really struggling right now in my short iron and wedge play when I have to take some off of a shot," he explained. "I'm not getting the club face square, I'm leaving it dead open. And it's a really tough thing when I'm over it to try and grind through because those are your scoring clubs.
"It's the same feeling I had the last round or so at the U.S. Open and in practice last week, and I've really been searching. You know, this is kind of a phase that I feel like everyone goes through. Not specifically this, but everyone goes through a little phase, a down phase in ball-striking where you're just trying to find something that frees you up to swing through the ball."
Fortunately, he did admit to doing a better job of freeing up his mind. The Dallas native is hard on himself, and that comes through on the television screen when he talks to his ball and to his caddie Michael Greller. Thursday could have been a grind for both of them, but Spieth made sure that wasn't the case.
He pledged before the round to do better of sucking it up when the breaks didn't go his way.
"I told Michael before the round, I'm going to start the rest of this year to be a lot stronger mentally than I have been and just not dwell in conversation on each shot," Spieth offered. "I'm trying to speed up my process, as well, and I think we did that, too.
"The way that I walked around the course today in my head was much less exhausting than some of the rounds of three-, four-under I've shot this year," he noted. "I really walked around it with my head held high the whole time, believing that even when we got a tough break, the wind flipped or whatever it may be, or the ball funnels off the green when you hit a good shot, you know, a couple times I was upset at the swing I put on it, but by the time I got to the next shot ... I mean, this was actually not that frustrating, surprisingly."
That's the power of positive thinking. And 21 putts.