The Loop
Jordan Spieth, transcendent star: 'Masters Winner...Looking Very Cute in Hats'
The shallow end of the cultural pool has gotten crowded with Jordan Spieth adulation in the wake of his winning the Masters last week. Or the Master's Cup, as one website called it.
But it's those publications that focus on the celebrity culture where Spieth's transcendent star really shines,
InStyle, a Time, Inc. publication, under its WHAT'S Right NOW! banner, has a story headlined, "Guy to Watch: Masters Winner Jordan Spieth Looking Very Cute in Hats."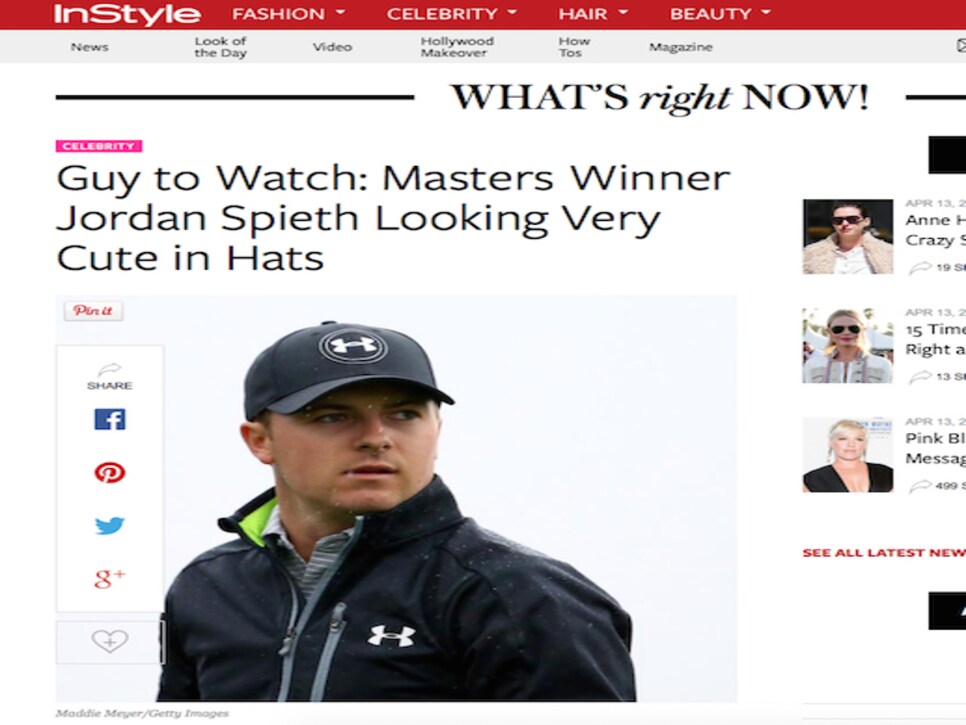 ENSTARS, a global news entertainment publication, got right to the heart of the matter: "Jordan Spieth Girlfriend: Golfing Champ Kisses Annie Verret On The Greatest Day' Of His Life."
The Hollywood Gossip, no explanation necessary, has a story on Spieth next to links to the Jodi Arias sentencing and to Teen Wolf Season 5. To its credit, the story is on Spieth and his relationship with his sister with special needs.
ClashDaily's contribution to Spieth's newfound celebrity might be the best. The headline: "RANDY CHICKS ON TWITTER: Are Crazy Jealous Of Master's Winner Jordan Spieth's Girlfriend." The first sentence: "Jordan Spieth is 21 years old and just won the Master's Cup."
Good stuff, but we have a question: Who is this Master who lost his cup to Spieth?