The Loop
Jordan Spieth sounds very confident that 2016 will just be a continuation of 2015
KAPALUA, Hawaii – What does Jordan Spieth do for an encore in 2016?
No, really. Nothing. It's a flawed premise. The personable Texan, the one with the old head on the young body – "Are you making fun of my hairline?" he interjected in mock offense – saw through this erroneous line of questioning.
"Doesn't an encore mean that the show is then over?" he said in applying copious amounts of logic. "I hope I've got like 40 years out here."
Indeed. There's no encore to deliver, no curtain call to answer. Spieth, who last year ascended to world No. 1 and made the greatest run at the modern Grand Slam since Jack Nicklaus in 1972 (yes, better than Tiger's 2002 bid), is merely preparing for Scene 4, Act 1, which begins Thursday at the Hyundai Tournament of Champions at the Plantation Course at Kapalua Resort.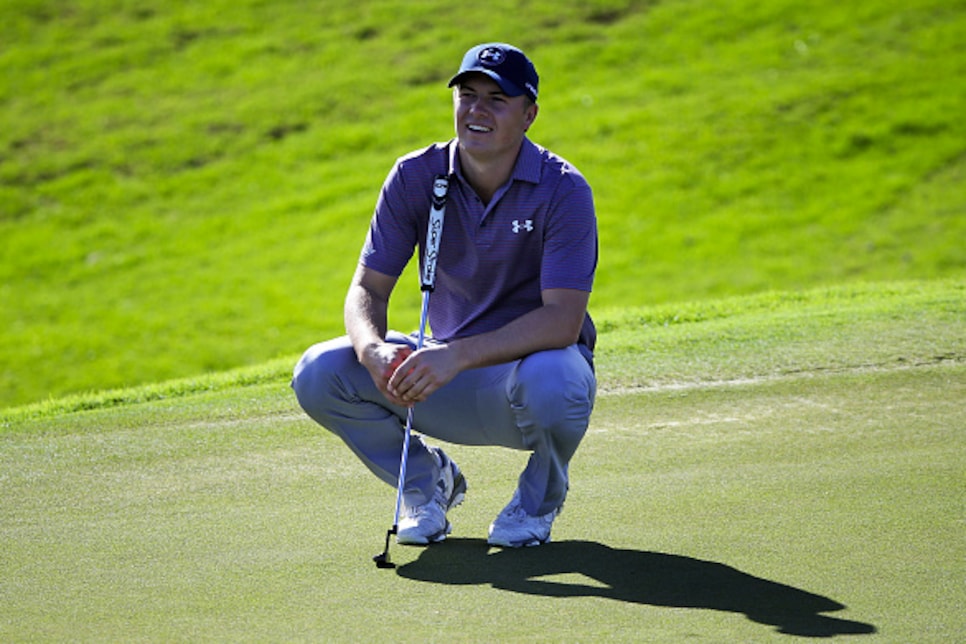 Sure, Spieth has goals, which he chose to keep private in a televised press conference Tuesday afternoon at the Plantation Course. It goes without saying that he'd relish improving upon his just completed 2015 campaign, the one that included Masters and U.S. Open victories, the FedEx Cup title and the PGA Tour Player of the Year award.
But all he truly wants in his fourth professional season is to get fundamentally better. Do that, and he'll be plenty happy with what transpires.
When Spieth showed up here in Maui two years ago, he lamented the fact that he still didn't own his swing. Now he owns two majors and the top spot in the world ranking – not to mention perspective, though he's always seemed to have that.
He'll gauge success only by his standards, even as he understands that the public assesses athletes and their achievements by the standard what-have-you-done-lately method. "I'm sure they'll measure it based on last year," he said frankly. "The easiest thing for me to look at is Rory [McIlroy] in the past, and after his 2014, they'll compare 2015, and after . . . I think 2013 was the year which he considered a letdown for him after a major championship in '12.
"It just seems that you're judging from the previous year in my mind. That's the general public, so I give you my perspective as being in the general public for somebody else. For me, I'm not even thinking of it as a new year. I'm just thinking we had a three-week break, and we're just continuing to hopefully stay at the same level."
Spieth, 22, is making an important distinction. And applying some smart psychology. He said it more than once on Tuesday – that because he's had a mere three-week break since his last event, the Hero World Challenge, the turn of the calendar initiates neither a fresh start nor a new perspective.
"To be honest, I'm not thinking of this as anything different," he said. "This is just . . . we're just continuing; the month changed, the year changed. When you write the date, that's about it in my mind.
"I mean, of course it's a continuation of '15," he added. "Why wouldn't I want to think about it that way? It's a way for me to think about what I'm doing in terms of momentum. I just had a terrific year, but now I'm supposed to do something different somehow? I'd rather continue in the same vein."
That vein was winning, five times in all, and coming up big at consequential moments. Not all those moments resulted in victories, but they gave him chances, put him in contention, helped make him effective and efficient across the major spectrum. And fueled growing belief, which is a valuable commodity.
"I've been close a lot and closed out a little, and you've got to have the breaks go your way, but closing it out is something that's a different mental edge than I really knew the last couple years prior to the 2015 season," Spieth said. "… Now I feel like we have an edge if we're in contention. I wouldn't have felt like we had an edge in '14. I feel like now in '16 we have an edge based on maybe other people who were in contention, they know that we're capable of closing."
And, to borrow a line from Tom Weiskopf, he knows that they know. Which is good to know.