The Loop
Jordan Spieth silences the critics, a star is born on the LPGA, and bikini golf
Welcome to another edition of The Grind, where we could begin by talking about Jordan Spieth winning again, or a new dominant force on the LPGA Tour. But who are we kidding? The biggest news of the week is I played Winged Foot for the first time. And I shot 77. From the black tees.
Would you like me to go through the scorecard? I've got time.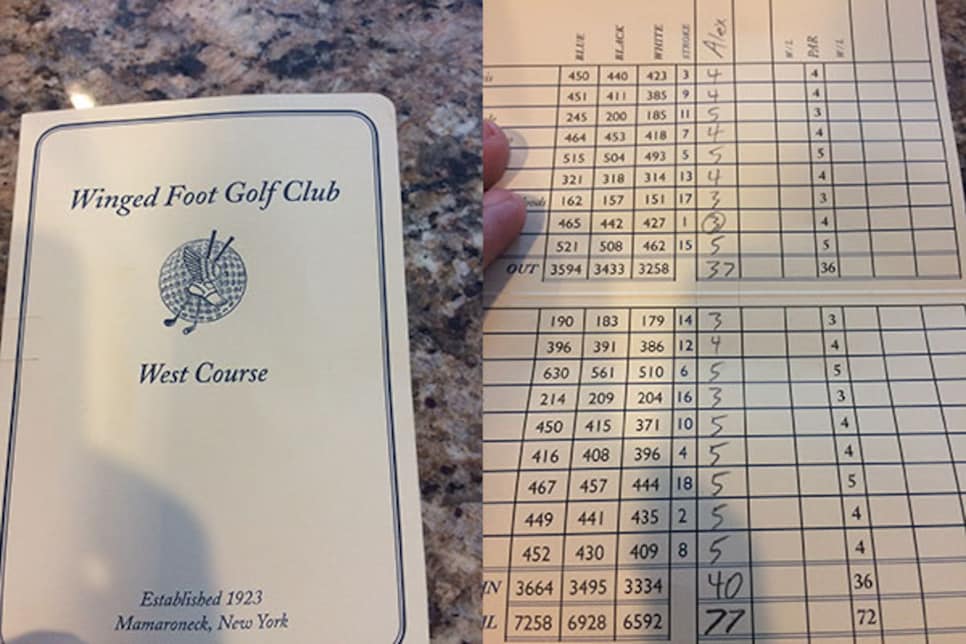 And yes, this was one of those deals where I grabbed a scorecard after the round was over and filled it out because I played well. So sue me. It's also important to note that like Phil Mickelson at the 2006 U.S. Open, I got into trouble off the tee on No. 18. Unlike Phil, I hit a 7-iron just to get back into play (Thanks to my wonderful caddie, Jose), put my third shot to the center of the green and two-putted. A decade later, how much would Phil pay for that bogey? A little over $1 million, perhaps? OK, enough about me (for now). Here's what else is going on in golf.
Jordan Spieth: And just like that, the most overhyped "slump" (He's gone NINE full events without winning! Can you imagine?!) comes to an end. Spieth won the Dean & DeLuca Invitational, and he did it in spectacular fashion by birdieing the final three holes at Colonial. That makes eight PGA Tour titles, including two majors by 22. A few more "slumps" like this and the guy might not be eligible for the Hall of Fame until he's 24.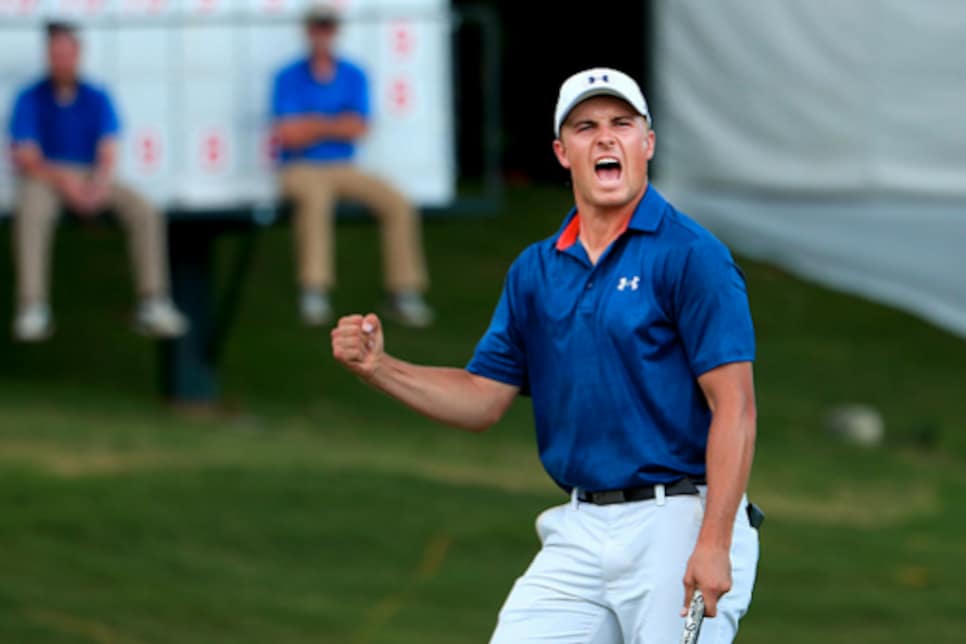 Rocco Mediate: It turns out the PGA Tour Champions is just as unpredictable as the PGA Tour. Mediate entered the Senior PGA Championship nearly three years removed from his last victory and with just one top 25 in eight starts this year. But he left Harbor Shores with his first major title. Now he'll be known for more than just being that guy who lost to Tiger Woods at the 2008 U.S. Open! On second thought, that's still what he'll be known for. Sorry, Rocco.
Ariya Jutanugarn: Unlike on the men's side, the LPGA Tour has gotten really predictable all of a sudden. Jutanugarn won for the third consecutive week, putting her just two behind LPGA legends Annika Sorenstam and Nancy Lopez for the tour record for longest streak. Perhaps we declared Lydia Ko the dominant player of the next decade prematurely. Jutanugarn can absolutely bomb it off the tee. And she's just a year older.
Andrew Johnston: Already a fan favorite in Europe, the golfer better known as "Beef" will be taking his show to the U.S. Open after making it through qualifying. It's funny timing because I had a friend who dubbed Angel Cabrera "Beef" a few years ago and now this "Beef" will make his U.S. debut at Oakmont, where Cabrera won in 2007. Wonder if he'll shave before then. . .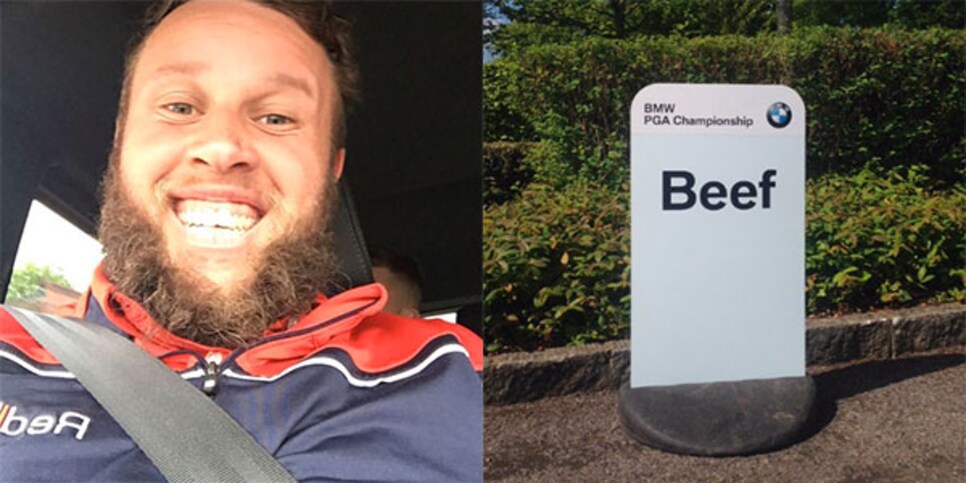 Padraig Harrington At any U.S. Open qualifier, there are winners (BEEF) and losers. No one walked away from Walton Heath feeling worse than this three-time major champ, who bogeyed the final two holes to miss the cut by one. After winning the Honda Classic last year, it appeared Harrington might have a career revival, but he has just one top 10 on the PGA Tour in the 15 months since.
Mud balls: And not the ones Bubba Watson complains about. Check out Jesper Parnevik hacking his ball out of a hazard. He still made a double bogey and he ruined a great golf outfit.
If you don't have a clothing deal, do NOT attempt this when wearing white.
Muirfield: In the aftermath of the course being removed from the British Open rota because a vote to allow female members didn't pass, the club explained why. Apparently, they voted that way "to prove a point" because they didn't want the media telling them what to do. Wow, guys. You really showed us!
The PGA Tour heads to Muirfield Village for the Memorial, aka Jack Nicklaus' tournament. Muirfield Village is not to be confused with Muirfield. Muirfield Village isn't stuck in the 19th century with its membership policy.
Random tournament fact: Golf's new Big 3 (Jordan Spieth, Jason Day and Rory McIlroy) are all playing this week and they're all coming off wins in their last starts. Think the CBS crew will mention this a few times?
RANDOM PROP BETS OF THE WEEK
-- A "Beef" chant won't break out at Oakmont: 1 MILLION-to-1 odds
-- The Big 3 vs. the field at the Memorial: 1-to-2 odds
-- Muirfield Village's clubhouse is stocked with Jack Nicklaus Ice Cream: LOCK
Getting hit by a golf ball at a tournament sucks – especially if you wind up needing stitches. But the pleasant surprise Elisa Butler received from Tony Finau helped make up for it. Feeling bad, Finau found Butler's address (What, does he double as an FBI agent?) and showed up at her house with flowers and chocolate:
VIRAL VIDEO(S) OF THE WEEK
We've got two amateur golf swings, both impressive in their own way. First, Ivanka Trump in heels:
And then there's Bennett, aka "Baby Sniper":
THIS WEEK IN JOHN DALY BEING JOHN DALY
It took three events, but we finally saw a John Daly blowup hole on the PGA Tour Champions. Daly made a 9 on the 16th hole on Thursday and wound up missing the cut by seven shots:
"I wasn't sure how long it would take to get over the hurdle of having to come in to every single interview room, having to listen to crowds only talk about what happened a month ago, and it's very difficult, and I'm 22. It's not like I hadn't won -- and we've won two majors." – Jordan Spieth. Don't worry, Jordan, you won't have to answer any more questions about the Masters ever. Well, until you're in the hunt for another major at Oakmont in a couple weeks. Oh, and every year you return to Augusta National until you win a second green jacket.
Introducing Savannah Vilaubi, a Cactus Tour winner who played some beach golf over Memorial Day weekend in Hawaii. And before you get up in arms about the damage she's doing to the environment, know that Savannah used biodegradable golf balls. Well done.
THIS WEEK IN DUSTIN JOHNSON-PAULINA GRETZKY GONZALO FERNANDEZ-CASTANO-ALICIA CARRILES PUBLIC DISPLAYS OF AFFECTION
First, Alicia posted this great photo of the couple:
Then Gonzalo gave this great response:
THIS WEEK IN PGA TOUR RAIN DELAYS
Erin Walker passed the time on Saturday morning by working on her tumbling skills:
Congrats to Washington for winning the Women's NCAA Championship. The Huskies did it in thrilling fashion with two hole outs propelling them to the title. The vagaries of match play were in full effect! . . . Chris Wood came up just short of winning a car with an ace for the second consecutive year on the same hole. He had to settle for winning the biggest event of his career, the BMW PGA. . . . And the night before my magical round at Winged Foot I went to a magical place: Woodbury, NY. Why is it so magical? Because there's a Chili's AND a Wendy's. . . next to each other!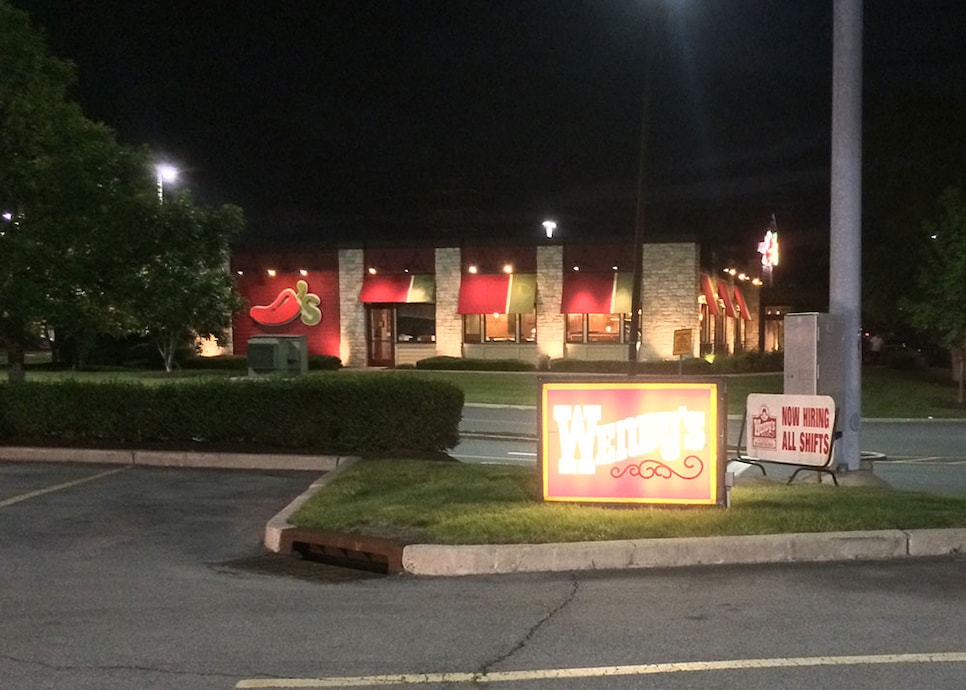 After dinner at Chili's (I really spoil my wife, don't I?), I got a Frosty at Wendy's. What a night to remember.
RANDOM QUESTIONS TO PONDER
If you could eat just one dessert for the rest of your life, what would it be?
Can LeBron James beat Stephen Curry in the NBA Finals?
Did I mention I shot 77 at Winged Foot?